A new year brings new opportunity, and for those in the forage exports market, that global opportunity looks fairly optimistic.
Speaking to growers at the Northwest Hay Expo in Kennewick, Washington, last week, John Sczepanski of the U.S. Forage Export Council (USFEC) detailed key markets, as well as market drivers to be aware of heading into 2018.
Japan
Representing one-third of the U.S. export market, Japan ranks No. 1 overall and No. 2 in alfalfa and straw. Sczepanski said Japan reclaimed the top spot in 2016 after China briefly held the No. 1 position. Other forages such as kleingrass, sudangrass and timothy also remain a desired market share for Japan.
"2017 was a good year for Japan," Sczepanski said. "We can see that [Japan] rebounded in 2017 some additional growth in a market that's been generally flat or losing a couple of percentage points per year. However, the market continues to be impacted by Japanese government incentives and subsidies to encourage farmers to grow their own forage."
Sczepanski explained this push is largely because of chemicals like clopyralid that have become a major concern for the Japanese government. Because this broadleaf herbicide has the ability to linger in manure, it can have a harmful effect on plants like tomatoes, eggplants and sweet peas, he said.
"People are talking about this, and it's putting a lot of unwanted attention on imported feed and forage," Sczepanski said. "One of the things we can do on our side is pay attention to our labeling instructions. If it's been applied in a calendar year, you should not export it that year."
China
Looking at the second largest U.S. export market, China makes up about one-third of the total market and ranks No. 1 in alfalfa imports. Sczepanski noted that 2017 was a relatively flat year for China, as inventories adjusted and milk prices were down. However, early indications show that 2018 could be a better year for the growing country.
Sczepanski pointed out that while Roundup Ready alfalfa and other genetically modified crops are still not approved in China, growers and exporters in the U.S. are doing a good job making sure those products are segregated and tested.
"We can't change the Chinese laws; we can't accelerate the approval process for Roundup Ready alfalfa, but what we can do is the due diligence that's required on our side," Sczepanski said. "It seems things have been working well with China and that's good news."
Korea
Largely a straw market (No. 1 overall), Korea makes up 17 percent of the total export market. While 2017 proved to be a good year for many locations, Korea wasn't one of them. Extreme drought followed by excess moisture in many areas forced Korea to relax their quotas and allow the U.S. to sell more product.
Sczepanski said, "We don't know what the weather is going to be like in 2018, but in 2017 it gave us some opportunities, as exports increased 30 percent in 2017 when compared to 2016. That really shows again for a market that's not necessarily changing in terms of population or consumption, that's really significant and that's all because of weather."
Saudi Arabia and UAE
Representing a combined 16 percent of the total U.S export market, Saudi Arabia and UAE rank fifth and sixth, respectively. Doubling their market in 2017, Saudi Arabia is full of opportunities and possibilities. However, Sczepanski cautions growers and exporters to not get too excited.
"We need to understand there are a lot of players in the market," he said. "Places that we didn't think about before are exporting into the Middle East and have potential to export around the world. The idea is not to scare people but to be very realistic to identify that the U.S. is not the big dog anymore. We need to be diligent and continue to do the things we do well and understand that our customers have options."
Finishing up on the global market seating, Sczepanski looked at Taiwan, which represents a few percentages, as well as other markets in the Middle East, Canada Indonesia and Vietnam. He said the USFEC is working to develop these markets that may seem small and insignificant for the next few years. He reminded attendees that China, the second largest market, has only been a player for less than 10 years.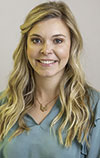 Cassidy Woolsey

Editor
Progressive Forage
PHOTO: John Sczepanski of the U.S. Forage Export Council discusses global forage markets at the Northwest Hay Expo in Kennewick, Washington. Photo by Cassidy Woolsey.
Before commenting on our articles, please note our Terms for Commenting.