2016 was year one in the custom haying business for Allen Hatch, and it went something like this: "I have been running ragged, but I have learned a few things … We have had a setback or two, maybe 12."
And yet, despite the learning curve that year, he turned a small profit.
Hatch is based in Powell, Wyoming, growing about 100 acres of hay ground while holding a full-time "day job" in the oil industry. While it's a good job, the recent change in oil prices made everyone in the area a little edgy, wondering if they would still have a job by year's end.
Hatch had also read Rich Dad, Poor Dad by Robert T. Kiyosaki and learned that two things keep someone from being successful: One is a false sense of security (as in Hatch's oil field job), and the other is fear of failure. This was the impetus that drove Hatch and his wife, Brenna, to file an S corporation and put their hay equipment to better use with a custom haying business.
That is when the problems started. The hired hand ran a tractor tire over a broken T-post, the swather wouldn't start – and after rebuilding the starter, changing the batteries and installing a new solenoid, a service call was not avoided.
When the swather was fixed and returned to the field, about 3 acres later, the auger "exited stage left, taking the elliptical bearing and belt pulley with it." And a vapor lock in the hay wagon, did we mention that? Or the time the baler tried to swallow a tip from an S-tine that a roller harrow lost? Yes, well, what's business without a little stress?
In short, among wages, fuel, twine and parts, the capital outlay was substantial before any payment checks started coming in. And Hatch says that's why the day job was so important to have.
Hatch originally started the season with a Hesston small-square baler, three John Deere tractors (older), a self-propelled Hesston swather, a Vermeer rake and a New Holland stack wagon, which is quite a bit of equipment given that he only had 100 acres of his own. He says he justified this equipment expenditure because of his shift schedule and having to put hay up in the narrow work window.
While having this equipment was a bonus (and was originally in good shape), another lesson from the finance book he read was that an asset isn't an asset unless it's earning you passive income. Hatch says, "While I couldn't generate passive income, I took from that [the lesson] that I had equipment that was underutilized sitting on the place.
So we decided the easiest way to create active income – without regard to what would happen with the day job – was to start a custom hay business." Hatch's intent was to use the increased cash flow to then create passive income through other investments (like real estate, etc.).
Hatch focused on the smaller producers as his target clientele – folks who have 20 to 40 acres or less. He started advertising in a weekly trade-ad paper and by word of mouth (see his video youtube, ABL Inc).
Within the first week, he started receiving phone calls. He says at least half the calls were from folks desperate to get their hay or pasture baled "who wanted you to drive 30 miles to put up half-an-acre."
Within two or three weeks, however, Hatch had picked up some larger acreages, 70 to 100 acres, in addition to some smaller acreages. It quickly became apparent he needed more help.
Hatch says, "The first person I hired was semi-retired and was a dealership mechanic for 20-plus years and had grown up putting up hay. His wife wanted him to have a job for the summer. I hired him just before the season got started. We both thought that year one would be slow." By fall, Hatch wrapped up the harvest with four employees and more equipment.
Brenna booked jobs, took care of the bookwork, delivered employees to jobs, transported equipment and managed logistics for the business. As the Hatches look back at the conclusion of the business's first season, they shared some insights:
Start out with more equipment than you think you need. Hatch says, "In the middle of the season, I ended up buying a baler in Colorado, and then I ran out to Illinois and bought a swather trailer – and that allowed us to pick up another job 65 miles away, which is the farthest point we went."

When he realized he had to pay an employee the same hourly wage to drive equipment down the highway at 10 mph, during which time the equipment wasn't making him any money but was creating wear on expensive tires, he kicks himself for not foreseeing the need for an equipment trailer. After the transportation issues were solved, man-hours and maintenance were both reduced, and productivity climbed.


Look at every job before you bid it. One of the challenges custom haying operations have is having a customer want a field or pasture harvested that hasn't been hayed in a few years. That can turn up all kinds of interesting things, says Hatch, "like 12-speed bicycles that don't go through swathers very well – or cinderblocks, logs and fence posts." He adds, "On other jobs, we just couldn't find a way to fill the needs of the customer.

We were fine with cutting smaller hayfields but couldn't accommodate the need for large lawn service and ditch mowing, especially with haying equipment."


Bid jobs for a profit. While it seems this tip would go without saying, Hatch says it's sometimes harder than it might seem. He says, "Our pricing structure is based on acreage, but we decided we'd charge a minimum of $250 to swath and the same for baling and stacking.

It gave some people some heartburn, but I'm not in business to lose money." At the same time, he bid a stacking-only job that required a road run of 7 or 8 miles with each stacker load. It shouldn't have been a problem, but they estimated 3,000 bales and it turned out to be less than 2,000 bales, and his estimate for road time and fuel wasn't adequate to cover the lower tonnage.


Have a maintenance program. Hatch says, "If you try to cobble equipment together to get through, it's not going to work. Take the time and do it right." Hatch says he scheduled at least half a day (and a full day when he could) between jobs to cover in-season routine maintenance.


Don't be afraid to hire employees. Hatch says there's a natural hesitancy to hire employees because "fear of the payroll burden is real." However, he says, "The math works if your equipment is running in the field."
Hatch says, "I have visited with several people in the custom business who all have several reasons not to hire anyone. They are a one-man show, so to speak. The problem we identified with this was that it limits them to one piece of equipment and one job at a time.
This isn't an issue – until they break down or have some bad weather; then they are behind for the rest of the season. We wanted to avoid what we thought were limiting factors. The reasons people usually give for not hiring someone are that they can't find good help; help is expensive and they tear up equipment.
While we felt that these things can be true, we also felt that it could be managed. We also realized that all three reasons were based in fear, which ties directly into the fear mentioned in the book."
Hatch admits he had a big learning curve when hiring employees, but after three months into the season, he says, "Instead of looking at it as though, 'This employee is costing me this much an hour,' I looked at it as, 'This one is making me this much an hour.'
The real challenge of hiring was trying to keep the machinery moving through the hay efficiently enough to keep the profit margins trending upward."
Having employees, however, wasn't easy to schedule. Hatch says, "It was challenging to get the right person in the right place at the right time," especially since he hired some folks who had other full-time jobs, and limited hours of availability. However, his goal was to hire enough help to leave him available to run the crews and fix problems. It gave the business more flexibility.
Be responsive and flexible. Hatch says, "I got a call for one job, and the fellow asked if we could bale his hay. When I asked when it needed to be done, he said, 'About two hours ago.' So I pulled off the guy that I'd sent out to swath and put him on a baler and sent him to the new job.

And we had his hay baled and stacked in a couple days. He was pleased enough that he asked us to come back later in the year to put up his grass hay and then again for his beardless barley hay."
As a "bookend" to the custom haying season and to more fully utilize his equipment investment, Hatch started a corral-cleaning, manure-spreading equipment rental business for the same niche clientele with small acreages. He advertised, "We rent everything you need to clean corrals and spread manure."
He already had tractors, a dozer and a skid steer, so he bought two manure spreaders to complete the line. This business has been slower to build than the hay business, Hatch says, but is a good seasonal complement.
The first complete season is now in the books, and the balance statement is finalized. Hatch says, "Typically, it takes three years in a business to turn a profit, and we were able to eke out a profit on year one, after paying ourselves.
That really surprised me. It wasn't a lot, but it was some … but there again, that's the benefit of a day job. We're not depending on that income, yet."
PHOTO: Although much of the West's hay is baled in large square bales, there is a horse market niche for those willing to go to the trouble of making small square bales. Photo by Allen Hatch.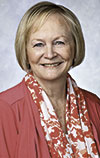 Lynn Jaynes

Editor
Progressive Forage