It's not hard to identify something you could be better at; the challenge is implementing the change to be better at it. Emily Fulstone takes that challenge head on.
Near Smith Valley, Nevada, Fulstone is a seventh-generation producer. Her family homesteaded nearby in Genoa in 1856. She returned to the family operation unexpectedly after graduating from the University of Oregon with a degree in environmental science. Her main interest focused on ecosystems and habitat restoration that had been impacted by human degradation.
In 2008, when the bi-state sage grouse was being considered for the endangered species list, Fulstone used this interest to help her family with sage grouse habitat restoration on their land.
"If it would have been listed as an endangered species, we would have lost all of our cattle grazing permits during the summer," says Fulstone. "Effectively, we wouldn't have been able to run cattle."
After moving back home to work on the sage grouse project, Fulstone realized the system they were using on the farm didn't fit with what she knew about ecosystems.
"It was not in sync with how a ecosystem functions," says Fulstone. "A farm essentially is an ecosystem, one that we manipulate to make a living off of, but still an ecosystem."
The main management practices Fulstone sought to change included pesticide application, tilling and improving water retention. She began her research on how to direct their management style toward more regenerative practices, which led her to research done by Elaine Ingham.
Ingham's research focuses on the biology of soil and nutrient transport. One of the studies Fulstone found particularly interesting is the idea that worms are able to breed and propagate bacteria in the soil, which is key in transporting nutrients back to plants.
"Something farmers could actually do is to raise worm castings," Fulstone said. "The castings [worm feces] can be mixed with an aerated water source and basically make [a] heavily concentrated worm tea, or bacteria tea, to put out on the fields."
After much more research on the process, Fulstone purchased a worm table and a worm tea brewer in 2016. The castings are put into bags that are then placed in a 500-gallon brewing tank. A complex carbohydrate is then added as the catalyst to breed the bacteria with oxygen for 24 hours. The "brewer" produces more of the bacteria tea than what the castings themselves could produce.
"With this worm tea going out on the fields, we started getting more nutrients into the plant much quicker," Fulstone said. "Because of the increase in plant health, we stopped using pesticides altogether in 2016."
By putting bacteria directly on the field, they have also been able to reduce fertilizer consumption by almost 40%. The healthier and more balanced plants also see fewer pest issues.
In early spring of 2019, Smith Valley faced the worst aphid infestation they had ever seen, but after being sprayed with the worm tea and another product that offers micronutrients to plants that may be lacking, the aphids died within three days. The ladybugs were not harmed by the worm tea and the family was able to cut down on costs of additional spraying.
"Most of our neighbors had to spray three times to get rid of the aphids," Fulstone said, "and it cost 30 dollars per acre each time they were spraying."
Today, she still focuses on using less fertilizer and multi-species interseeding crops to reduce till compared to monocropping alfalfa and wheat.
"It's still something we are learning how to do because our main cash crop is alfalfa," says Fulstone. "Raising a legume in natural grasslands is a challenge in itself and it isn't perfectionist-level regenerative agriculture, but using fewer fertilizers and eliminating the use of pesticides is a step in the right direction."
Overall, the investment of the worm table and tea brewer has not only helped the soil, it has made a major difference in the economics of the operation as well. Since the system is fully established, the cost to maintain the table and brewer is around minimal per year when compared to the much more costly inputs of fertilizers and pesticides they no longer have to account for.
The quality of the hay has seen a drastic improvement in this system, as well. The value added through recent hay testing of their product indicates Fulstone is profiting $30-$50 per ton more because of the test quality of their product. Their hay typically tests at Premium.
For now, Fulstone is planning to add a second worm tea brewer and is sharing her results in hopes that others will work toward creating a healthier habitat all around, without compromising the ability to turn a profit.
PHOTO 1: Emily Fulstone is a seventh-generation producer from Smith Valley, Nevada.
PHOTO 2: Fulstone manages with the idea that a farm is an ecosystem that is manipulated in order to make a living off of.
PHOTO 3: Fulstone first began learning about worm castings through research done by Elaine Ingham.
PHOTO 4: The worm tea has allowed the plants to become more balanced and healthier overall.
PHOTO 5: Worm castings are put into bags that are then placed in the 500-gallon brewing tank. A complex carbohydrate is then added as the catalyst to breed the bacteria with oxygen for 24 hours.
PHOTO 6: The increase in plant health after implementing the worm tea (left) allowed Fulstone to stop using pesticides altogether in 2016. Photos provided by Emily Fulstone.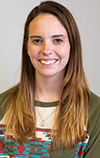 Joy Hendrix

Editor
Progressive Forage