Winter is a great time to review forage plans for the upcoming growing season and to fine-tune any areas that might have changed since you first developed your plan.
One area that can impact you is seed availability for any plantings you had planned for the upcoming year. It is difficult to provide a meaningful summary for every producer in every part of the country, but what follows is a "bird's-eye view" of forage seed supplies for the upcoming year.
As most of you know, 2019 was a tough year for agriculture pretty much across the board. There were very few bumper crops anywhere and plenty of challenges. While most folks in agriculture don't think about seed production very often, seed growers are subject to the same challenges as the rest of us. Most seed growers struggled this year and that will affect all of us in the forage industry in the coming year. As you read through the various crop reports below, the common theme will be to book seed early and stick with suppliers who have taken care of you in years past.
Corn
The corn number in focus for most of 2019 was the acres that could not be planted, which ended up being 11 million acres. That is a record! However, American corn farmers ended up planting over 91 million acres. While not a record, there was more corn planted in 2019 than the year prior.
What does all this have to do with us trying to figure out what is happening in 2020? If we focused on the prevented planting number, you would think there would be an excess of corn seed left over. But when you consider that the acres planted were still high, it presents a different picture.
Another point from the seed industry perspective is that replants were up. In other words, more corn farmers had to plant twice to get a successful crop. That eats up even more seed inventory. At the time of this writing, the general feel is that corn seed availability for 2020 will be adequate but not excessive. If you have been waiting for prices to soften to buy your corn seed for this spring, that is unlikely to happen.
There are shortages of some hybrids within nearly every company. It was just the luck of the draw by which hybrids were planted in the wrong location and got flooded out or not planted at all. If you haven't checked with your corn supplier by now, it is worth touching base to make sure the hybrid you were counting on will be available. In general, growing conditions were worse in the north, where shorter-day hybrids are grown. If you grow short-season corn, you really need to be sure you are covered.
Small grains
In general, small grain supplies will be adequate, with a bit of a question mark on oat availability. Seed crops were planted late and, therefore, harvested late, which can cause some harvest issues.
Another factor not totally known at this time is how many acres of oats were planted in the fall of 2019 for emergency forage. Those acres took seed that can't be replaced before spring planting time. Triticale, wheat, rye and barley seem to be in decent supply. With crazy planting weather in 2019, there were not as many acres of winter cereals like triticale and rye planted, which created some seed carryover.
Summer annuals
An early freeze hit the Texas panhandle in October, just before harvest time for sorghum and millet crops. Due to a wet spring, fields were planted later than usual, so they were not all fully mature when the frost hit. Couple this with a shortage of seed in 2019, and that paints a challenging picture for seed supplies for 2020. There were many more acres of sorghum sudan planted in the Midwest this summer for emergency forages, so there is basically no carryover coming into 2020.
This is another scenario where it will pay to talk to your seed supplier early and secure your needs. Depending on the variety or hybrid, some supplies are fine, and some are non-existent, similar to the corn situation. If your variety of choice was planted late too far north in the panhandle, it might have been a crop failure. If you are a grower who is a casual user of warm-season annuals, consider making them part of your plan for this year and dedicate a field and get seed ordered. If sorghum sudan is a "plan B" forage you don't know you need until June, you may have to go without this year.
Alfalfa
Alfalfa is a bright spot on this report. The seed industry expected a banner year in 2019 due to all of the winter damage in 2018. As you well remember, weather was not conducive to planting alfalfa last spring, so there is still some of that seed from last year laying in inventories. Seed crops were decent in the fall of 2019, so the overall availability looks good.
The only caution would be that those acres that winterkilled in 2018 had annuals on them last year, so whenever farmers decide to go back to alfalfa, it will take a good amount of seed to cover those acres. That concern probably isn't enough to create shortages, but it will likely keep prices high. The good availability of common or VNS (variety not stated) alfalfa out of Canada will create a situation where the price spread between the best varieties and the common stuff will be dramatic. Before you blindly follow the temptation to chase cheap seed, figure out what half a ton of hay per year for the entire life of the stand is worth. Then compare that to seed savings to see if it makes sense. The longer you will keep the stand, the less sense it makes to plant the cheap stuff.
Grasses
Much of the cool-season grass supply comes from western Oregon. That region had an extremely dry fall in 2018, when the grass plants are deciding how heavily they will set seed for the next year. Then to make matters worse, they had rain at harvest time, which almost never happens in that area. In the end, most perennial cool-season grasses came in about 30% below harvest expectations.
Similar to the alfalfa situation, the industry expectation was for good grass seed demand to repair damaged stands. Not all of the damage was addressed in 2019, so that could put additional pressure on limited seed supplies for 2020. Annual ryegrass consumption in the Southeast was down for 2019, but its use as an emergency forage in the North, coupled with its use as a cover crop on prevent-plant acreage, consumed more seed than anticipated. Like the perennial grasses, the annual ryegrass harvest was off compared to normal, which will restrict supply in 2020.
Remember, it usually pays to book seed early, and stick with suppliers who have taken care of you in years past.
PHOTO: Remember, it usually pays to book seed early, and stick with suppliers who have taken care of you in years past. Photo collage by Kristen Phillips.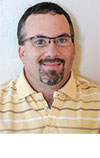 Chad Hale

Research and Acquisitions Manager
Western Forage Resource