In the first days of the new year, resolutions for change can be a bit of a hot topic. In the first month of the new year, the majority of these resolutions fail.
Management practices can't be overturned with the hanging of a new calendar and, just like the fields in your operation, planning for the season ahead yields a higher-quality result.
As those first few days come ever closer, now may be the best time to take a step back and analyze your current management style. Are you satisfied with your results this year? Is there something you know you need to change but aren't quite sure where to begin?
A webinar series by the University of Tennessee Extension and funded by the USDA National Institute of Food and Agriculture and the Southern Risk Management Education Center covers the "Seven Habits for Effective Farmers." The series discusses ways to improve upon farm business management skills and could provide the tools you need to implement your management resolutions.
"To be able to succeed as a farm enterprise," says Iris Cui, extension farm management specialist, "half of the equation is production skills."
The other half can be broken down into the seven management categories Cui identifies as crucial. The seven categories include business planning and recordkeeping, budgeting, financial health, financial risk, human risk, marketing and succession planning.
Cui says those seven categories are the half most producers need more help in, compared to production skills, but are less likely to talk about or seek out help. Each category is the main topic for each of the seven webinars in the series.
Developing a business plan
Although the idea of a business plan seems easy and implied in most operations, the actual process of writing a business plan can be intimidating, Cui says. Without a formal business plan, producers may be passing up grants they are eligible for or may even subject themselves to more risk in the loan process. Consider revising your business plan for the next year and ensuring the standards it outlines are the best fit for your business.
The first sentence of your business plan should begin by stating your business purpose. In the example Cui gives, purpose is to "produce certified organic produce." The first sentence will be the foundation of your business plan and should be direct and to the point. After the purpose has been established, Cui gives four essential questions to guide your business plan writing.
What service or product does your business provide?


Who are the potential customers for your product or service, and why will they purchase it from you?


How will you reach your potential customers?


Where will you get the financial resources to start (or expand) your business?
This business plan will help guide your management decisions and should be used to evaluate your current decision-making processes. Refer to the plan when faced with new challenges, keeping your end goal as the driver of management decisions.
Evaluating financial health
Efficient planning starts with the basis of evaluating financial health.
"First of all, keeping a good record is the baseline of all analysis," Cui says. Proper records can be used to generate a profit and loss (income) statement, cash flow by enterprise and the budget by enterprise, Cui says.
Using these statements, four measurements should be used to evaluate your financial health. Those four criteria include profitability, liquidity, solvency and financial efficiency. These four should be analyzed for any business periodically to ensure the business is operating optimally and should be used to aid in making decisions including expansion, liquidation or succession planning.
Managing risk
Developing a risk management plan can be an overwhelming portion of management. Aaron Smith, associate professor and extension economist for the University of Tennessee Institute of Agriculture, presents nine steps that should be followed when developing a risk management plan.
Identify risks
Measure risks
Risk-bearing capacity
Evaluate risk tolerance
Risk management goals
Risk management tools
Professional assistance
Action and plan implementation
Evaluate results
These nine steps are each a portion of risk that needs to be addressed individually to fit your operation's specific needs.
"Each operation out there is going to have different sources of risk and different strategies that will help them mitigate it," Smith says. "You're never going to get all the risk out of agriculture – it's one of those industries where there's a tremendous amount of risk – but having the ability to mitigate or offset after identifying those risks can really help long-term sustainability of the farm from a financial standpoint."
A thorough management system incorporates risk and actively implements strategies to limit risk on your operation.
In the last months of this year, consider setting aside some time to implement these habits to become a more effective manager in the new year.
PHOTO: Three habits of successful farmers are developing a business plan, evaluating financial health and managing risk. Plan to incorporate these habits into your management strategy in the coming season and learn how your entire operation could benefit from them. Getty Images.
To learn more about the other habits of effective farmers, the webinar recordings can be viewed online (Center for profitable agriculture).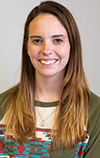 Joy Hendrix

Editor
Progressive Forage