The quantity of milk drives farm revenue, but what drives changes in milk production?
Given the challenging atmosphere of the dairy industry recently, farmers are working hard to increase efficiency to get more milk out of every cow. The leading factors driving milk production include nutritional rations, digestible forage, environmental impacts and overall herd management. As farmers seek out ways to optimize these factors, there's one trend that seems to stand out: technology. On-farm technology is advancing rapidly, and both farm equipment and herd management technologies are allowing farmers to really make a difference.
Impacting nutritional rations
First, let's take a look at how technology is being applied to nutritional rations. The introduction of near-infrared (NIR) technology has allowed nutritionists and farm managers alike to better evaluate the nutritional value of feed. There are two main ways to utilize NIR technology: adjusting feed rations to maximize milk production on a daily basis and evaluating the feed as it is being harvested out of the field to make field management decisions for future planting.
Using an NIR system on a forage harvester allows the farmer to understand where the variations in forage nutrition are coming from within the field. The producer can localize fields or locations within a field to determine where lower-quality feed is being produced and how to make adjustments to improve that for the future. NIR technology allows the farmer to see variations in ash, protein, starch, NDF, ADF, moisture and much more while harvesting. This allows producers to improve nutritional rations by improving the quality of feed being put into the silo, trench or bag.
When you are done harvesting high-quality feed, you can use NIR data from the forage harvester and bring that into the feeding equation to do precision feeding and develop consistent and high-quality rations every day. Two key items to keep in mind with NIR technology are calibrations and accuracy. Is there any guaranteed accuracy with the NIR system? Can you easily calibrate the datasets for multiple crop types and with lab-level accuracy? Does the NIR system provider have separate datasets for each different type of crop? One last thing to consider with NIR systems is: Can the NIR system easily be adapted to a new forage harvester?
Improving digestibility
When it comes to digestibility, how would you rate your current forage sample chop quality? If you're not happy with your current lengths of cut or consistency, it may be time to consider purchasing a new harvester.
The ability of the forage harvester to consistently cut forage to the desired length is critical to achieving the ideal digestibility in the forage. If you have a forage harvester already, maintenance of the knives, shear bar and crop processor rolls can make or break the digestibility of your forage.
If you're considering purchasing a new forage harvester, here are a few things to consider:
How easy is it to adjust the length of cut (LOC)?


Can you infinitely adjust the LOC within the cut length range?


Can you adjust the speed of the crop coming into the forage harvester independently without changing the speed of the knife drum?


Can the forage harvester maintain consistent chop quality even at higher loading capacity?


Can you quickly and easily move the crop processor into or out of the crop flow?


Does the processing quality of the crop processor deliver easily digestible crop?


Can you forward and reverse sharpen the knives easily to ensure a long, sharp knife edge?


How many tons of corn or grass can be harvested for each gallon of fuel burned?


Was the engine tuning and torque designed specifically for a self-propelled forage harvester?
Implementing NIR technology
The amount of technology available today can sometimes be overwhelming and costly. The first step in implementing all the various technologies is to prioritize what can deliver the most value immediately. Will using NIR technology to improve the forage coming out of your fields deliver immediate and significant results? If you invest in a newer forage harvester, will that deliver improved feed quality and digestibility to deliver immediate and significant results?
In addition to these questions, consider which technology or equipment provider will provide the best return on investment. The purchase price is not a leading indication of overall return on investment but rather the total length of ownership and costs associated with that. For example, a forage harvester uses lots of fuel to chop forage; if you pay more, will that machine save you money on fuel versus a cheaper option? If you pay more, will you get better digestibility which leads to a better milk check? The overall farm profitability of using equipment or technology over many years on the farm should drive the buying decision, not the initial price. How will you improve your farming operation to compete in the ever-changing industry?
In 2019, it doesn't pay to leave technology out of the conversation.
PHOTO: This NIR system field mapping example shows variations of feed quality within the field. Image provided by New Holland.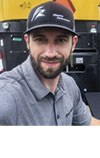 Bradley Wenger

Marketing Manager
New Holland