How you portray yourself and your business to the public – including both current and potential clients – can significantly impact your success. When the topic of professional image is brought up, we often first think of appearance: our clothes and grooming.
However, an image of professionalism is built on more than that. Let's take a closer look at what you can do to craft a professional image for your harvesting business.
Branding
Branding is the message and promise you convey to the public. Have you developed a mission statement for your business? What about a tagline? What "voice" do you want for your business? What are the key messages about your business you want people to know or understand? Do you have a logo? What colors and font do you use?
Take the time to craft a branding strategy that portrays the business image you want which, in turn, will aid in achieving your business goals.
Make sure the use of your branding is integrated and consistent across all aspects of your business, particularly through your marketing. The specific approach for the use of branding may vary across marketing tools, but the take-away message should be the same.
Customer service
Your in-person interactions with the farmers you do business with will leave them with a lasting impression of your professionalism – and one far more permanent than the most well-crafted branding strategy.
Engaging in active listening and questioning, being able to answer questions with appropriate detail and following up as needed after conversations or meetings are all characteristics of a professional businessperson.
The remainder of the article covers tips for incorporating your branding through your marketing – including websites, social media and more traditional tools such as flyers or brochures.
Points of contact
How does a customer contact you? By phone or email? For every point of contact, think about the impression you're giving the individual contacting you. Having a dedicated business phone number is a good place to start. Likewise, when someone calls, are they receiving a friendly and professional greeting or voicemail message, or do they hear something like, "Hey, it's Joe, leave a message"?
When it comes to email, registering a business email domain for use is just another step in presenting a professional vision of your business. Imagine a potential customer looking at two business emails: and .
The second email address shows someone you're serious enough with your business to have invested in a business email.
Whether you communicate with clients via phone or email, setting and abiding by guidelines for responsiveness will also help to build a professional image for yourself and your business.
Documents
Make the investment in creating a stock of professional documents or templates for use. Flyers, brochures, business cards, invoices and other business-related documents should all have the same look and feel to them. You don't have to use all elements (logo, tagline, etc.) of your branding on each type of document.
Perhaps identify the one or two elements most important to your branding while using other elements as space or situation warrants. Creating documents in an electronic format makes adding and editing branding elements easy.
Online presence
These days, having an online presence is essential to creating and maintaining a professional business image, especially for newer businesses. Not only does an online presence provide a method of communication, but it also builds a sense of legitimacy for your business with current and potential customers.
Websites are a fantastic tool for providing evergreen information to both current and potential customers. They allow potential customers to learn about your business or find answers to questions on their schedule.
Standard information that should be included on a website is contact information, services provided and business background or bio, or other information that supports your marketing message.
As people turn to social media in ever-greater numbers to research and communicate with a business, you may decide to create one or more social media profiles for your custom harvesting business. If you do, take time to learn not only the functionalities of the platforms you use but also proper use/etiquette of social media.
One of the most important rules for social media use is to not mix personal and business. It's OK to show personality for the business but make sure posts (text, video, pictures) portray the business in the image you want to develop.
Even if potential customers are not the ones reaching out to you directly on social media, keep in mind they may be watching and viewing content and interactions that do take place. Your social media activity should be focused and professional always. Keep your branding strategy in mind.
Appearance
For everyone involved in the business, a clean and neat appearance while on the job or engaged in business activities further lends to the professionalism of the business. Certainly, most people you'll do business with understand farm work requires getting dirty, but everyone still appreciates an effort to maintain an acceptable appearance.
One way to manage appearance to is invest in "uniforms." This may be as simple as requiring everyone to wear the same color or style of shirt.
As you can see, it's often the little things you do or put in place that give your business a professional image. These small things add up and can make a significant difference to the success of your business.
ILLUSTRATION: Illustration by Mike Dixon.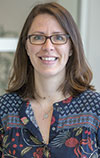 Sarah Cornelisse

Sr. Extension Associate
Dept. of Agricultural Economics, Sociology and Education
Penn State University