The U.S. Dairy Forage Research Center (USDFRC) is a research center of the USDA devoted to the optimization of the use of forages in improving dairy cattle production and sustainability. The center employs 20 research scientists and 40 support staff, and hosts another 40 students, post-docs and visiting scientists.
The center is located on the University of Wisconsin – Madison campus and collaborates with the University of Wisconsin to maintain research dairy herds at Prairie du Sac and Marshfield. Research programs at the USDFRC are intrinsically multidisciplinary, including soil chemistry, agronomy, dairy cattle genetics, dairy nutrition and microbiology. Scientists in these teams work on long-term, systems-oriented research projects aimed at developing cost-effective solutions for U.S. dairy farmers.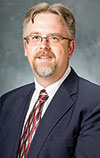 Dennis Hancock, Ph.D.
Center Director
USDA-ARS U.S. Dairy Forage Research Center
Madison, Wisconsin
What are some of the biggest challenges facing the forage industry today?
HANCOCK: The challenges faced by the forage industry are many and on several different levels. Some issues are urgent, with many of our nation's producers struggling to make ends meet because of challenging market forces and weather conditions during the last several years.
As talented as our scientists and staff are, we cannot do much about the markets or the weather. What we can do is develop innovations that can help forage producers keep their costs low and ensure the best management practices do not increase their susceptibility to market forces and weather variability.
Though I could give many examples of our scientists' contributions in this regard, one good example is the work our scientists conducted on examining the potential for alternative forages to be used in years where weather-induced planting delays disrupt conventional cropping systems. Their work resulted in solid recommendations on what annual forages should be used as alternatives when dairy farmers are faced with excessively delayed or drowned out corn plantings, alfalfa stands thinned by winterkill or flooding, or cover crop plantings are made early or late.
In addition to providing answers to urgent issues, the forage industry faces challenges on a national and global level. One of the most challenging is the issue of meeting market demands for decreasing the environmental impact and reducing the greenhouse gas "footprint" of the meat and milk products our industry provides. A prime example of this market demand can be seen in the recent announcement by a global fast-food chain to market "reduced methane emissions" products in their restaurants.
Scientists at USDFRC and in other institutions have already been working to reduce methane emissions in the dairy industry for decades. And that work is paying off. In a recent review in the Journal of Animal Science, researchers found that the amount of greenhouse gas emissions per unit of milk decreased by approximately 20% between 2007 and 2017 in the U.S. Our scientists continue to refine rations to look for opportunities to decrease methane emissions and improve dairy production efficiency. We also have plant scientists and nutritionists looking for ways to "turn on" condensed tannins in conventional dairy forages because those natural plant compounds can reduce methane emissions.
What's one of the projects you're working on that's exciting for you?
HANCOCK: There is so much about this position that is exciting to me. Because our center's scientists are working on so many different aspects of the dairy and forage industries, it is hard for me to choose just one project to highlight. Instead, the highlight for me is how I have been able to support their efforts. My first steps have been to shore up our human resources.
Since joining ARS in January, we have advertised or filled seven scientist positions and filled three support staff vacancies. Hiring that many scientists has provided me the opportunity to quickly set the tone for the next generation of our research efforts, since that is approximately one-third of our scientist numbers. We already have a great team environment, and adding these new scientists will take us to another level.
Now my attention turns to improving our physical resources. Thanks to strong stakeholder support and congressional funding, we have been given an opportunity to replace our aging infrastructure at our research dairy farm in Prairie du Sac. We now begin the detailed planning and engineering of all of our research needs within the dairy's new facilities. Our new facilities will provide us a state-of-the-art, world-class research dairy and keep us relevant to the future of the dairy industry for years to come.
What's a topic you wish were more discussed in the forage industry right now?
HANCOCK: One subject I think is rarely acknowledged or talked about is the fact that we have so few students being trained to work in forage and forage-based livestock industries. Certainly, we have several agricultural sectors that suffer the same lack of qualified students, but it is an acute problem in the forage industry.
I acknowledge that there are a number of colleges and universities still providing a solid training in forage production and utilization. However, many would be shocked to discover how few colleges and universities still have a "Forages" course, much less offer graduate degrees for students interested in forages or forage-based livestock industries.
Most troubling is: There is just a handful of Masters and Ph.D. students across the nation working on alfalfa, one of our nation's top five economically important crops. Meanwhile, there are more than three to 10 times as many Masters and Ph.D. students working on each of the four other top crops of corn, soybeans, wheat and cotton. The agribusiness and research sectors that support those crops can usually have the pick of the litter to fill their vacancies.
The private and public sectors that support alfalfa and other forage crops often struggle to find qualified students. Luckily, our center has attracted and hired outstanding, well-trained scientists within the discipline. Others sometimes must make do, retraining someone trained how to do something other than manage alfalfa or improved forages. Training the next generation of workers serving the forage and forage-based livestock sectors is a complex problem to solve, but it is something that really is not being discussed as thoroughly as the urgency warrants.
Tell me about the most meaningful conversation you've had in the last six months relating to the alfalfa industry.
HANCOCK: That's a great question and actually an easy one for me to answer. Shortly after I started as the center director, I had an inspiring phone conversation with a legendary alfalfa researcher in the private sector. I expressed my concerns about the relative lack of research and development work devoted to alfalfa, especially compared to our other top crops.
We agreed there was much left undone regarding alfalfa, that there are many benefits to keeping alfalfa as part of dairy rations, and that its benefits to the environment and reducing greenhouse gas emissions should be highlighted. We also agreed it is a crop with lots of opportunity to extract value, not unlike how George Washington Carver added value to peanuts, soybeans and other crops.
This single conversation has subsequently resulted in a flurry of conversations with leaders at the National Alfalfa and Forage Alliance (NAFA) who share this vision for noting the value of alfalfa and adding to it through the development of new products. They simultaneously were having similar conversations internally and were seeking to develop a strategic plan for alfalfa research and development. Talks are ongoing, but I am hopeful we will see producers, public servants and private sector interests working together to draft a blueprint for the future of alfalfa.