Operator behavior plays a major role in overall machine longevity, performance and owning and operating expenses. Properly training your operators and establishing an accountable environment on the farm can benefit your operation in a number of ways, including:
Overall efficiency – Operators who participate in regular training will be able to operate the machine at optimal performance to get the job done right and fast.
Job site safety – It is imperative to know and understand the machine you are operating to ensure safety and minimize accident or injury risk on the job site.
Protecting your investment and the longevity of the machine – Operators trained by the equipment manufacturer or dealer are more likely to properly use, store and transport the machines. Also, by being trained in machine maintenance, operators are more likely to understand the benefit of routine maintenance checks and identifying potential issues early when they can typically be fixed faster and less expensively.
Optimizing utilization of new machine technology – Advanced operator training also helps your operators stay on top of the latest features, use technology to its fullest and gain better accuracy, efficiency and overall productivity from the equipment.
Choosing an equipment manufacturer and spec'ing a machine
There are several important factors to keep in mind when choosing an equipment manufacturer or spec'ing a machine, to ensure you have access to the training resources needed to keep you and your operators as safe and efficient as possible.
First and foremost is safety – there are a few measures operators should take before starting the machine's engine, like daily machine walkarounds. Walkarounds are important to identify any issues with the machine that could create a potential accident or injury risk before it's started, such as hose leaks or debris surrounding the engine or exhaust system.
Some equipment manufacturers have developed dedicated YouTube channels with videos that demonstrate how to perform a proper walkaround and daily maintenance on each of their machines, as well as essential safety measures. These videos show everything from where important checkpoint areas are located, to how to safely enter and exit the machine.
When spec'ing a new machine, it's also important to look into advancements that you and your operators can utilize to enhance safety on the farm. For instance, many of today's advanced wheel loaders are equipped with safety features designed to significantly reduce accident and injury risk, such as:
Rearview cameras are now being installed in small wheel loaders as part of the standard package versus an aftermarket addition. These cameras allow operators to be fully aware of their 360-degree surroundings without having to turn their heads.


Object detection systems, also referred to as rear radar, provide an audible and visual alert to the operator when objects are detected behind the machine. The alert varies in sound and color as the distance from the machine to the object changes.


Remotely adjustable mirrors can be adjusted from inside the cab and provide better visibility to areas the operator cannot normally see.


Parallel-lifting loaders are helpful when the wheel loader is being used as a material-handling machine. This allows the operator to focus on achieving the proper height of the load, while the machine adjusts the tilt circuit automatically.


LED service lights are strategically located in the engine compartment. These lights turn on when the compartment doors are open so the operator can safely and confidently inspect and service the machine – even in low, ambient light conditions. These are especially helpful on the farm, as the workday often starts way before the sun rises.
Technology and training go hand-in-hand
Similar to our smartphones, computers and vehicles, machine technology is continually advancing. Many of the advancements on today's wheel loaders are proving to be especially helpful on the farm. These advancements can help you increase efficiency, save money and hopefully gain more time to tackle all the tasks that must get done each day.
However, it can be difficult to stay informed and trained on the latest features and technology while also managing all the moving parts of your operation.
For this reason, it's a good idea to look into the training resources your equipment manufacturer or dealer offers on the latest features and technology. Some equipment dealers will send demo operators out to your farm to train your operators on how to most efficiently use the machine and its features.
Certain manufacturers also offer a comprehensive catalog of online training courses that you can complete from the comfort of your own home. Additionally, some manufacturers produce informative, easy-to-follow videos demonstrating how to utilize, adjust and operate new machine controls, software and features. These videos are often housed on the dedicated YouTube channels mentioned earlier.
There are a few wheel loader advancements to be aware of, in particular, that are improving efficiency on the farm. With the proper training, you can utilize these features to operate your machine at maximum performance and increase overall productivity.
Utilize kickouts and payload management systems for better material handling. Kickouts allow the operator to save lift and tilt positions and recall them with a simple motion of the joystick. Advanced wheel loaders allow this to be done inside the cab and provide smooth, predictable loader arm movement.
A payload management system is a recent advancement available as an option on select wheel loaders that helps you precisely measure how much material is loading into your bucket. These features work hand-in-hand to make the loading process much simpler and eliminate wasted material.
Switch tasks easily with quick couplers. Whether it's filling silage pits, loading silage in carriers to be transported to feedlots or loading and stacking hay bales, a variety of wheel loader tools are needed to complete everyday tasks on the farm. Some of today's loaders are equipped with advanced quick couplers.
They allow you to switch tools in less than 30 seconds without having to exit the cab and also secure the attachment tighter to the machine to reduce component wear.
Advanced secondary display systems are a vital tool for fuel consumption tracking and fleet management. Some are designed with a four-quadrant screen that tracks the overall average fuel consumption of the machine, time until the fuel tank is empty, real-time calculations of the amount of fuel being used per hour, as well as a resettable job clock to track fuel usage per task.
If there are multiple employees operating a single wheel loader on your farm, the latest coded start technology allows you to track fuel consumption and system diagnostics based on the operator codes. Using their code, operators can create a custom profile – setting the system to their preferred language and controls.
Bottom line: Make sure your operators are trained properly on the equipment they are using to help ensure a safe and efficient operation. It is always a good idea to look into and take full advantage of the training resources offered by the equipment manufacturer or dealer. The end result is worth it: Saving money and getting the work done faster so you can have more time to spend with your family and friends.
Illustration by Kristen Phillips.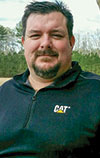 Jason Hart

Global Application Specialist
Caterpillar Inc.