Double baler
Two farmer-generated equipment inventions are rolling into hay fields, which may change the way you put up hay.
Chronologically speaking, I found the first machine in Farmington, New Mexico, in late summer. Jason Grady and his father, Mike, of J&M Baling, custom harvest four cuts of alfalfa on 23,000 acres, in addition to 8,300 acres of wheat straw and 3,000 acres of triticale (two cuts) owned by Navajo Agricultural Products Industry.
Both large square bales and small square bales are required as part of the haying contract. Since 1984, they've used Freeman self-propelled balers for all small bale production – and yes, some are now 27 years old. Jason says, "With small bales, our profit margin was beginning to go to nil because the labor, fuel and amount of machinery means we don't make money.
It wasn't going to put the business under, but the profit margin was like 3 percent. It was frustrating because the big balers are so fast. So I started trying to figure out how to make more than one small bale at a time."
Through that frustration, the Twin Pak was born. But its birth wasn't pretty. Jason says, "For the prototype, we took two old balers, cut them in half and hitched them up together." To apply for the patent, 80 percent of the machine had to be unique. Essentially, they used a big baler pickup system to feed the hay through and sliced the large bale to form two smaller bales.
The onboard computer system sets pressure on the tension, shifting tension as the bale is formed in real time. It tracks flake count for the last five pairs of bales, provides steering arrows for the operator to make adjustments keeping the bales consistent, gives a moisture reading, tracks hydraulic temperature and provides lifetime bale count as well as field bale count.
In addition, it has an auto-lube control. "You can change that in increments," Jason says, "Like if you want to run it every 25 bales, five bales or 100 bales, the amount of oil you want going to the knotters is determined by whatever you set it to. So let's say we want it to come on after every 25 bales – you can set it to come on then for as long as you want, say 30 seconds or 90 seconds. It'll adjust."
The system carries 30 rolls of twine (enough for 11,000 bales) and, while the Twin Pak can be adjusted to any bale length, Jason's ideal bale size is 14 by 21 by 42. Jason says, "We overbuilt the beta models with 3/8-inch thick metal on the plunger and everywhere else because we want them to last forever."
See the Twin Pak in operation in this video.
It requires 100-horsepower power takeoff to operate the Twin Pak. Although two bales are formed simultaneously, they are discharged in an offset pattern to make it easier for stackers to pick up.
Jason says, "When it comes to the public, there will be an option to have a bale scale – but it'll have to be on each bale, so we're still figuring that out. There's a new proprietary tension valve on this baler. There's a rocker lever on the back of the baler, and you can open it, and it'll open the tension system all the way up, and you can just pull the bales out by hand.
When you close it back down, then whatever the tension you had it set for resets. Greg Hutchison designed all that. That's his proprietary valve. We needed a valve that wasn't overheating and wasn't running too much oil to it but still worked properly, and he did that."
The Twin Pak puts out about 85 percent of what a big baler can turn out, tonnage-wise per hour. "Right now, we do about 200 to 225 bales an hour with the Freeman. The Twin Pak will do 600 bales an hour. If you think about it, it takes three Freemans to keep up with a Twin-Pak – then you have to have three operators and three machines versus one operator and one machine. It triples the profit margin."
J&M Baling in New Mexico is currently using two units. Five more units are being built for final beta testing in the 2019 season; three of those will be used at J&M Baling in New Mexico, one in Washington state and one in northern California. After the machines are tested in other hay crops, final tweaks will be made. Jason expects to be able to take orders for production in 2019 with delivery in 2020.
Portable hay dryer
The second machine I found was on Jeff Cook's farm in Roberts, Idaho; it's called the Maximizer, and it's the first unit delivered to the U.S. (although it's the fifth unit produced overall).
Emil Gulbranson, inventor of the Maximizer (through his company called Agri Green Enterprises Inc.), farms 3,000 acres of alfalfa and timothy (mostly) and grains in British Columbia. He says, "In 2016, it was a wet year, and we lost a half million dollars in hay losses. We had to do something." In order to get hay off the field quicker, he knew it would have to come off wetter, so he'd need to build something to dry wet hay.
His research and development took him to the pulp and paper industry because "they work a lot with air flow and air pressure." He found it's necessary to have three things in a drying unit: horsepower, CFM (cubic feet per minute – a measurement of air flow velocity) and pressure. "If you have two of those things figured out," he says, "they'll tell you what the third number will be."
Stationary hay-drying units are not a new concept. Most are housed within a building where hay is stacked on a grated flooring, and a furnace or heating unit and fan are engaged to blow air through the pile. Gulbranson, however, wanted more than dry hay; he also wanted a portable unit with high capacity. And one didn't yet exist.
What he developed is the Maximizer, an open-air unit 90 feet long and 7 feet wide when set up, which breaks into two sections for mobilization. A third towing unit is required to pull the engine and fan trailer. The engine carries heated air by turning the fan, which sends the air through a duct system attached to six bale bays. Each bale bay holds 78 hollow-tubed spikes that are hydraulically injected into the bales and blow the heated air into the bales.
The 388-horsepower diesel engine (consuming about 13 gallons per hour) heats air about 100 degrees above ambient temperature by turning a fan that creates air pressure. Pressure, flow and temperature are the same in the last of the six bale bays as in the first.
Watch a video of the Maximizer at work.
The system allows hay to be baled in the 20 to 25 percent moisture range. After bales have run through the dryer for about 15 minutes, moisture is down to 12 to 13 percent and bales are staged uncovered (on edge or spike holes up).
Within 24 hours, the bale will return to ambient temperature, and within 48 hours the moisture naturally wicks evenly through the bale so it can then be stacked for more permanent storage. Gulbranson says, "In essence, we induced the sweat on the bale." Moisture meter readings after the 48-hour staging should give correct moisture level readings.
Having the ability to bale hay at 20 to 25 percent moisture means less leaf loss, which Gulbranson says can save 300 pounds of alfalfa leaves per acre. This, in turn, results in higher relative quality. The machine has the capability of processing 400 to 760 bales per 24-hour period, depending on moisture and ambient temperature.
With very few consumable parts (chains, belts, etc.), maintenance consists of four grease fittings in the engine. The engine is rated for 20,000 to 40,000 hours, but since the unit is stationary, life expectancy is on the higher end. Wi-Fi links the equipment to a tablet so the unit can be controlled from the loader cab.
"It's not magic," Gulbranson says. "It doesn't make bad operators good operators, but it helps good operators get better." And a hay drying process that often takes four to seven days laying in a windrow can now be achieved in two days, minimizing bleaching and maximizing food value.
He adds, "Farmers just light up when they see it work. It puts the producer back in control of production."
PHOTOS 1 & 2: A double baler, dubbed Twin Pak, is undergoing final beta testing in Farmington, New Mexico.
PHOTOS 3 & 4: The Maximizer, a portable hay drying unit for large square bales, is demonstrated at Cook Farms in Roberts, Idaho. Photos by Lynn Jaynes.
Inquiries for the Twin Pak can be sent to Jason Grady and inquiries for the Maximizer can be sent to Ed Shaw at Agri Green Enterprises Inc.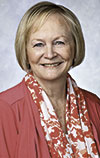 Lynn Jaynes

Editor
Progressive Dairyman