Remember "back in the day" how we thought seatbelt use would never catch on? How we never dreamed we could receive $300 fines for non-seatbelt compliance?
How we didn't even know if the farm truck had seatbelts (and weren't going to look behind those decades-old, mice-ridden lunch sacks under the bench seat to confirm their existence)? It was just a trend, right? An overreaction to a few vehicle accidents whose postmortems showed seatbelts might (emphasis on "might") have saved a life?
And yet, with faster speeds and more power in vehicles and more quantity of vehicles on roadways, here we are today with laws, regulations and $300 fines for non-seatbelt use on highways. And given the safety and liability issues, any farm today with a backhoe, forklift, ATV, skid steer or farm truck would be nuts not to require employees to comply with seatbelt use.
But apparently several of us in the agriculture community still aren't convinced. When we ran a recent poll asking (tongue-in-cheek) which pickup upgrade would be most valuable, 43 percent of producers said, "An off-switch for the seatbelt warning beep."
Precision farming developments, as a trend, didn't really surprise anyone as to their usefulness and longevity – they make money. We happily adopted GPS guidance systems, precision application mapping and technology, and increased communication between implements and tractors. We jumped right on the bandwagon of amassing crop data – we didn't always know what to do with it, but we were happy to collect it.
And as we sit by the fireside this winter trying to figure out what all the data we collected means, there are equipment powers at work on technology you haven't even dreamed of yet. For instance, farm equipment manufacturers are collaborating with the auto industry to create a communication system between cars traveling on the roadway with farm equipment. It would warn drivers that slow-moving vehicles are on the road, with the hope that drivers would take extra care to avoid collision. This system has been discussed for some time, with a final report due by the end of the year.
In essence, this system could be installed when new automobiles are built. A wireless communication feature could be installed that receives warning messages from ag equipment (or slow moving vehicles) that may be on the highway ahead. Essentially, when the ag equipment operator turns onto a highway, a beacon is triggered and received by these new autos and will transmit the message: Slow-moving machine ahead. Autos, buses, trucks or other vehicles within range could receive the beacon.
The beacon could be triggered three ways: based on geo location, manual trigger or based on machine or implement state.
A geo location system differentiates "in the field" versus "on the road" and is automatically triggered. In the case of a geo location trigger, map information is obtained through an online map service provider (e.g., via mobile internet), or map information for the operating range of the host ag equipment can be downloaded beforehand and stored on the human-machine interface for offline usage.
The manual trigger relies on the operator to indicate the intent to enter road traffic using turn signals.
Beacon engagement could also be based on machine or implement state by use of a semi-automatic trigger. As explained in the Smart Machine-to-Machine Communications (SmartM2M) technical report, "For this information in general, a manual input (e.g., machine/implement master on-off switch) is necessary to modify the state indicated by the CAN [controller area network] message. However, this operator input is subject to legal regulations or physical and mechanical constraints in order to prepare the agricultural equipment for road transport (e.g., fold it to the maximum permitted transport width or disengage the master switch for all valves or outlets for product application)."
Of note, much of U.S. ag equipment is manufactured in Europe, and Europe is leading the project, with the support of U.S. ag equipment manufacturers. The technical report concludes, "The present document has specified the concept and guidelines of a pilot use case for testing the cooperation between oneM2M and agriculture equipment standards, involving Cooperative ITS. The future validation of this use case built on the present document is only the first brick of this agriculture ecosystem, which will give access to the data carried through the ISOBUS architecture. The validation of the concept of interoperability between two silos from different sectors as the automotive and the agriculture industries, relying on the oneM2M backbone, will enable various collaborations in the value chain of the agri-food industry.
"Many other use cases could enrich this ecosystem, providing into the future compliance to harmonized standards, which could be referenced in the European legislation for the Digital Single Market. The agriculture industry is already aligned behind the AEF certification, which demonstrated that collaboration adds more value for all stakeholders. Duplicating this model through the ETSI support by bringing its expertise with the oneM2M framework could clearly speed up the adoption of Smart Farming, not only for Europe, but also for other parts of the world."
Now only if they could just find a signal to send to road vehicles that says, "Warning: If you drive through my field on a joy ride, be prepared to get a call from my attorney."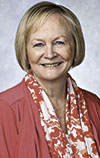 Lynn Jaynes

Managing Editor
Progressive Forage
PHOTO: Illustration by Corey Lewis.