Weighing scales play a crucial role in farming operations, as they streamline the harvest management process from scratch. These feature-rich scales come with advanced technologies that offer tremendous value to the agriculture and farming industry.
From tracking agricultural yield and handling feed to monitoring livestock performance and weighing raw farm product, weighing solutions ensure ultimate precision, even with a high volume of feed.
If you want to maximize your harvest management efficiency while cutting down on overhead costs, you can count on an advanced truck scale. Let's take a look at the different types of portable truck scales available on the market to help you make the right choice.
In-motion wheel weighers
Portable in-motion axle scales are designed for farming applications that involve large batches in off-road conditions. They make vehicle weighing safe, easy and precise by facilitating vehicle weighing in both static and dynamic states. These scales are ultra-light, easy-to-use and offer unmatched accuracy.
On-board truck scales
These scales feature a robust design that eliminates the possibility of overloading fines. The accuracy, efficiency and speed of on-board truck scales facilitate real-time tracking of yield while saving considerable time and effort. They can be easily fitted with forklifts, conveyor belts, grain carts and chaser bins to accelerate the harvest weighing process.
Grain dump truck scales
Designed to match your dump pit, the weighing feature of grain dump truck scales offers easy access to the hopper bottom gates for speedy and safe dumping. These scales are easy to install on-site and make a perfect weighing solution for existing and newly constructed dump sites.
Truck axle scale
Truck axle scales allow farmers to check weight right off the field before the product reaches the grain bin or silage pile. These scales need little to no maintenance and are specially designed for rugged, off-road use. They can be integrated with printers for generating accurate weigh tickets.
Galvanized truck scales
These are advanced truck scales galvanized for longer service life and low maintenance. Designed for on-site weighing of farm product, galvanized scales are easy to install, durable and capable of enduring harsh climatic conditions, and they work efficiently for large-scale farming ventures.
Standard-duty truck scales
Designed to replace heavy-duty cranes, these on-site truck scales feature a simple loading and off-loading mechanism for convenient weighing. These scales are highly reliable, safe to use and automate the weighing operations without inviting additional transport costs.
Wide-deck truck scales
These scales facilitate on-site weighing of farm products and eliminate the need to hire heavy machinery. Wide-deck scales can be easily adjusted to any desired width and efficiently weigh all kinds of loads during the busy harvest season.
Alternative farm-focused weighing solutions
Weighbridges
Designed for commercial use, these heavy-duty weighing scales are an ideal solution for high-volume harvest applications. These scales are highly efficient for reducing workload and need little to no maintenance. When attached with a scanning device, weighbridges deliver accurate data.
Axle scales
These scales are versatile, precise, convenient to use and affordable for a majority of farmers who want to lower the up-front cost during a busy harvesting season. Axle scales can be relocated to multiple sites and are easy to move around.
Grain cart scales
Grain cart scales can be integrated with a wide range of farming vehicles and deliver precise results. They feature a user-friendly interface to save time by delivering instant weight readings. Perfect for small-scale farmers, these cost-effective scales significantly reduce the time farmers need to weigh payloads.
Harvest season is the busiest time of the year for farmers, and having accurate weighing solutions that streamline harvest management can prevent unnecessary delays. Farmers can further speed up the process by integrating portable truck scales with advanced technology and software.
Benefits of portable truck scale solutions
Unmatched accuracy
Portable truck scales offer ultimate precision for reliable results.
Ease of installation
These scales can be installed in minutes at any desired location.
User-friendly mechanism
The mechanism of these scales is fairly easy to operate.
Versatile features
These scales are designed for rugged use and configured to cater to most farming applications. They have a good memory capacity for storing relevant data. They are highly durable and incredibly strong.
Effortless integration
These weighing scales can be easily integrated with computer technologies for real-time processing and printing.
Remote operation
The remote weighing terminals of portable scales are equipped with LCD displays for printing data.
How truck scales help farmers manage harvest operations more effectively
Truck scales automate the measurement and monitoring of yield and are vital for tracking productivity. These scales offer a myriad of advantages in terms of accuracy, flexibility and performance. These scales feature a heavy-duty framework to withstand tons of weight and come with optional ramps for easy installation in undulated terrains.
They are compact in size and are capable of measuring different types of farming vehicles.
They also come with digital indicators for precise payload management even with extreme weights. Since they are automated, they eliminate the scope of errors and save a lot of time. These scales can measure moving loads efficiently at every level of loading.
They reduce pilferage and can be integrated with harvest management software so farmers spend less time tracking product and invest more time doing things that are more important.
Why portable truck scales make an ideal solution for modern-day farmers
The farming business is governed by various rules and regulations that impose certain restrictions on transporting agricultural product which farmers are required to abide by. Investing in a portable truck scale comes with unparalleled flexibility for your business.
They improve safety, reduce the consumption of fuel and improve operational efficiency with accurate and reliable results.
Weight is everything in the farming business, so the importance of scales in farming simply cannot be overstated. Scales make an invaluable tool for modern-day farmers as they can be remotely operated from computers and mobile phones and make precise calculations in seconds to avoid overloading.
Make your busy harvesting season time-efficient and cost-effective with these fully loaded, feature-rich, portable truck scales.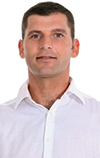 Kevin Hill

Marketing and Technical Expertise
Quality Scales Unlimited