Due to their unique set of capabilities, telehandlers are quickly becoming a popular and essential machine on hay production operations throughout the U.S.
Telehandlers are especially useful during harvest season to transport, store and prepare bales for shipping. First, let's talk about telehandlers and their primary functionalities to give you a better understanding of these machines.
Telehandler basics
With great flexibility and performance, telehandlers can handle heavy loads, reach impressive lift heights and maneuver through congested areas on the operation. They can even tow a trailer, quickly moving it from one location to another.
Known for their durability, the strength of telehandlers comes from their design and how the boom extends outward and upward from the vehicle. The boom can be separated into two, three or even four segments.
Most commonly used to lift and place materials, telehandlers can also perform loading tasks, including bucket work to move loose material.
Telehandler benefits
When harvest season approaches, we understand it's "go" time. You and your employees are working around the clock to satisfy the demands of your customers. This is when telehandlers can serve as one of your most versatile pieces of equipment.
Operations throughout the U.S. are beginning to use these machines in a variety of ways, including:
Transferring bales from the chaser at the edge of the field and loading them onto a truck to be transported to a hay-compressing facility


Transferring bales from a truck and placing them into storage


Transferring bales from storage and loading a truck to be sent to the end customer


Collecting bales in the field and loading tractor-towed trailers
As an added benefit, particularly for smaller operations with a limited fleet of machines, telehandlers can be used to tow a trailer out to the field. It can then collect bales from the field to load the trailer and tow the full trailer to the next destination.
Spec'ing a telehandler
Telehandlers come in a variety of size classes, from compact machines that handle around 5,000 pounds up to larger versions with lifting capacities of 12,000 pounds or more. Depending on the size of the bales you harvest, it's important to consider the machine's lifting capacity in order to safely and efficiently carry loads.
Due to the nature of production-type environments and the stress that type of consistent lifting will cause on the machine, it is crucial to operate a telehandler with a reinforced framework. A stronger framework will help distribute the stress so it's not always concentrated on one area, ultimately preserving the life of the machine.
It is also important to assess how the boom is extended and retracted – whether it is cylinder-driven or chain-driven. Cylinder-driven booms are recommended for work in agricultural applications, as they are more durable in bucket-loading applications.
In the same applications, chain-driven booms can be sensitive to stretching or damage. Additionally, booms with a low-pin design are ideal for agricultural applications. A low-pin boom provides optimal all-around visibility even when the boom is lowered, a common feature on most compact telehandlers.
Horsepower becomes an important consideration if you plan on operating your telehandler in fields. Look for a machine with upward of 140 hp in order to achieve optimal torque and traction when lifting and transporting bales from the field to the trailer.
During harvest season, machine downtime is your worst enemy. Fortunately, some of today's advanced telehandlers are engineered with advancements to significantly increase uptime, including:
Passive engine regeneration – These systems utilize a clean emissions module designed to require no operator intervention or disruption of work cycles.

Regeneration of the diesel oxidation catalyst (DOC) occurs passively at a low temperature, while the machine continues to operate. Comparatively, in order for the engine to regenerate, some telehandlers have to stop working and be parked in a safe zone to allow the system to carry out this task.


Quick-attach couplers – A design that incorporates a quick-attach coupler will make changing attachments easy with the push of a few buttons from inside the cab. Swapping attachments from a bucket to a shear or a fork shouldn't take more than a few seconds.


Reversing fan – Working in dusty and often hot environments, it is important to keep debris out of the engine and make sure it remains cool. Reversing fans help avoid potential engine damage or shutdown by constantly blowing out debris and keeping the engine cool while operating.
As you can see, telehandlers offer a lot of value to hay production operations. If you are considering purchasing, or even renting one, to assist with your harvesting and storage tasks, it's always important to research your options and configure the machine to best suit your needs.
As the saying goes, not all machines are created equal.
ILLUSTRATION: With great flexibility and performance, telehandlers can handle heavy loads, reach impressive lift heights and maneuver through congested areas on the operation. Illustration by Corey Lewis.
Adam Lucia is also a telehandler product application specialist with Caterpillar Inc.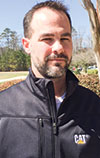 Mike Peterson

Telehandler Product Application Specialist
Caterpillar Inc.