Back in pre-hysteria days, when we could freely watch a high school basketball game unhindered by the fetters of a crafty little virus, I made a short trip from my place to the hamlet of Murtaugh, Idaho, to scout a game involving a couple teams, one of which would be the opponent of my hometown Oakley Hornets in the next round of the conference tournament.
As I stepped into the gym, I was greeted by the sideways glare and mischievous grin of Caroline.
Caroline was the lanky freshman center for the Raft River Trojans, our fiercest rivals from the rough, rocky, windswept valleys on the east side of the county. It's country that produces more than its fair share of bronc riders, team ropers and high school athletes with jackrabbit-like speed and stamina, and nothing brings more joy to the Oakley Valley than a victory by one of its high school teams over the despised Trojans. Despite the spirited rivalry between the cross-county schools, however, most of the students and patrons of the two schools have enough sense to keep said rivalry in its place. Whether you watch the sunrise or the sunset from your side of the Albion Range, chances are you have a lot more in common with the folks on the other side than you have differences.
Caroline and I go way back, at least as far back as her 15 years allow, anyway. She wouldn't be playing, but she was there to support her teammates who would take the first step that night toward an eventual district championship and a coveted berth in the state tournament.
She comes from good stock. Her dad, a 6-foot-5-inch gentle giant of a man, epitomizes the papa bear figure. He and I both graduated from the same college with animal science degrees, and we played intramural ball together on a team of ranch kids who delighted in sticking it to our urban counterparts who, it seemed to us, often held a persnickety view of our hats, boots and rural lifestyle. He settled in Malta, Idaho with his family to manage a big cow outfit with operations in several counties in Idaho and Utah. Her mama, the ag teacher and FFA adviser at Raft River High School, is 5 feet of fire and wit. And, in sticking with the bruin analogies, I'd say she is the epitome of the mama bear. Whether it's her students or her own kids, she'll fight for them like a Yellowstone grizzly in a tussle with a pack of thieving wolves. Caroline is a pretty good mix of both the top and bottom sides of her pedigree.
As I chatted with Caroline before the game about her family, her show steers and her team, she seemed a bit on edge. As it turned out, the athletic director of the host school that night had approached her and a couple of her friends and asked them to sing the national anthem at the beginning of the second game. Despite Caroline's considerable talent for tickling the ivories, none of the three girls were professed experts in the performing vocal arts. Even so, they reluctantly agreed to the request. I commended them for their willingness and courage, and left them so they could step into a vacant classroom to make a quick practice run through our beloved anthem, which as I understand it, has a couple high notes and an octave change. I'm no singer, but I'm pretty sure that makes that particular ditty tough to perform.
About 20 minutes later, as the teams lined up on the sideline for the anthem, I was a little surprised to see Caroline standing alone at midcourt, microphone in hand, no friends within a half-court shot of her. Knowing her as I did, and being fully aware of her limited (well, really nonexistent) performing history, I felt a pang of empathetic anxiety for her. But I'll be darned if she didn't pull it off with aplomb. I was impressed with her nerves of steel and told her as much as she exited the court and sat down next to me to regather her wits before she rejoined her team behind their bench.
She informed me that her friends had understandably opted out of the trio shortly after their impromptu practice session, which left her with a decision to make. She could have easily declined the "opportunity" for her debut solo. They could have played a taped instrumental version of the anthem and nobody would have been the wiser, nor would they have probably cared. Caroline, though, chose the higher road and the tougher path – the road less traveled, if you will. She had made an agreement and she was loath to break her word, even though there would have been virtually no negative consequences to her had she chosen to step back from the challenge.
It's a hard thing to step up and stare down your doubts and your dread. It's a tough enough assignment when a crowd is watching, but I submit it may be even tougher when nobody is watching. It may take more grit and courage to make the right decision than it does to carry out the action of that decision. I think the real strength in character comes through those defining moments. Caroline may not be booking any more singing gigs, but I think she may agree.
Paul Marchant is a cowboy and part-time freelance writer based in southern Idaho. Follow him on Twitter or email Paul Marchant.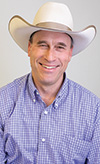 Paul Marchant

Writer
Progressive Forage