Danny Nusser, regional program leader for Texas A&M Agrilife Extension, is one of the many folks coordinating hay and other donations for those affected by a rash of wildfires in the Central Plains in recent weeks. He estimates that at least 6,000 bales of donated hay had been received at one supply point in Gray County, Texas, as of March 15.
Nusser says, "We've had lots of other feeds donated too – tons of cake, several truckloads of square bales – horse quality alfalfa. We got a load of peanut hay from Seminole. We've been getting everything. ... Another agent just got a call about sending us some milk replacer, because we've got a lot of these ranches that lost cows and still have baby calves. We're in the middle of calving season here. ... And then we've got a little bit of creep feed that has been donated. So we've had a little bit of everything donated, plus water and … you name it, those kind of supplies that really are hard to handle from a livestock supply point, but we'll take whatever they give us."
Nusser estimates at the Canadian, Texas, supply site they've had about 2,500 hay bales donated, and the Lipscomb, Texas, supply site has seen a little more than that.
Nusser says, "We've been sending the big trucks straight to the ranches, so it's been a little harder to keep track of that. When they get a big truckload, they know those big ranches need it, so rather than unloading it at the supply point, they're sending them straight out there."
Nusser estimates the Texas Panhandle has sufficient hay for now and for the next month, so short-term needs are being met. He says it's hard to put a finger on what the needs will be after that, as some ranchers have moved cattle either out of state or to other places in Texas, and cattle losses are still being assessed.
Hard-hit Oklahoma is also working through wildfire hay relief efforts. Chancey Hanson, director of communications with Oklahoma Cattlemen's Association, says, "Folks have donated trucking, gas cards to help cover trucking costs, fencing supplies, labor to build fence, feed, vet supplies, milk replacer for orphaned calves, household goods, beef and other food items along with clothing. As you can see, the list is far and wide. Folks just want to help in any way they can. We've been bombarded with emails and messages on social media reaching out to help from folks all over the U.S. – a cupcake store in Oklahoma City, a candy making company in eastern Oklahoma and even McDonald's has contacted us wanting to help. Yes, agriculture is really responding to help, but folks from other walks of life want to help too." Acres burned in Oklahoma are estimated at over 830,000 acres.
One estimate of acres burned in central and southwest Kansas through the same wildfire series reached 711,000 across 21 counties. Response centers were set up to handle hay and fencing donations, volunteer laborers and animal care needs – such as stock tanks and portable corrals. Kansas Farm Bureau quickly set up a website to match requests from those needing assistance with those offering help. For instance, one outfit offered to make room for 18 bucket calves, and another offered housing for displaced horses. Those donating hay were quickly matched with truckers donating hauling services. Labor was donated for help with cattle, cleanup or fencing. Another offer was from a group of college kids who offered to spend part of their spring break volunteering for whatever needed to be done.
Once the immediate needs are met, longer-term effects will be assessed. Nusser explains the Texas Panhandle is pretty dry most of the time, but if rain came, they'd still be six weeks to two months away from having any range green-up at all. He says, "I can safely say that we know in the whole event – the Potter, Carson, Gray, Wheeler, Lipscomb, Ochiltree, Roberts [counties] fires – almost half a million acres of rangeland burned. And we're asking [ranchers] to let us know losses … and so far we're up to about 2,500 head, and that's going to grow." He says it's important to note that there are a lot of injured cattle and cattle that were close to the smoke that are dealing with respiratory issues and illnesses going down the road, "so we know that number's probably going to grow in the future."
The fires across three states have taken a toll in cattle, buildings, homes, range and lives. Hanson recounts one experience and says, "I spoke with a member of ours that lives in Knowles, Oklahoma, last Thursday. He, his sons and grandsons run the ranch with great grandchildren waiting in the wings. They lost all their land except for a wheat pasture where several head of cattle had congregated. They did not lose any homes that were occupied on the ranch, so they were very fortunate in that regard, but the level of emotion from a stubborn old cowboy was high. This occupation, this heritage, this industry is emotional on a good day due to the generations involved and the decades of stewardship to the land. But when you go through a devastating disaster such as this – it's very emotional to experience the loss and animals that have been killed or are suffering. It's tough!"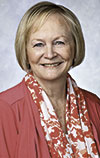 Lynn Jaynes

Managing Editor
Progressive Forage
PHOTO 1: Hay donations are received at the livestock supply point in Gray County, Texas, for distribution to ranches suffering wildfire losses.
PHOTO 2: Gray County, Texas, workers and volunteers receive donated hay shipments from all over the nation, bringing at least temporary relief to ranches affected by the devastating wildfires in early March. Photos provided by Texas A&M AgriLife Extension.
Before commenting on our articles, please note our Terms for Commenting.