"The good news is that prices were up on Supreme and Premium quality alfalfa [in early 2018]," said Seth Hoyt as he reported on the state of the Western alfalfa and hay markets at the annual California Forage and Alfalfa Symposium in Reno, Nevada. "The bad news is that prices flipped from May to October." Hoyt noted the decline in hay prices due to depressed milk prices and struggling dairies, as well as the tariff impact from the trade wars with China as affecting overall prices.
2018 hay prices
Western states in general experienced good growing and harvesting conditions through the 2018 season, and alfalfa hay acres in Western states are up 4 percent and up 5 percent over the entire U.S.
Hay sales to California dairies continued to find markets, but the markets were tighter, as almond hull prices continue to be low enough to incorporate into the dairy ration, and alfalfa percentages in the dairy ration continue to slide. Hoyt said in 2005, roughly 11.25 pounds per head per day of the diet was alfalfa, whereas in 2018 the rations include only 7 pounds per head per day.
Hoyt said dairies in the West have shown abnormal hay buying for the second consecutive year – buying short-term supplies only, in a "hand-to-mouth" mode, not able to buy long-term supplies, as cash is short. Dairies are in survival mode, which is not good for hay growers. Dairies have reduced pounds of alfalfa hay fed and have done all they can to hold down feed costs. Hoyt noted there are still many dairies "on the edge" as to whether they can stay in the business or not, and this continues to affect hay prices.
Hoyt also said tariffs imposed during the Trump administration trade wars have impacted China's demand for alfalfa exports, which has dropped 33 percent since pre-trade war volumes. "This was a big deal," Hoyt said, "because in 2017 around 45 percent of alfalfa hay exports from the West Coast went to China."
Other shifts in the Western hay markets have been impacted by the drop in dairy cow numbers in California, which has been somewhat offset by the cow number increases in Idaho. Corn for silage acres have risen in California since 2015, but final numbers from the USDA are not out yet. Tulare, California, corn silage prices were reported at $50 per ton standing.
One of the interesting stories in the 2018 alfalfa hay season, Hoyt said, in the West was the demand and prices of Fair quality feeder/dry cow alfalfa hay. Due to better-than-normal hay production weather through the season, there was not the normal production of Fair quality alfalfa hay. This was significant because not only is this quality of hay used for dairy dry cows, but also by feedlots and beef cows in the West.
2019 hay prices
"It is years like this that made me stop trying to predict where hay prices will go in the future," Hoyt said. He said two key elements that could drive better prices in 2019 would include stronger milk prices, hopefully being realized in later 2019, and impending settlement of the trade war with China, which would end alfalfa tariffs. Both or either of those issues being resolved would boost alfalfa prices.
Hoyt said, "While the China market is also a big factor in the Washington alfalfa hay market, the demand for alfalfa hay for the Middle East has picked up, and sources think this could grow in the coming year. In the southern desert of California and Arizona, as well as other areas in the West, there will be more demand for alfalfa hay for Saudi Arabia. Sources have said the Saudi Arabian government will require that irrigation of larger alfalfa farms be discontinued after the middle of December 2018. This will increase demand for alfalfa hay in the western U.S. in 2019."
Hoyt said there have been increased purchases of alfalfa hay destined for the UAE in recent months, but it is questionable how long this demand will continue after the trade war with China is settled. China has been outbidding the UAE for alfalfa hay in some parts of the world.
Hoyt will be retiring and is "passing the torch" following this presentation, after at least 19 years of presenting at the California Forage and Alfalfa Symposium.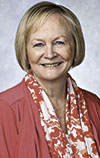 Lynn Jaynes

Managing Editor
Progressive Forage