Not surprisingly, several of the top 20 articles posted online at the Progressive Forage website in the last 12 months (November 2017 to November 2018) belong to the hay market reports, written by Editor Dave Natzke.
Dave does an excellent job rounding up weather updates, acreages, the dairy outlook, on-farm stocks, fuel cost, hay exports and anything producers need to know about factors affecting the hay market. If you haven't signed up to receive an instant notification when a new market report is posted, sign up here.
Other top articles for the year include the following, listed by category and in no particular order:
Forage production
Travis Meteer, beef extension educator with the University of Illinois, discusses cereal rye, triticale and wheat as spring forage options, giving producers more opportunities for forage production.
In a nutshell, the 5 C's of the silage harvest are: consider, cut, crack, cram and cover. While these processes may not be new, a review of the target recommendations for each step is valuable to the silage team (and thanks to the "5 C's," it's easy to remember). The article contains a link to the University of Wisconsin – Madison spreadsheet calculator to estimate silage density.
Producers looking to make every dollar possible from production appreciated Laura Mushrush's article, which discusses using legumes to improve pastures, alfalfa stands and silage options.
Forage Specialist Glenn Shewmaker isn't afraid to call a spade a spade. He warns readers about how the "big iron syndrome" can crush new buds of alfalfa and grasses, and, of course, create compaction issues. Shewmaker talks about tractor size and horsepower, tractor weight and the use of dual tires and their impact on growing forages.
Equipment
New York hay producer and innovator John Randall would like to do away with the baler plunger, which, he says, has reached its physical limit. As a producer in the small-bale industry, Randall has built a prototype of a plungerless design. The new design compresses the bale through a V-shaped chute. "It's like making sausage," he says.
Pasture and grazing
Megan Clayton, with Texas A&M AgriLife Extension, discusses research involving replanting a pasture with native grasses (harder to establish, but with low input costs) versus introduced grasses (establish quickly with better yield, but requiring more weed control and fertilizer). The cost analysis and potential payoff on pasture replanting is worth a second look.
Research challenges the old paradigm that native grasses have to be rotationally grazed in this article. The authors suggest the important point is really an appropriate stocking rate.
In this article, author Greg Halich addresses five grazing myths: that cattle need to be moved every day, that cattle need to clean up the pasture, that we should never back-graze, that water is needed in every paddock, and that cattle should graze 365 days a year. In short, don't believe everything you hear.
Management
Editor Cassidy Woolsey talks to producers about scam tactics and provides a list of red flags from Texas and Southwestern Cattle Raisers Association. Here's one tip: Be especially wary if someone insists you send funds by wire transfer. Internet marketing has opened up increasing opportunities for scammers. Learn how to protect yourself.
A forage test means nothing unless you know how to interpret the values. Presenters at the Alfalfa Hay Quality Workshop broke down the forage test into ranges of values to help producers understand the hay analysis.
If you're in the small-bale hay business, then you deal with a range of customers, from the nitpickers to the endless quote collectors. You almost need a degree in psychology to handle the vast variety. This article talks about conflict resolution and how to handle difficult customer relationships – including knowing when to let a customer go.
Dennis Hancock, forage specialist with the University of Georgia, took a survey of producers from around the country to find out what the trends were in hay hauling and handling. He predicts increases in bale density and advances in bale-bundling systems will likely increase in the small-bale market.
A lot of hay producer frustration comes from having variable hay analyses. While labs do have differences, it's worth noting that most of the variability lies with sampling error, and that's a point you can control.
All-time highest hits
Chad Hale's article, published in May 2016, has received the highest number of hits on our website to date, and it's regarding sorghum, sorghum-sudan and sudangrass. We asked Hale what was happening in the market that would continue to make this a popular topic to research. He said, "It was a good year for sales of warm-season annuals. In the Deep South, warm-season annuals are part of many of the forage systems, so if they get good weather down there, they will plant some every year. One recent change is that the sugarcane aphid is now attacking sorghums. Breeders are working on resistant varieties, but in the meantime, forage growers are switching to millets because they are not as susceptible to the sugarcane aphid.
"As the market for these crops moves north, the usage is connected to general forage supplies and planting conditions for corn. You might call them an emergency crop. This year, some people in the Midwest didn't have a good window for corn planting, so they switched to sorghum. It was a pretty bad disease year for grasses in the East, so some renovation might have occurred in the summer as well to beef up late-summer forage supplies. Another thing we see is that more producers in the transition zone are incorporating novel endophyte tall fescue each year. Sorghum-sudan is often part of the renovation process, so that helps seed sales too."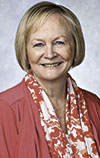 Lynn Jaynes

Managing Editor
Progressive Forage
PHOTO 1: In today's world of heavier ag equipment, alfalfa buds can be injured and compaction can result unless producers take steps to minimize damage. Photo by Glenn Shewmaker.
PHOTO 2: Forage yields of 20 tons per acre are obtainable when the right variety of a species is selected. Photo provided by Laura Mushrush.
PHOTO 3: John Randall discusses design concepts of a plungerless baler to a group of fellow hay producers. Photo by Lynn Jaynes.
PHOTO 4: Cattle grazing native warm-season grass pastures in east Tennessee. Photo provided by Kyle Brazil.
PHOTO 5: Illustration by Kristen Phillips.
Before commenting on our articles, please note our Terms for Commenting.