And just when ag equipment sales had begun to turn around …
President Trump tweeted in early March that "trade wars are good and easy to win. But every war has casualties," regarding a proposed 25 percent tariff on imported steel and 10 percent tax on imported aluminum.
With increased tariffs comes increased expense to equipment manufacturers, which in turn may affect equipment purchases. Domestically, steel prices were already on the rise due to demand from pipeline projects, and a tariff is expected to raise those costs more sharply. Rising interest rates across all sectors may be the double punch for domestic equipment purchases.
But it's not just equipment manufacturing this affects. China, the European Union (EU), Mexico and Canada all agree: A steel and aluminum import tariff proposed by Trump will come with repercussions. These countries are major buyers of U.S. agricultural goods, and unfortunately, agricultural goods usually bear the brunt of trade spats. In 2017, 85 percent of all U.S. hay exports went to China, Japan and South Korea. If any of these countries decreases imports from the U.S., Canada, Australia and the EU can quickly replace U.S. forage products.
The New York Times cited these responses:
Wang Yi, China's foreign minister: "Choosing a trade war is a mistaken prescription. The outcome will only be harmful. China would have to make a justified and necessary response."


Cecilia Malmstrom, European Union trade commissioner: "The EU is a close ally of the U.S., and we continue to be of the view that the EU should be excluded from these measures."
California has the most to lose, where farmers and ranchers are twice as dependent on foreign trade as the rest of the country. Nearly all U.S. hay is exported through California ports, and this undoubtedly would affect hay trade.
Several agriculture organizations have expressed disappointment over the tariffs and concern for retaliation in the agricultural markets.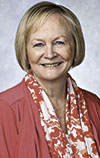 Lynn Jaynes

Managing Editor
Progressive Forage
Before commenting on our articles, please note our Terms for Commenting.