Creighton University released the October Rural Mainstreet Index (RMI) with unfavorable results for the agriculture community in a 10-state area.
Ernie Goss, Jack A. MacAllister chair in regional economics at Creighton University's Heider College of Business, says, "As a result of weak farm income and low agriculture commodity prices, approximately 9.5 percent of bank CEOs expect farm loan foreclosures to pose the greatest threat to banking operations over the next five years."
The survey was conducted among bankers in Colorado, Illinois, Iowa, Kansas, Minnesota, Missouri, Nebraska, North Dakota, South Dakota and Wyoming. The farmland and ranchland price index for October slipped from 39.6 in September to 39.3, indicating the 47th straight month the index has fallen below "growth neutral 50."
Bankers were asked to compare breakeven prices with current spot prices for corn, and 45.2 percent reported current spot prices were below breakeven. The farm equipment sales index increased to 29.3 from September's 27.4, marking the 50th consecutive month the reading has dropped below "growth neutral 50."
Individual state results are summarized here.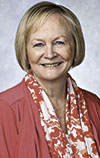 Lynn Jaynes

Managing Editor
Progressive Forage
Before commenting on our articles, please note our Terms for Commenting.