Silage is a great option to integrate into your feeding program, but it is not a cheap endeavor. Aside from the time spent growing the crop, the process of storing it effectively to preserve quality can be time-consuming and costly. The traditional plastic and tire method can be a safety hazard for employees and creates waste that ends up in a dumpster if not recycled.
Matt Akins of the University of Wisconsin is one team member of a study being done at the Marshfield Agricultural Research Center working on an edible wax-based sealant that could replace the need for plastic and tires.
"When you're feeding the silage, you wouldn't have to remove the cover," Akins says. "The covering would just mix into the ration, eliminating some risk and also saving time."
A study to compare bunker-stored forages covered with traditional plastic against bunkers covered with an FDA-approved, wax-based coating is also being done at the Marshfield Agricultural Research Center. Both of the forages will be fed to heifers after fermentation to determine palatability. The study is a collaboration between the University of Wisconsin and UW River Falls, and is sponsored by UW Wisconsin Consortium for Extension and Research in Agriculture and Natural Resources.
The exact elements of the developing wax product are still being adjusted to discover what mixture yields the best results. The goal of the research is to develop a product that a custom operator could be hired to apply to a bunker, and the producer could feed out of it as necessary without having to remove the cover or sacrifice the quality of the feed.
Wax is fairly expensive, so the volumes needed in addition to a method to apply it to a bunker could be costly for a small producer, Akins says. Economies of scale comes into play when purchasing the materials needed to complete this project successfully. The wax is applied between 1% and 2% of the amount of dry matter, so a custom operator being able to acquire a large batch and the producer paying only for what they need would be the main benefit to hiring a custom operator.
Challenges going forward in developing this product range from lowering the cost of implementing this practice for producers to finalizing the formula of the wax-based product sealant. The timeline of when this product will be available is still in question, but the research being done is a prime example of how our industry is continuing to innovate and create more opportunities to benefit producers.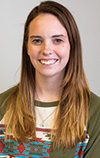 Joy Hendrix

Editor
Progressive Forage
PHOTO: Matt Akins applies the wax-based coating to a bunker at the Marshfield Agricultural Research Station. Photo courtesy of Marshfield Agricultural Research Station.