There's one time of year when any extra weight you're packing (thanks to Twinkie-ville, $1 burger menus and other foods you torture your body with) will pay off – and that happens during silage season when you're packing the pile.
If oxygen is the enemy in a silage bunker, then added weight will help eliminate the oxygen. But weight, in and of itself, is not the only consideration. Producers must also consider how the weight is distributed to the pile.
"A fairly common misconception among farmers is: If they put duals on the tractor, they're going to pack more," says Frank Weaver, general manager of Weaverline LLC. "In reality, they're packing less because they're distributing the weight. While it's true they can cover more area faster with duals, the reality is: The packing performance goes down because they've distributed the weight over a larger area."
To illustrate, consider this question: Which would flatten a tick faster – a woman who stepped on the tick wearing tennis shoes or a woman wearing spiked heels? While it's the same woman (same weight), obviously pounds per square inch matter. The same concept plays out with silage packing, where tractor weight as distributed by tire width is involved.
One of the things modern tractor tires are specifically designed to do very well is reduce compaction, Weaver says. So even if duals, concrete weights or other weights are added to a tractor for packing, the weight is still being transferred through a tire designed to reduce compaction, and compaction is the goal when packing silage. Producers who simply add duals and more weight to a tractor still require more passes to adequately pack the pile.
"Really, what we're trying to do when we pack material," Weaver says, "is to pack it in tight – get rid of the air pockets. That is why we want the weight directed down as much as we can, to force the air out of the pile."
Packing density is affected by delivery rate into the bunk or pile, crop dry matter content at harvest, depth of silage pile, average packing tractor weight, number of packing tractors used (or passes per tractor), packing layer thickness and packing time. When asked, most producers believe they adequately pack a silage pile. And they'd be right – mostly … three out of four times anyway. The question is: Can you live with a standard of 75 percent?
In a recent packing density analysis (Low-density silage piles equal lost dollars) completed by Vita Plus consultants in Michigan, Indiana and Ohio, author Nathan Hrnicek says roughly 25 percent of the bunkers surveyed were underpacked, at less than 15.5 pounds per cubic foot (the industry minimum).
"The dry matter losses in piles packed less than 15 pounds per cubic foot equates to money that never makes it to the bank account. If we assume a rate of $40 per silage ton on an as-fed basis, a packing density of 13 pounds per cubic foot would lose around $7 per ton in dry matter loss," Hrnicek says.
Weaver recommends using equipment designed specifically for packing silage. One such implement is a silage roller mounted on a three-point hitch, comprised of steel wheels spaced 15 inches apart with a platform above the wheels for added weights. Weaver recommends weights to equal roughly 1,000 pounds per 3-inch wheel for adequate packing. "So instead of taking a huge amount of weight and transferring it to a tire designed to distribute weight, we're taking a reasonable amount of weight and putting it directly onto the pile."
While equipment always involves a cash investment, remember you'll feed that silage all year long and, if you don't have it "right," it will affect your herd's performance over that entire year. That return is what makes the initial investment worthwhile. Weaver also says packing with a roller decreases the time spent packing, which helps keep up with the delivery rate and decreases fuel use.
Weaver says a common producer question he gets is: How much more can I get in my pile by using a packer instead of a tractor? He answers, "There's no really good answer to that because it depends on how good a job they're doing with the packing now."
Weaver says, "I've heard other companies say you can get 25 percent more in the pile [by using a roller], but I don't subscribe to that theory because if you're using a great big tractor, bringing in the crop slow enough and spending time packing, you probably can't get 25 percent more if you're already doing a religious job of packing it now. But the big thing is: A roller can save time and fuel. And if the material is coming in too fast, so you can't keep up, that's what matters."
Packing technique
To achieve that extra 25 percent packing density, review your packing technique.
Know your tractor weight and the rate of delivery from the field.
Ideally, shoot for 800 to 1,000 pounds of packing weight per 3-inch wheel on a silage packing roller. One of the common problems today is: With larger choppers, the crop comes in too fast for just one tractor to pack efficiently.
Weaver says, "One farmer told me he gets a load of crop in about every 20 minutes and, if that's the case, you can do that with a tractor. But if you've got bigger equipment in the field, and loads are coming in every five minutes, you don't have enough time to get that packed before the next layer is spread on top. Ideally, you're looking at trying to pack 4 to 6 inches at a time and then packing that in and doing it again."
Pack constantly and consistently.
Ideally, packing tractors need to stay on the pile when trucks are unloading. Spinning wheels tend to kick up silage and undo the packing that has been accomplished, so avoid turning tractors on the pile.
Make the top layer smooth.
Whether packing with a tractor or a packing roller, smooth out the top surface before the pile is covered. Ridges and valleys in the top layer (common with roller equipment) provide pockets to trap air, and smoothing out the surface will allow the plastic covering to adhere to the pile better.
So there's your justification: Go ahead and have that extra Twinkie, that large order of french fries – the silage pile can use all the weight you can pack.
PHOTO: … there's your justification: Go ahead and have that extra Twinkie, that large order of french fries – the silage pile can use all the weight you can pack. Photo by Fredric Ridenour.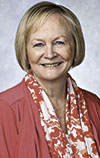 Lynn Jaynes

Editor
Progressive Dairyman
Before commenting on our articles, please note our Terms for Commenting.