Dr. Carl Hoveland, a pioneer in forage livestock research, said: "Beef cattle production in the southeastern U.S. is an inefficient and often unprofitable enterprise.
This can be directly attributed to the lack of improved management of high-quality forage species that can make beef cattle production more competitive." In the wake of COVID-19, the ramifications of prior years' management decisions have been amplified as producers have been scrambling to determine when and what to sell, what to feed and how to keep costs low for what they keep.
At the time of writing this, it seems as if things are trending back to a less volatile state of production, but I can't help but think of some of the decisions that were made before all of this stuff happened, that might have placed us in a better situation for handling this crisis.
I think about Dr. Hoveland's simple yet convicting status of the beef cattle industry in this part of the country and stare in amazement as producers settle back into old ways and management schemes. Could we be more efficient in our grazing management practices? Could this increase in efficiency help us persevere during times of economic uncertainty, drought, pestilence or market instability?
Agricultural producers, cattlemen and women in particular, are the most resilient, tough-minded and able-bodied individuals I know. But I often wonder what it will actually take for us to begin to shift our thought processes into more progressive forms of management that might make us a little more efficient. Maybe this is that time?
I started answering calls a few months ago from producers who, when the crisis was intensifying and markets began to drop, were simply asking, "What can I do?" My answers ranged from establishing summer annuals to keeping weight gain on weaned calves increasing, to exploring available supplements and feeding opportunities. But the recommendation I kept coming back to was to increase the grazing efficiency of what you've got. Don't change your herd numbers, don't spend extra money on seed and fertilizer, just stretch your resources (grass) as far as they will go so we can wade this out.
What do I mean by this? Begin increasing grazing efficiency by introducing more intensive movement of cattle across pastures. Most of us are extremely well versed in, and can probably describe to great lengths, the benefits of rotational grazing. Some probably can even define and argue, to some degree, the differences between rotational versus management-intensive grazing (MIG).
But I know beyond a shadow of a doubt that all of us know and can either demonstrate or point out continuous grazing systems – simply open the gate, unload the trailer and come back at weaning. This type of management often leads down two different roads. One is either overgrazing, in which stocking rates are too high for the area being grazed, resulting in continuous stress for plants and soils that support them. Or the other is poor utilization of forages, resulting in excess and rank portions of the pasture being ungrazed. This ultimately leads to clipping pastures with a bush hog to keep up appearances and remove weeds, and a loss of production.
For the sake of brevity, I wanted us to quickly remind ourselves (me included) about a few of the major advantages of increased grazing management:
1. Rest
I can't count the number of pastures I drive by on a routine basis where grass heights never eclipse 5 inches. I've had producers say to me, "I didn't know that species of grass could grow that high," when looking at some of our field trials. Let's think about this – if a single plant is continually stressed beyond its ability to increase root depth, scavenge nutrients, absorb water, fight pests and disease, and reproduce, all the while being clipped off, stamped on, defecated on and laid on by 1,200-pound animals … I think you get my point. Plants need rest. Increasing management (moving animals around) and giving pastures adequate rest intervals between grazing events is crucial to prolonging the life of forage stands and allowing those plants to perform. How can we expect high-class genetics in a cow herd to perform to the best of their ability by putting them on mediocre, over-grazed pastures? That's where the "environment" part of the equation comes in.
2. Nutritive value
I was born with a sweet tooth. Sweet tea, Little Debbie, my wife's blackberry cobbler, ice cream, bread pudding – you name it; I'll try it. But as I've grown older, balder and a little chunkier, I have become fully aware of the "nutritive values" of the foods I consume. Do you know the quality of the forages your cattle are consuming? Are you familiar with how your pasture plants grow and mature and how that impacts their value and quality? Utilizing a more intensive rotation on your pastures can help keep these plants in a continual state of regrowth, thus preventing maturity. This increased management can increase nutritive values, thus resulting in enhanced animal performance and less reliance on supplementation to meet their dietary needs.
3. Efficiency
How efficient do you think your herd is when it comes to consuming forage throughout any given pasture? Are your pastures designed in such a way as to promote increased grazing efficiency? I want our animals to have the easiest access possible to fresh forage, water, shade and minerals and to spend less time looking for what they think they want. Their job is to eat. Our job is to move the fence to greener pastures and make it easier for them to eat. Also, by increasing grazing management and confining animals to smaller portions of a field, you force them to graze areas, and potentially plants, they normally wouldn't choose if they had access to the entire field. This increases efficiency. We pay taxes on a per-acre basis; we fertilize and plant on a per-acre basis. Get what you pay for and graze every acre.
There are many more advantages, and even some disadvantages that weren't discussed here. But I couldn't help but address these three considering some of the thought processes that might be going through producers' minds in wake of COVID-19. I pray there will soon come an end to this crisis, and we will arrive on the other side more prepared to handle future disasters. But in the meantime, go find a roll of polywire in the barn, charge it up and see if you can teach your herd how to be a little more efficient.
PHOTO: Increased grazing management is one way to handle a strain on your resources. Photo by Lynn Jaynes.
References omitted but available upon request. Click here to email an editor.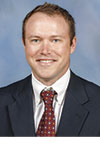 Brett Rushing

Coastal Plain Branch Experiment Station
Mississippi State University