Any crop with the title "hemp" seems to be a hot topic in our industry, and sunn hemp proves to be no different. If you are looking to diversify your cover crop or grazing programs, sunn hemp may be an option for you.
Sunn hemp (Crotalaria juncea) is a legume best suited for well-drained, sandy soils with a pH between 5 and 8.2. The plant has many uses as a cover crop, an agent of weed control, a forage and for fiber production.
Richard Petcher of Petcher Seeds in Fruitdale, Alabama, has worked with sunn hemp for several years. Beginning in 2011, Petcher used his background as a county agricultural extension agent to assist Alabama-area farmers with the potential uses and advantages of planting sunn hemp.
"Every animal that eats vegetation will thrive on sunn hemp," Petcher says. The high protein levels in the crop are a major advantage for grazing animals including cattle, sheep and goats. As a forage, sunn hemp leaves are 4% to 5%. With nitrogen levels being between 25% and 30% and protein between 22% and 28%, it can be a very nutritious forage, Petcher says.
After seven days or so of grazing, Petcher says there is a visible difference in the quality of the herd grazing the sunn hemp.
"One of the unknown factors of sunn hemp is that it is dynamically building your soil," Petcher says. The additional cost of fertilizer for soil health is not factored into production because it is not needed, Petcher says.
Research done by Auburn University states that sunn hemp can be used to fix nitrogen levels in soil and has the ability to suppress many plant-parasitic nematodes.
An original setback to sunn hemp was the high cost of establishing the stand of the crop. The cost of establishing the crop today is down nearly 85% of the original estimate and is currently at around $30 per acre, Petcher says.
Petcher says for him, the crop seemed to be a "cure-all," and he made it his personal goal to make the seed more affordable and available to producers in his area. By working with a larger seed company, Petcher was able to import the seed and reduce the cost of establishing the crop for local producers.
Today, Petcher sells various mixes that include sunn hemp of cover crop seeds to producers in the area. Burton Heatwole is one of the producers Petcher has worked with. Heatwole has used sunn hemp as a cattle producer and seed dealer himself for the past 12 years.
"I use sunn hemp in cover crop blends for soil fertility for cropland and to graze cattle on," Heatwole says. "I also make custom blends and have quite a few clients that use sunn hemp as one of the staples."
The primary advantage of sunn hemp is the high-quality feed it provides for cattle grazing, says Heatwole. He has seen the product used primarily for beef cattle but has some experience in dairy cattle grazing also.
"I wouldn't plant it by itself," Heatwole says. "I'll generally plant it with warm-season grasses like millet or sorghum-sudan or both." Despite its high protein levels, Heatwole warns that it is not a complete diet and could potentially be used to limit graze for a few hours a day, but would need to be supplemented with something else.
"It's also a crop that has potential as a wet wrap baleage," Heatwole says. "Again, not by itself, but with a sorghum-sudan." Making a cutting around 40 days after planting before the crop gets too stemmy is an important factor to implementing sunn hemp into a baleage successfully, Heatwole says.
"The crop grows very fast and will reach up to 8 feet in 60 days if you allow it," Heatwole says. "My advice is to not wait too long before you start grazing it and turn the herd out when the crop is about knee-height."
Both Petcher and Heatwole agree that deer also love to graze on sunn hemp, so it should not be used in a situation where deer are unwanted in the area. Along with that, Heatwole mentioned sunn hemp as a potential trap crop to keep deer away from a cash crop.
With the growing popularity of sunn hemp in the southern U.S., as well as its potential as a cover crop and forage, sunn hemp seems to be keeping up with the trend and is here to change the way we think about the role of "hemps" in our industry.
PHOTO 1: Richard Petcher stands next to sunn hemp that is nearly 8 feet tall 60 days after establishment.
PHOTO 2: With protein levels between 22% and 28%, sunn hemp can be a valuable grazing crop for beef and dairy cattle. Photos provided by Richard Petcher.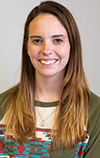 Joy Hendrix

Editor
Progressive Forage