What if $14 milk is the new norm? The answer is underwhelming and overwhelming at the same time: Something has to change.
"If they're only going to pay $14 per hundredweight, then we better figure out how to make it pay at $14, and it's going to take some pretty unconventional thinking from where the industry has been for the last 10 to 12 years." And unconventional thinking was the start of Eric Fonda's shift from traditional silages to using grazing corn as silage so the field could be double-cropped.
Eric Fonda, with Keystone Dairy in upstate New York, says one of the dairy's consultants pitched the idea of grazing corn silage initially and said, "Let's try something new because what we're doing isn't working." So the dairy shifted to a double-cropping season, planting grazing corn for silage in mid-June of 2018 followed by winter rye that will be chopped in the spring of 2019.
Keystone Dairy used a grain drill on 7 ½-inch rows to seed the grazing corn, intending to plant 90,000 plants per acre. However, the person who drilled it actually ended up planting about 120,000 plants per acre. "But it didn't hurt us," Fonda says. "We got 15 to 17 tons per acre." Keystone Dairy took an initial harvest, as an experiment, on the 80-day grazing corn at 45 days when it tasseled at 6 feet high.
Their first attempt at harvest was to use a mower and lay it down in windrows at the end of July. It was tough, however, to get the moisture level down, and the raking and merging processes kicked up rock and dirt, elevating ash content. So they backed off, finally ending the harvest in September.
Keystone Dairy's average yield on the grazing corn was 15 to 17 tons per acre – about half of what a regular corn silage hybrid produces. So how is that more profitable? "You have to consider digestible fiber per acre," Fonda says. "The grazing corn is a BMR [brown midrib], and I think that's where farmers get hung up sometimes. Sure, corn silage gives 30 tons per acre, but how much of that is undigestible to the cow?
We can all grow Jack-and-the-Beanstalk stuff, but are you really doing yourself any favors? Obviously every farm is different – you've got to find a happy medium between tonnage and return on investment. But sometimes 30-ton silage is like feeding your cows tree bark – and if you're making milk, you're not going to make it out of tree bark."
Keystone Dairy also used equivalent production inputs to the grazing corn as what they would have used for conventional corn silage. Acknowledging that "everybody's soil is different," Fonda says after the seed was planted, he went back with an application of 100 pounds of ammonium sulfate per acre but didn't add anything else because they have good phosphorus and potassium levels already in the soils.
The change in forage has meant, of course, changes to the ration fed, and Fonda says it's not an easy change for nutritionists to make. Speaking toward the industry as a whole, Fonda says, "I don't know what kind of group or team of people you're going to have to put together to get your business moving forward again, but I don't think it's going to be – well, let's just say there are going to be a lot of people changing on and off teams, I believe."
He says dairy managers often have the notion that any corn (even grazing corn) has to have an ear on it for starch content. However, he points out, corn is a grass plant and provides fiber, specifically "digestible" fiber, and that's how grazing corn is best utilized. "Don't get me wrong," he says, "we need starch in the rations, but we also need digestible fiber. And I think the digestible fiber aspect of feeding cows is more important than the starch."
Fonda says as the industry changes, the changes dairy managers must make to survive are going to have to come even faster. These changes are often easier to make as a smaller 200-cow dairy, as opposed to a larger dairy. That's why Fonda doesn't see the idea of using grazing corn for silage taking off in a big way very soon for the larger dairies. Another obstacle to adoption, he notes, is that "sometimes we just get set in our ways" and don't look for new opportunities.
"I think there's going to be a fit for it in the dairy ration," Fonda says, "whether it's cheap heifer feed or cheap dry cow feed – I don't know where it's going to fit yet, but I think it has a fit somewhere." Fonda says they've fed some of the grazing corn silage produced in 2018 to lactating cows. "It seems like the grazing corn could be a complement to a feeding program one way or the other, but every operation's different, and it's their job to try and figure out where it fits," he says.
One of Fonda's plans is to figure out if or where this forage fits in a calf diet. He says a lot of rations in the Northeast are built off of grass silage as a base for calves, using second- or fourth-cut grass or grass-alfalfa mixes for calves. However, he says, "If we get 3 tons per acre of haylage, why not chop something that gives 15 tons per acre and use that because it's so much more efficient? Harvest costs are less per ton; it's just a better utilization of land and resources on your farm." His hope is to figure out when to take calves off starter feed and move them to a grazing corn silage diet.
"We're in the preliminary stages," Fonda says. "I don't have any hard data to back up what we're doing just yet, and what works here doesn't mean it's going to work for everyone or be industry-standard. I'm just concerned with finding something that will work here, and I think there's a place for this feed on a dairy."
"I don't think grazing corn is a silver bullet; it's just a tool in the toolbox. But I do think it will take some out-of-the-box thinking to figure out how to make it work," he says.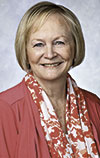 Lynn Jaynes

Editor
Progressive Dairyman