Like a lot of their neighbors, the Seymours raised beef and tobacco – and just for good measure, they did a bit of tree farming and logging. But changing times brought about a new vision for Randy Seymour, his son John and their operation, which had been in the family since the 1860s.
Like so many families in rural central Kentucky, life into the middle of the last century remained one of subsistence farming and making do with what was around you, even what grew in the woods.
And so it was, when Randy was a boy, his mama would take him into the woods with her to collect plants that contributed to the family's table and, at times, their medicine cabinet. Randy would eventually come to find how good an education that was – but not until a low cycle in cattle prices and the USDA tobacco buyout took them in a new direction.
The Seymours' long-standing family heritage was embodied in hands-on education Randy had received from his mother on native plants that grew in the rich limestone soils of central Kentucky.
The seed planted in Randy's mind continued to grow through the next several decades – nurtured through countless hours spent in the woods and fields while running the farm – and ended up taking shape as a book on the native plants of the region.
Because of his growing reputation as an accomplished botanist, the Nature Conservancy reached out to Randy and got him involved in conservation efforts in the Bluegrass State. Through that work, Randy realized there was a need for native seed adapted to the East and South. Before long, Randy's botany met up with John's can-do mechanical skills.
"Can we figure out a way to harvest this wild grass?" asked Randy. "No problem, Dad," was the fateful reply from the younger Seymour. And, sure enough, after a lot of trial and error, and use of a combination of cannibalized old machines as well as homemade harvesters and cleaners, a new business was born.
A growing business
Since their start in the early '90s, the Seymours' business has grown a lot. At first, they began using their stripper harvesters to harvest seed from indiangrass, a common native grass that provides impressive summer forage for cattle.
Fittingly, it was no doubt indiangrass that sustained cattle during hot Kentucky summers for the Seymours' forebears going back five generations. From that first seed harvested in 1994, their business doubled in size almost every year for over a decade.
Today, they grow nearly 250 species of native or naturalized plants in seed production fields across seven states. Randy has since retired and handed the reins over to John, who oversees the almost 2,000 acres of seed production.
Forages have remained an important part of this wide-ranging family enterprise. "Mostly indiangrass and big bluestem but a lot of switchgrass as well," John says, describing the species most of his forage customers plant. And to fill his "spare time," John and his crew also custom plant for producers each winter and spring.
"We have planted for folks in states across the region from Arkansas to Virginia, from Indiana to Georgia and Florida," John says. That adds up to an average of 5,000 acres a year custom planted for forage and conservation.
"A lot of our forage growers like our seed because we grow material that was initially collected right here in Tennessee and Kentucky. As Eastern-source genetic material, these ecotypes are more robust than the traditional native plant material from the Central Plains."
Yields and dry spells
When I first visited the Roundstone operation (their business name taken from the cold-water perennial stream that borders their family farm) in the summer of 2007, John had told me their Kentucky ecotype bluestems produced about 5 tons of forage per acre.
I was a bit skeptical it was that much – figuring he was just talking in "round terms." An ongoing variety trial we are conducting at the University of Tennessee made me bury any doubts I had about such "round terms" – preliminary data suggests the bluestem may produce as much as 6 tons per acre, while the indiangrass is more "modest" at 4.5 tons per acre.
But it's not just the yield that makes Roundstone's neighbors and customers take notice of their Kentucky-sourced native grass forages. John told me whenever a dry year comes around (like 1999 and 2012), they get a lot of extra attention.
"During these drought years, we've had producers coming from all over to look at our production fields. Folks were impressed how lush and green these grasses were, as well as the amount of forage they put off." All in stark contrast to the dried-up fescue pastures and orchardgrass, much of which had actually died, he observed. The deep root systems and how they put up with bad dry spells is just another reason why natives fit so well in forage production.
In the wake of such a dry spell about 10 years ago, a local county agent worked with a number of his producers to start using natives in their forage programs. "They used them in rotational grazing as well as hay. In fact, they are still using the original pastures today that were planted back then," John says.
Though we can never predict where our circumstances will take us, I am sure if you had asked Randy or John back in 1990 if they could foresee a thriving family business in production, one that was able to replace their cattle and tobacco enterprises, they would have chuckled and shaken their heads.
But today, that is exactly where they are. Still along Roundstone Creek, still working the land, still contributing to forage production and, with their family, still carrying on a tradition five generations deep.
PHOTO 1: John (left) and Carson Seymour, John's son, raise native grass seed on their family operation, Roundstone Native Seed, in Hart County, Kentucky, where they trace their family back more than five generations.
PHOTO 2: John Seymour harvesting indiangrass seed in the early days of the company.
PHOTO 3: John inspects a big bluestem seed production field, a part of the 2,000 acres that comprise Roundstone's operation. This Kentucky ecotype, with its robust growth, has proven to be a high-yielding strain and is popular for grazing and hay production. Photos provided by John Seymour.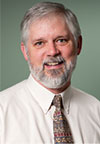 Patrick Keyser

Professor
Director of the Center for Native Grasslands Management
University of Tennessee Institute of Agriculture