What's a two-bucket gal? A two-bucket gal is a woman who can do two or more things at once: helping on the farm, no matter what the job; wash the family's greasy clothes; have lunches ready; run the tractor, planter or whatever needs running; manage the house; and be the glue of the family.
Today we introduce you to Lisa Szymanski, a two-bucket farm gal from Port Austin, Michigan, right in the "tip of the thumb." Her husband Frank, says, "First, my wife, Lisa, is very open to learning everything pertaining to the farm. That really helps, because there are so many tasks necessary. She keeps very accurate books, so we know what we can spend safely. She can drive tractor doing many different operations. She listens to me vent when there are little hiccups on this father-son farm (me being the son). She keeps our life organized. We have three small children, and she makes sure each one is fed, clothed and loved. She gets babysitters organized so we can attend meetings or go on small vacations. She usually starts at 6 a.m. and goes until the kids have gone to bed at 8 p.m. That's 14 hours of running the home, watching over the farm and helping at those busy times."
Frank and his father farm about 1,200 acres, mostly in row crops. They also have a seed processing business and sell Pioneer seed. They have a few somewhat modern tractors, but most equipment is from the '70s, '80s and '90s, and has been well taken care of. Nonetheless, learning to run equipment for Lisa had its challenges.
Lisa grew up a farm girl but wasn't really part of actual production processes due to some tough breaks. However, she understood everything it was going to take to get farm work done. Frank says, "It makes my life so much easier to be able to do what I need to do without someone nagging me to get home." And Frank says it really helps that Lisa loves her farming partner in-laws, from whom they live right next door.
Lisa picked up on farm production practices quickly, though. Frank says she's a natural – well, if you don't count the one time she started a grain truck, letting out the clutch before making sure it was out of gear and poking a hole in the radiator. Other than that, Frank says Lisa has picked up on all equipment and farm practices really quickly. Working ground ahead of the planter is a favorite of hers. She loves to see the plants emerge after planting. Frank says she even talks to them, telling them, "Yield!"
I asked Frank if he could buy one piece of machinery tomorrow that would make Lisa's job easier, what would it be? He says, "We actually just took care of that late last fall. She really wanted a grain cart that could dump into Michigan's high-sided trailers without scraping the auger. She really likes the new one's reach and adjustable spout, so you don't have to move the cart if the auger is not centered in the truck."
There is one other issue that drives Lisa crazy. As Frank tells it, "We have a local supplier that never seems to get our bill right. It makes her so frustrated that she has me look at that one bill out of the whole year."
Frank is thankful for his two-bucket farm wife and appreciates the sacrifices she makes. Frank says, "Lisa is the best business partner I could ask for. She knows all the right questions to ask when making life-altering decisions. She is smart, ambitious and hardworking. She also is the best wife and mother I could have imagined in my wildest dreams."
Frank adds this tribute, "I've married a winner. She has a 3-, 5-, 6- and 41-year-old to take care of, and she runs the grain cart, field cultivator, ripper, trucks, a little combining and helps in the shop. She does all the books, serves on some boards and manages a little volunteer work. Actually, I'm the winner. I get her." FG
Do you know a two-bucket gal? Email us and tell us about her. We'd like to spotlight her contributions to the farm.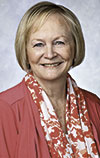 Lynn Jaynes

Editor
Progressive Forage Grower
PHOTO: Lisa Szymanski holds farm, home and family together in Port Austin, Michigan. She's pictured here with her husband, Frank, and children, Luke, Faith and Grace. Photo provided by Frank Szymanski.