Bob Barker, from Waverly, Iowa, says, "Leonard Rayhons told me way back when I was in high school, 'Bob, make sure you marry a two-bucket girl.' I looked at him puzzled and said, 'What's a two bucket girl?' Leonard, who was 80-plus years old, said, 'A two-bucket girl is a girl that can do two or more things at once – helping on the farm, no matter what the job, wash your hog clothes without complaining, have lunches for the tractor, manage the house and be the glue of the family.'"
Barker says he didn't disappoint Rayhons, and 24 years ago he married a two-bucket girl, and this year she was all two buckets.
A typical day for Lisa Barker might include hauling loads of grain to town, running a stalk chopper, picking rock, walking the beans, running the field cultivator, driving a catch cart during harvest, delivering seed to the planter, emptying wagons into augers and anything else she's asked to do.
Of course, that's all done on the farm and doesn't include what's done in the house. At home, Lisa takes care of the household and manages the family schedules and children's events. She is also a part-time advanced EMT at the local hospital.
The Barkers live in Waverly, Iowa, but farm near Alexander, Iowa. They farm 700 acres of corn and soybeans, sharecropping with the landowner, Marvin Oleson. Bob says he's waited his whole life to farm, and Oleson enabled him to realize his lifelong dream. The Barkers started farming full-time in 2013.
Lisa grew up in Goodell, Iowa, on a 440-acre farm with a farrow-to-finish hog facility. She isn't any stranger to hard work, but as anyone who farms knows, it isn't always bliss. When she was little, she was carrying pigs from the farrow crates to a lot, and the pig pooped right down into her boots. And a little girl remembers that – forever.
But poop in her boots or not, that isn't the part Lisa hated the most. Lisa was the youngest of four kids when growing up. Since she was the youngest, she was always the "lunch gal" and had to make lunch and bring it to everyone in the tractors and at the bin site. She hated this job the most, and now she's always very pleased when lunch is brought out to her in the tractor! Her husband says, "Our crop insurance salesman found out right away that a goody bag brought to her in a tractor would most likely secure his sales for the following year."
Bob says, "My wife goes to the farm and completes tasks while I am at my full-time job. I took a business trip out of town, and my wife brought in the rest of the bean harvest. She was able to coordinate trucks, decide which fields to harvest first due to soybean moisture, and handle all of the other hiccups that happened during this time. This past summer, she organized a bean-walking crew and walked almost 400 acres – all without me."
Learning the ins and outs of equipment operation has had its challenges for Lisa. Her husband says the hardest thing for her to learn was running the track tractor, but if he could buy her one piece of machinery tomorrow that would make her job easier, without a doubt it would be an automatic rock picker.
Of his two-bucket wife, Bob says, "My most favorite days on the farm are when my wife is with me. Not only do things get accomplished faster, it means the world to me to have my best friend in life share in my greatest passion."
Bob adds, "Oh, and by the way, here's a photo of my daughter, Tara – we are raising a second-generation two-bucket girl!" FG
Do you know a two-bucket gal? Email me and tell me about her. We'd like to spotlight her contributions to the farm.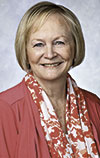 Lynn Jaynes

Editor
Progressive Forage Grower
PHOTO 1: Lisa Barker's husband, Bob, describes her as a two-bucket farm wife, who keeps the family and farm running smoothly.
PHOTO 2: Bob and Lisa Barker are raising the second generation of two-bucket farm gals, through their daughter Tara, who is an active participant in all things farming. Photos provided by Bob Barker.