Sometimes finding a hay market that fits your system isn't about taking the easiest or most popular route; you may have to find the road less traveled.
In the northeast corner of Nebraska, near Neligh, Randy Mosel is taking that road. Mosel sells certified organic alfalfa for consumption by dairy farms marketing their milk as organic as well.
Mosel began the processing of transitioning his ground into certified organic about seven years ago. This decision came from desperation after a toxin appeared in the ground and resulted in the loss of a good portion of his milking herd. After the toxin had been cleared, Mosel realized he had completed two of the three-year period required to transition the ground to organic production and decided to pursue the endeavor fully.
"The organic has been good for me because we have a market for all of our crops," Mosel says. "We have never had a problem getting rid of it, and everyone always asks how we got into one of these markets."
Mosel credits luck and strong connections for allowing him to sell to the market he does now. His main customer base for the organic alfalfa consists of an Amish community in Minnesota.
"After the first load I sent up there, I got a call," says Mosel. "They said there was 'something wrong' with my hay. Their goats went from 9 pounds a day to 12 pounds a day and 'the only difference is your hay.'"
Following the first load, Mosel proceeded to sell 35 loads in that year to the group for use on their goat and cow dairies, but these transactions aren't always the easiest to coordinate.
Mosel relies on a local hay hauler to haul the hay to the group about 400 miles away from Mo-Day Farms. These transactions are no easy feat, as the customers don't possess cellphones to coordinate the delivery with Mosel, and they don't have a way to unload the hay once it arrives. Once the logistics of how to unload and when to get the hay there were worked out, the process has been pretty smooth for both parties.
"It took a while to set up," says Mosel. "But the extra bucks we get for coordinating it makes it worth it to me. I find it as quite a challenge that I enjoy."
For Mosel, the decision to grow organic wasn't taken lightly, but it has proven to be a wise decision many times since.
"There are a lot of factors that go into making a decision like this," says Mosel. "For the first couple of years, our production on the cropland was not ideal."
Keeping the weeds down without conventional herbicides was a challenge for Mosel, and the learning curve was steep, but once they discovered the correct tools to manage with, the decision to stick with it has paid off.
Growing certified organic alfalfa has been such a success for Mosel that his son is currently in the process of transitioning his own 160 acres into organic production as well.
Grass is the biggest challenge of certified organic alfalfa. Too much of it impacts the feed value. Mosel tests every lot of hay that comes off the field to know exactly how much grass is in it and the relative feed value (RFV) and relative feed quality (RFQ) of the lot. They currently set their price off RFV but are looking at switching to RFQ because their RFQ is consistently 20-40 points higher than the RFV.
Right now, Mo-Day Farms receives about $1.30 per point for their hay.
"I've got a few other markets that I can move my hay with if I have extra production," says Mosel. "As far as moving my hay, I have no problem whatsoever. I know exactly what kind of hay each of my customers normally buy, so when we have that kind of hay in the shed, then I contact them."
Because the pricing of organic hay is not a standard, producers price their hay based off what they believe the market can take. There is no board of trade to answer to, so whatever a producer can sell their hay for is considered an acceptable price. While this can work to the producer's advantage, it is also a challenge to figure out what the product is worth on a year-by-year basis.
Most of the customers buy hay in early fall after grazing or putting up their own hay all summer, then they decide to stock up for winter before the snow starts flying, says Mosel.
Mosel's crop rotation currently consists of four to six years of alfalfa, followed by corn, then soybeans. He has learned with this rotation; he has been able to maintain healthy soil without many additional inputs.
In addition to the organic hay, Mosel operates a custom operating business that offers services to producers in the area – often at least 40 miles from his own operation.
From his days milking cows, Mosel has had a lifetime of practice of working hard hours and working to meet a challenge. His beginnings of hay production started when he was just 7 years old, when his dad had surgery and his grandfather taught him to cut, rake and bale hay in his dad's absence. His peers credit him with the ability to put hay up all night and load all morning with no sleep at all.
"Challenges are meant to be dealt with," says Mosel, "and there's no doubt I have a passion for it."
Mosel's advice to new producers interested in marketing their hay as organic is to focus on the quality. He has found that quality will outsell quantity. It is not about how much you can produce, but more about how much good stuff you can produce.
PHOTO 1: The Mosel family lives near Neligh, Nebraska. Pictured from left to right: Juan and Miranda with Ian and Leilani; Ethan (who works on the farm with Randy); Randy; Aaron and Chandra with Adelynn, Emma and Avery; Dane and Annalisa.
PHOTO 2: Mosel's peers credit him with the ability to put hay up all night and load all morning with no sleep at all.
PHOTO 3: Mo-Day Farms receives about $1.30 per point for their hay. Photos provided by Randy Mosel.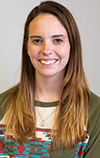 Joy Hendrix

Editor
Progressive Forage