Shortcuts aren't a one-size-fits-all solution, but the saying "work smarter, not harder" has some merit.
For Melvin Kauffman, this saying saves quite a bit of time each cutting and quality in his hay. Kauffman applies a hay preservative as a foliar prior to cutting his hay.
With over 10 years of experience using this system, Kauffman based his system off strong testimonials from various users in many different states on a variety of crops. He has been perfecting his system over the past decade and now focuses on selling high-quality orchardgrass in the form of 3X3 bales.
The goal behind applying the hay preservative is to enhance yield and quality of the product, while being able to bale it faster. In climates that are at risk for rain more often throughout the summer, being able to move the hay out of the field faster can pay off in maintaining quality. Other reasons for investing in the product can be to preserve the palatability, nutritional value and dry matter of the hay.
His methods have faced some skepticism in his area of southern Illinois, but he has the data to back up his claims. Kauffman recalls a time around 10 years ago when a cattleman came to custom bale his hay with a round baler and claimed the hay was way too wet to be baled because of the vibrant green color. After picking up a handful of hay, listening to it and popping a few of the nodes of the hay, the gentleman realized the hay was, in fact, dry enough to be baled. After a few bales had been produced, a moisture meter was used to determine that the hay was 15% moisture.
"They were the greenest round bales I had ever seen," says Kauffman.
His recipe for quality hay now includes a solution of a preservative, water and a surfactant to help break the wax of the leaf.
"Putting a preservative at the baler can be a great thing," says Kauffman. "But I think putting it at the cutter can give you an edge over the baler."
It's important to note that if you do a foliar feed, this method would require an additional trip over the field.
Kauffman's motivation behind trying this method was to produce hay that would dry down a bit faster, be able to bale with 3% to 4% more moisture and to retain a great color.
"The good color will outsell protein and relative feed value," Kauffman says. "Especially with horse people."
Color and smell are main marketing points for his hay, and avoiding the bleaching that can happen in the Southeast is what gives him the extra edge to his competitors. Retaining color means retaining nutrients.
The applicator is mounted on Kauffman's mower and has four nozzles mounted about 15 inches in front of the mower.
I have a controller in the tractor cab where I control the pressure," Kauffman says. "The company [Pro-Serve] has a spreadsheet that I can dial in the tons per acre and the speed I am driving and calculates the output that I need."
Kauffman says he roughly uses around 30 gallons on 50 acres.
Another plus of the preservative he uses is: It is not corrosive to any of his equipment and the liquid product allows him to coat the plant itself rather than the ground.
As far as cost, the typical range of the preservative itself is between $1 and $1.50 per ton. The investment of the applicator was purchased for around $850. Kauffman then purchased a few extra nozzles and a pipe to mount them on to fit it to his cutter.
Some other variations of this system include spraying alfalfa from both the cutter and the baler to achieve an even higher-quality hay.
Kauffman sells the majority of his hay through a broker but has sold it in the past for feed for dairy cows, horses and sheep.
Last year, his second cutting was able to withhold 12% protein, despite being rained on a day after it was cut. His first cutting was around 9% protein.
Other producers have also had success with this mixture. A producer in Georgia used the same mixture on bermudagrass and was able to bale the grass just 30 hours after he cut it.
Kauffman is very pleased with his current system but could see himself potentially adding some alfalfa to his mix in the future. He's open to learning about any system that could give him more of an edge.
PHOTO 1: Getty Images.
PHOTO 2: Kauffman adapted his system from a system originally sold by Crop Care. Photo by Melvin Kauffman.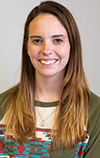 Joy Hendrix

Editor
Progressive Forage