"When we came, there were fences here, but you couldn't find them. They were buried in the bushes and trees, and we had to tear them out, clean them up, tear out the wire – and most of them were six- or eight-strand barbed-wire fences with hog wire in them. So it's been a chore."
—Neal Schrick, producer in Tennessee and department head of the animal science department, University of Tennessee – Knoxville
Ironweed, blackberry, honeysuckle and sunflower might make a great kitchen table bouquet, but it makes a terrible hayfield. Yet that was the state of the hayfields when Lannett Edwards and her husband, Neal Schrick, decided to get into the hay business.
Running along Boyds Creek in Sevier County, Tennessee, in the shadow of the great Smokey Mountains, Schrick and Edwards tiptoed into hay production with the purchase of 15 acres of what had formerly been a horse facility.
Schrick says, "They had made the place real pretty for the auction, but we knew it was a mess. It was cocklebur, sunflower, pigweed and everything you can name with very thin fescue. Another pasture had horses in it, and it was basically weed, blackberries, thorns, briars and weeds taller than the tractor. It was a complete mess."
Six months later, they purchased another 35 acres and later bought another 15 acres that also adjoin the home place. They also share-lease another 260 acres of hayground.
Schrick is the department head of the animal science department at University of Tennessee – Knoxville. Edwards is a professor and graduate director in the University of Tennessee Animal Science Department with an emphasis on reproductive physiology. They started the hay operation with two goals.
Edwards says, "We're looking to retire in 10 to 15 years, and we want the place able to support cattle, and that takes some time and effort to make that happen. It's a project to supplement retirement. We also wanted to get our two kids out on the farm and raise them there as well."
Initial cleanup began immediately. Schrick says, "When we came, there were fences here, but you couldn't find them. They were buried in the bushes and trees, and we had to tear them out, clean them up, tear out the wire – and most of them were six- or eight-strand barbed-wire fences with hog wire in them.
So it's been a chore." The fields were also littered with limbs from ash trees on the fenceline, the work of a recent emerald ash borer infestation.
After using a bush hog on the weeds, more than once, weed control was the immediate priority. Schrick and Edwards brought out University of Tennessee forage specialist Gary Bates, who walked every field with them and made recommendations as to every element of hay and pasture production.
Some areas needed better drainage, some needed a complete glyphosate burndown with plowing and reseeding, while other areas needed overseeding. Schrick says, "We listened to everything he said. I'm a cow person, and I don't think as much about the forages.
So I listened to what he said to do in terms of weed control, soil testing – we fertilized by the soil tests, we put the lime down, and we pretty much just followed what he said."
One portion of the farm had previously been a tobacco allotment; it was the roughest ground on the place, so much so that Schrick says, "When you drove over that with a tractor or baler, it would about knock you out of the cab.
And so I knew I needed to do something to smooth it down because it was going to tear up my tractor, so I went in there and sprayed it, disked it, sprayed it again, and then we planted big bluestem in there. It's getting better and better."
With its proximity to Boyds Creek, Schrick says even an inch of rain will sometimes cover the bottom of the pasture, as evidenced by the many crawdad holes in the pasture floor. In one year, the pasture might be covered with water three or four times.
Schrick and Edwards had the fields laser-surveyed to place tile drainage, culverts, drainage ditches and to excavate a pond, relieving the water pressure.
He says, "With those drains, we can be back out on it with a tractor in a couple days. The fields that we lease that are not tiled, it can rain half-an-inch and, when you go back out on it, you'll bury the tractor. Getting it tiled may be expensive, but it increases your growability."
The pastures are seeded with combinations of big bluestem, crabgrass, indiangrass, bermuda, annual ryegrass, orchardgrass, johnsongrass and fescue. A little clover is even coming back into the pastures without being seeded as a result of the grass seedbank and management.
Schrick says, "We had to get the weeds under control before we could even think about seeding clover. I have an advantage in that I get to see all the research, so we looked at when to spray so that it wouldn't hurt the clover. I learned a lot. I didn't realize before how important it was to get the pH right in terms of weed control."
Schrick and Edwards are researchers, so it was natural for them to try different things. For instance, they looked at whether fertilizer would pay on big bluestem year-round, or whether it would pay to just use it on first-cutting applications, as opposed to first and second cuttings.
Schrick says, "We want to make a good product. We test it, we run soil tests, we fertilize based on what the soil test says, and it makes a night-and-day difference."
University of Tennessee researchers are also working on a new variety of Persist orchardgrass, and Schrick says he's anxious for that seed to be ready so he can use it to target more of the horse market.
In late July 2016, Schrick and Edwards were in their second cutting (having put up 650 bales so far that year), with only eight bales of hay left in the hoop barn. By the second year of production, Schrick and Edwards had local beef and sheep producers contacting them early about buying hay, so if producers wanted it straight out of the field the hay was cheaper, but if they wanted to load it out of the barn then it cost more. It didn't take long for them to do the math and decide to pick it up from the field.
Schrick and Edwards run forage tests on all their hay and are putting up a quality product. Schrick says, "Gary Bates is responsible for the quality. I just do what he tells me to do." Nonetheless, he says he has to continually educate end users about hay quality.
"I'll have a beef guy come by to look at my hay, because he's heard about my hay, and he'll come over and say, 'How much?' And I'll price it at so much a ton, and he'll say, 'No way, I can buy this other hay right across the street for a quarter of that.' And I'll tell him that across the road has been sitting outside on the fencerail and in the rain for two years, and the crude protein content is probably 4 or 5 percent, if that.
And here our fescue easily runs anywhere between 10 and 13 percent crude protein, which is all a cow in Tennessee needs during lactation, and yet they'll go buy the cheap hay because it's cheaper. But in the long run, it's not cheap because they'll feed so much more of it. So our farm has become kind of a teaching farm as well."
While the short-term goal was to get the ground and grass production in shape for hay, the long-term goal is to put cattle on it and establish a custom heifer development operation using intensive rotational grazing. Their hope is to add cattle in the fall of 2017, starting with 20 or 25 head.
In this contract program, Schrick and Edwards will receive the heifers at weaning, "grow them up and breed them, preg check them, and then the farmer picks them up and takes them home about four months before they calve; then we'll start with another set." They'll use A.I. and embryo transfer and never bring a bull onto the place.
University of Tennessee Extension runs a custom heifer development program initiated to demonstrate feasibility to local producers. Now in its second year, this program is growing with increased demand.
Schrick says, "We wanted to build a program so that people who want to raise livestock but can't get into it because of the large investment can still do what they love. With this program, they don't have to own a cow and can use their capital for things other than livestock." It's a system that he believes in deeply enough to demonstrate with his own dollar on his own farm – putting plenty of "skin in the game."
Edwards provides some of the balance to Schrick's enthusiasm. It's Edwards who confirms with Bates any forage-related action before encouraging Schrick to proceed with the next idea. It's Edwards who, when the baler had broken down yet again, said, "You're the fourth owner of this baler, and it's time we get another one," and sent the John Deere representative out to make a sale.
It's Edwards who records production practices and runs cost analyses. It's Edwards and the kids who remove broken tree limbs from pastures to keep them from getting sucked into the mower. It was Edwards and the kids who rode the ATV with a little seeder through the pastures. And it's Edwards who takes time to appreciate the return of wild turkeys and other wildlife to the pond.
Of the project, she says, "If someone wanted to start working on the same type of project, I would encourage them to identify their end goals. We have long-term goals to have additional income at retirement, but there is considerable investment in time and resources. We did it while we still had two full-time jobs – getting the land ready. If you're in this to just start right now living off the income, look hard at the numbers."
Schrick also cautions those wanting to try it to be realistic and says, "It would probably be the fifth year before you get air to breathe. We'll still be making land payments, but in terms of farm equipment, fertilizer, weed control and all that, I would say it would take at least five years, and that's if you have the market to sell the hay to. So it's a good thing we've done this while we both have jobs on the side."
Schrick says, "I've got a good partner that keeps me straight. The whole thing has been a partnership, with Lannett, with the kids, with Gary, David McIntosh and others that have helped us. I talk to beef producers all the time and stress the forage quality, and if you're going to buy hay or put up hay, make sure it's good-quality – and that's what we're showing them. It can be done, and it doesn't cost an arm and a leg to
do it."
PHOTO 1: Lannett Edwards and her husband, Neal Schrick, decided to get into the hay business. Photo by David McIntosh.
PHOTO 2: For comparison, this neighboring pasture is now in the condition Neal Schrick and Lannett Edwards' pasture was when they first bought the farm. Photo by Lynn Jaynes.
PHOTO 3: Few bales make it to Schrick and Edwards' hoop barn, as most are sold straight out of the field – an advantage for those who put up quality hay. Photo by Lynn Jaynes.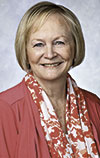 Lynn Jaynes

Editor
Progressive Dairyman