If you buy a $90,000 30-foot-wide no-till drill, 95 percent of your neighboring farmers will call you crazy – a few cards shy of a full deck, a few bricks short of a full load, half a bubble off plumb.
Glenn Thorman says the whole idea of no-till felt crazy to him too when he first contemplated it. "Farmers my age," he says, "grew up with the plowing concept: The more you plowed, the better farmer you were. It always felt like the right thing to do because the drill you used had to have the soft ground to plant in.
And if it makes sense to you, and everybody around you is plowing, and you've done it for 20 years, then there's a lot of conditioning in your practice, and it's a pretty hard thing to overcome."
In 1980, when Glenn returned to the family ranch in Wichita Falls, Texas, the operation was a commercial cow-calf unit with a full-out plowing system for cropland. About six years ago, Glenn and his wife, Linda, converted the operation to a stocker program, sourcing 500-pound calves in the fall through Capital Land & Livestock and grazing them on cool-season forages through the winter.
By June, calves were 800 pounds and ready for feedlots. The cool-season mix included three grasses in a grass family, three legumes and three brassicas. During the summer months, the native pastures were rested and renewed for stocking during winter months.
At about the same time, the Thormans jumped with both feet into the practice of no-till on 1,000 acres using a $90,000 no-till planter. Glenn says, "It was the toughest decision I ever made because, for every person who says it works great, there's someone who says, 'I tried it, and it doesn't work.'"
Part of his paradigm shift came from visiting a friend's operation where no-till was practiced. They took a penetrating probe to measure soil compaction on the friend's farm and found plowing wasn't necessary to prevent compaction.
"With plowing," Glenn says, "you're just keeping the top 6 inches loose, but below that you're actually creating a plow pan that becomes a really hard surface. If you're no-tilling, you're breaking down the old plow pan whenever roots start to penetrate through it and, when the roots die, it results in vertical channels for water to penetrate and break up the pan."
Although the soil benefits weren't immediately apparent, Glenn says he knew it would work the first year he no-till planted into his clay loam soils. "After the first year, I could see the no-till drill was penetrating the ground and putting the seed in the ground, so I was pretty relieved when I saw that.
Soil that had been tromped on by cattle was packed on top, but the no-till drill was able to put the seed in the soil, and I knew then it would work."
The subsequent six years of no-till has laid a foundation for soil health improvement. The Thormans sample every cropland field annually to measure soil health. Glenn says they're using less fertilizer now, and water infiltration and holding capacity have increased with the increase in organic matter.
When questioned about the possibly looming drought for the upcoming season, Glenn says, "It's not as important as to how much it rains as it is how much the soil takes in. We used to do a lot of terrace maintenance, but we don't have to spend much time doing that anymore because more rain is being soaked up through the soil now rather than running off."
In the meantime, Linda was preparing to make a jump of her own – and this time it would cost more than a no-till drill. In 2006, the Thormans' son Will bought a bred, registered Angus cow, called his enterprise North Star Angus and slowly built a small herd through college. Upon completing his ag econ degree from college, he began a stocker operation, buying and selling feeder cattle on the futures market through a broker on the Chicago Mercantile Exchange.
This went on for four years, until his broker in Chicago called and offered him two years of training in stock options if he'd come to Chicago. Realizing Will wouldn't be returning anytime soon to the ranch, Linda took over the operation of the Angus herd and, in 2017, Will quit running stockers and packed his bags for Chicago.
Glenn had liked the stocker operation setup, as it gave the pastures a rest, but the soils were in better shape now, and he was willing to convert the operation back to cow-calf if they struck a deal. He told Linda, "I'll open gates, I'll feed, and I'll fence and be manual labor, but the cow deal is your deal – you do the paperwork, track the genetics and do all the record-keeping." Linda laughs at that.
She actually does a lot more than the paperwork daily and is involved in every aspect of the herd management – opening gates, A.I. and everything in between. But Glenn's point was well-taken; the registration and paperwork has been and continues to be all Linda's.
With an agreement in place, Linda called Rayford Pullen, a registered Angus breeder in Bellevue, Texas, and asked if he had any heifers to sell. He did; in fact, he had just weaned about 85 heifers and had some yearlings as well. Pullen thought Linda intended to buy maybe a dozen, maybe 20, but when she drove over and walked the pens, she told Pullen she'd take all of them. "And I said 'holy moly,'" Pullen recalls; it amounted to 121 head and a big addition to North Star Angus.
As was the case with the previous stocker program, the Thormans' cows still graze pasture grasses in summer and the planted cool-season mix in winter. They use Mix30, which is a liquid supplement of 16 percent protein and 10 percent fat, in winter to help with breed-back.
Linda needed a mentor to help her with the registration, genetics and record-keeping portion, and Pullen was there to help. With 500 mama cows in an A.I. breeding system, Pullen knew record-keeping and the American Angus Association (AAA) regimen well.
"We're willing to help anybody keep up with their operation, whether they buy cattle from us or not," Pullen says. "That's how we roll. Linda gave me her sign-in [on the AAA website], and I've helped her get her animal sets [by sires] together just to get her started from my computer. For the first-time experience, it can be a little intimidating to look at all the EPDs and figure out what to look for and make sense with it. It's a learning curve for everyone. I didn't want Linda to get frustrated with it. Nobody's born knowing how to do it."
Using the AAA mobile app is an important feature in Pullen's system. He says, "Right now, I have 120 bulls for sale, and if we go out in that pasture and someone says 'I like No. 7256,' I can pull up that animal on my phone and give them the pedigree and EPDs on that bull. Or if I'm out looking at the cattle and I see some really good calves, I can look up their sire and find out who they're out of. It's a lot of data to keep up with. And if you enter the animal sets on your computer, it's really easy to bring them up on your cellphone."
Pullen uses the mobile app on a daily basis during calving season. "We weigh and tag each calf of each of our 500 cows the day it's born," Pullen says, "and while we're out in the middle of a thousand-acre pasture, we can enter that in our calving book on our phone. That mobile app is just wonderful. We've used it since it first came out."
Linda, on the other hand, had downloaded the app but really hadn't used it initially. "Rayford really introduced the app to me because he took the time to show me how to use it," Linda says. "It has become one of the most useful tools I have because I have it on me at all times. Since the numbers have increased, the calving book will be a real asset out in the field when tagging and weighing calves. I've used it out in the field when just wanting information on an animal. It's a great marketing tool, as you can pull up the EPDs on an animal; it's the most useful app I have."
Their neighbors may still think they're crazy, but Thormans marketed their first 18-month-old purebred bulls at the 2018 Wichita Falls Farm & Ranch Expo. If that means they're a few cards short of a full deck, then I'm thinking they probably don't need the other cards … .
PHOTO 1: With a leap of faith and the support of a good husband, Linda Thorman converted a stocker program into a registered Angus herd.
PHOTO 2: Herd manager Richard Farmer fills a lick tank with liquid protein supplement to ensure nutritional needs are met for breed-back.
PHOTO 3: Linda Thorman gave this stray dog a new home, along with 121 purebred heifers at North Star Angus near Wichita Falls, Texas. Photos by Lynn Jaynes.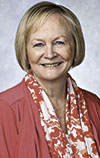 Lynn Jaynes

Editor
Progressive Dairyman