One thing I know all too well: There is never a good time to lose your father. No matter how old or ill he may become, it is a difficult time.
I think it is especially hard for farm boys and girls to lose their dads because many times their dads are the real-life superheroes of their young lives.
I have heard that a son never fully grows up until his father dies. I have shared that with friends who agree this rings true. As long as Dad is around, you have an anchor, a confidant, a supporter, a sounding board. I lost my father to a farm shop accident a little more than 10 years ago.
A tractor he had pulled into the shop for a quick repair and fluid change was left in gear and rolled over him when he started it. Years before, the clutch safety switch had been bypassed in an effort to save time … something we all should pay heed to but seldom do.
I still miss my dad. After all these years, I can still hear his laugh and see his eyes in my mind. It is a bit easier to remember and write about him, but the memories still come with some sorrow. Dad loved to surprise people, especially my mom.
He liked to make people glad and to leave them with a bit of wonder on how he did what he had just done to bring their surprise. I inherited some of that from him, even if that inheritance comes with some regret.
In 2005, Tim Russert of NBC News' Meet the Press had completed his first book, entitled Big Russ, a salute to Russert's father.
Thousands of fans, including me, shared stories of their own fathers with Russert, and he contacted me out of the blue to share some more thoughts about my father, David Overbay, to be included in his second book, Wisdom of Our Fathers: Lessons from Daughters and Sons. Needless to say, I was shocked and thrilled to contribute.
In the spring of 2005, Bill Novak – of the Boston Globe and Russert's editor – emailed me to ask for 1,000 words about what my father was best known for. The answer was quick and obvious: My dad was 5 feet 9 inches, 180 pounds and wore a size-17 ring; his hands – that had been shaped by years of hard work, long hours and very little care – were huge.
After a quick reply to the email, I learned that my contribution might not make the book because so many sons and daughters had written on the same subject. I was a bit disappointed that he might not be included, but I stuck to my guns – so to speak. My father's story is not anything extraordinary, but it is one I needed to tell.
Dad was the second of four children born to Jesse and Blanche Overbay of Glade Spring, Virginia. Jesse operated a water-powered grist mill on a neighboring farm. Dad has many interesting and humorous tales of growing up as a boy with a river for a front yard.
These range from "steely" fishing for trout at the water wheel to cousins who couldn't swim sabotaging their "diving limb" and falling into the river themselves.
Dad faced a big challenge early in life. His eyesight was poor at best. The one quote I remember most clearly in describing his condition comes from my grandfather. Granddad asked the doctor how much they could help Dad, and the doctor replied, "We hope that we can keep him from bumping into people as he goes down the street."
Dad also battled rheumatic fever as a child and, in 2000, had a pacemaker installed to correct the effects of that illness.
Poor eyesight forced Dad to drop out of school at 15. His ability to read assignments was accurate but too slow to keep up with classmates, and his instructors advised him to join the workforce instead.
For years, we would joke with Dad during one of his many building projects that his teacher was right, "Here we are, digging another ditch." I could always tell Dad longed for an education, however. My brother, who is a veterinarian, always said Dad could have been a good engineer.
His mechanical aptitude and his "4F" status on the army's World War II draft board led Dad to a career as a tractor mechanic at a local dealership. He met and married my mom there. In 1967, at the age of 43, the dealership was closing – and Dad set out to reinvent himself as a dairy farmer.
Those were high times for me. I had spent the first four or five years of my life with a lot full of tractors to "drive," and now I had a new farm to help build. One of my favorite recollections is helping Dad lay the block for our milk house.
I wore out more than a few little red cotton gloves as Dad's "mortar man." I kept him in blocks, keeping the mortar board stocked as best I could, and struck the mortar joints as we completed the runs.
As I recall it, I was excellent help. But, in retrospect, I was probably in the way as much as anything. If I was, he kept that to himself, and his praise meant everything to me.
I guess he was a pretty good judge of human nature because, even in later years, the more he praised me, the harder I worked to get praise from him.
As it turns out, Dad's story was included in the book – which of course made me ecstatic – but I was also a bit mortified to learn that while my story made the cut, more than 60,000 stories were rejected. I hurt for those people and felt a bit guilty for wanting so badly to tell about my little guy with the big hands and even bigger heart.
The issue of so many of us writing about our fathers' hands led Russert to create an entire chapter about our fathers and their hands. He quoted my letter as one that helped him decide to do so when I described Dad's hands as "meaty paws that snared your hand" in the grasp of a handshake.
With his story secured in the book, I set out to make Dad's inclusion my great surprise to him. Beforehand, I surely didn't want to tell him about a book he might not be in, so I held my cards close.
My secret was in jeopardy on Nov. 2, 2005; Mr. Novak emailed me that not only was Dad to be in the book – but they needed a photograph of him.
Like most farmers, Dad had more pictures of kids, cows and tractors than he did of himself, so I grabbed my camera on my way to join him at the woodpile behind my house where we were splitting firewood. I asked him to let me photograph him, and he gave me a natural smile, and I had my perfect shot.
You may ask how I remember the exact date of that photograph. It is easy to recall because Dad was killed that very next afternoon. He never asked why I stopped him or why I needed the picture. My secret was safe – regrettably so.
I was fortunate to not have the regret of Dad not knowing how much he meant to me, even though he never knew of his inclusion in the Russert book. Do you have thoughts or feelings you need to share with your dad?
I urge you to tell your dad how much he means to you. Regardless of the day, it will be the best Father's Day present he will
ever get.
PHOTO: Dave Overbay. Photo by Andy Overbay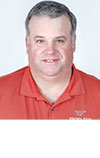 Andy Overbay

Extension Agent
Virginia Cooperative Extension