Tom Kestell likes to joke his family's physical stature means they'll never be selected first when choosing sides for a basketball team.
However, the Kestells stand tall when it comes to dairy herd genetics, milk production per cow and forage production.
Kestell, along with his wife, Gin; their son, Chris; and his wife, Jennifer, are partners in Ever-Green-View Farms LLC, near Waldo, Wisconsin. The family dairy was featured on the Forage Stage of the 2018 World Dairy Expo, presenting a seminar: "On-farm Feed and Forage Management for a 44,000-Pound Herd."
Tom and Gin started farming in 1973 and purchased the current farm in 1975. Through the years, older buildings and a desire to manage registered cows as individuals has kept a lid on herd size, generally between 85 and 90 head. The Kestells have made the conscious decision to improve internally and not increase cow numbers.
"They're well built and well insulated," Kestell said of the two barns on the farm – built in 1850 and 1903. "They've been updated with tunnel ventilation and long-day lighting."
Numbers
"Team Kestell" also includes veteran nutritionist Steve Woodford of Nutrition Professionals Inc., Sheboygan, Wisconsin. He and Kestell call the shots on a feeding approach that scores … and scores … and scores.
There's plenty of statistical evidence showing the Kestell dairy herd can put up basketball-style numbers: The rolling herd average was approaching 46,000 pounds of milk per cow per year by the time the World Dairy Expo seminar was held in October 2018. That's nearly double the national average milk production per cow. The herd's production per cow jumps about 1,200 pounds per year compared to recent national averages of just over 300 pounds.
The herd averages 133 pounds of milk per cow per day with a 3.99 percent milk milkfat and 3.1 percent protein. By lactation, first-lactation animals' average peak is 140 pounds of milk per day, second-lactation cows hit 174 pounds, and third-lactation animals peak at 180 pounds of milk.
Forages and feeding
Whether it's dairy cattle or forages, everything at Ever-Green-View starts with genetics. On the forage side, the goal is to produce consistent, palatable feeds on the dairy's 600 acres. They took five cuttings of alfalfa in 2018.
Rained-on forages are a technical foul. Forages not affected by rain are harvested and stored quickly to preserve quality. Forages are stored in six upright silos and as baleage, so forage allocation remains flexible.
"I believe feed allocation is just as important as the feed itself," Kestell said. "If you have one big bunker on the farm, and you have any damaged forage, or forage that got rained on, or forage that is below par, or there were harvest delays, you have to feed that to all the cows. We're able to segregate the feed and feed it to the cows we want to feed it to – the heifers, the dry cows, the milking cows. You don't want anything going into our milking herd ration that's been compromised at all. We try and keep a very uniform feed going into them."
"We chop our corn silage and haylage at virtually the same length," he said. "We don't want sorting."
Kestell also stressed it's important to keep cows and feedstuffs cool.
"It's just as important to keep the feed cool," he said. "Keep the cows as cool as you can, and get them to eat at the coolest time of the day."
In addition to raising their own dairy feed, the Kestells sell roasted soybeans, corn silage and shell corn – but won't part with homegrown hay except in rare circumstances.
He doesn't put a lot of grass seed in new alfalfa seedings, preferring to segregate some pure grass stands for dry cows and calves.
During the past two years, alfalfa haylage has tested in a range of 21 to 25 percent crude protein (CP) and 34 to 39 percent neutral detergent fiber (NDF). They rarely have haylage testing higher than 200 relative feed value (RFV), striving for the 160 to 190 RFV range.
"We don't like 'rocket fuel' that much," Kestell said, noting he doesn't like to dilute forage quality with straw.
Woodford said Ever-Green-View's dairy ration isn't markedly different than those of his other clients: 16 percent protein, 27 to 29 percent NDF and 5 percent fat. The ration starts in the field and is founded on good homegrown forages – generally 60 to 70 percent of the total diet.
BMR corn silage has been part of the feeding program for more than 10 years and represents about 60 percent of total forage dry matter. Recent management changes included chopping the BMR corn silage at 34 inches in height and processing as shredlage. Kestell said chopping the corn silage higher didn't detract much from tonnage but dramatically changed the forage analysis.
The 2016-17 corn silage crops averaged 31 to 35 percent NDF, 40 to 41 percent starch and 64 to 70 percent NDFd (30-hours). Initial tests of the 2018 corn silage crop tested at 48 percent starch.
Woodford said going to the higher chop height for BMR corn silage boosted average dry matter intake (DMI) by about 4 pounds per cow per day – up to 66 to 67 pounds per cow per day. With the change, milk production has averaged better than 2 pounds of milk per pound of dry matter – and increased by about 10 pounds per day.
With the high-starch corn silage, Kestell doesn't feed a lot of grain – about 8 to 10 pounds of high-moisture shell corn (harvested at 27 percent moisture and stored in Harvestore silos) per cow per day. Lactating cows get no dry hay.
For the lactating herd, everything but the roasted soybeans and baleage is fed as a one-group TMR two times per day. Feed is pushed up every few hours around the clock. The roasted beans are top-dressed in the morning before the new TMR is fed, and then baleage is put on top of freshly delivered TMR.
"I'm amazed how much our cows eat overnight: They eat more than 50 percent of their feed between 12 midnight to 6 a.m.," Kestell said.
After feed is pushed up, it's top-dressed with 3 pounds of roasted soybeans and 4 pounds of baleage. They believe that process boosts DMI by about 1 to 2 pounds per cow per day.
"Cows love roasted beans," Kestell said. "We could put the roasted beans in the TMR, and it would test the same, but then we wouldn't get that kick of eating up the feed. We want them to eat most of the ration, or it's not a balanced ration.
"It's like putting sprinkles on your ice cream cone," Kestell said. "The cows like it, and we want our cows to be happy."
Woodford believes elite milk producers like the Kestells' herd defy conventional wisdom – and current feeding models. The nutritionist's goal is to maximize rumen fermentation, with milk components serving as a sensitive indicator of ration performance.
"His cows are making 5.5 pounds of butterfat per day, or about a quarter-pound of butterfat every hour," Woodford said. "That's like a stick of butter every hour of every day, and they're only getting about half of that from the diet. All the rest of that fatty acid precursors are coming from rumen fermentation."
When adding in the 3 percent protein, the cows are making 10 pounds of solids per day.
Feeding cornstalks
In addition to cutting BMR corn silage higher, the Kestells' forage management has another unique aspect. After combining corn for grain, they harvest the cornstalks in round bales, then wrap them in plastic. They prefer line wrapping to individual bales.
The following summer, the stalks are spread on the top of first- and second-crop alfalfa haylage windrows in the field, chopped together and put into upright silos as a feed for heifers.
"It's like a TMR with the cornstalks mixed in," Kestell said. "It lowers the protein from about 22 percent to 17 percent. We can lower it more by putting on more cornstalks."
For more on the Kestells and Ever-Green-View, visit their website (Ever-Green-View).
PHOTO 1: The Kestells strive for alfalfa haylage with a relative feed value in the 160 to 190 range, preferring to stay away from "rocket fuel" for their dairy cattle.
PHOTO 2: Partners in Ever-Green-View Farms are Tom and Gin Kestell and their son, Chris, and his wife, Jennifer.
PHOTO 3: A focus on forages – from seed to feedout – helps Chris and Tom Kestell achieve a herd average of nearly 46,000 pounds of milk per cow. Photos by Harlen Persinger.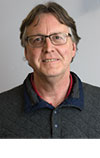 Dave Natzke

Editor
Progressive Dairyman