All good things come in threes: three stars in Orion's belt, "on your mark, get set, go," three sides of a triangle, three races in the Triple Crown and three flavors in Neapolitan ice cream. Why threes? It combines brevity, continuity and rhythm.
This accurately describes another good three-set blend in Springfield, Georgia – brothers Glenn, Grady and Carroll Zittrouer, owners of Zittrouer Farms.
Separate but intertwined
The haying operation – Carroll concentrates on the haying operation. He puts up 200 acres of Coastal, Alicia and Russell bermudagrass hay. He takes four cuttings a year, sometimes five, and averages 70 small square bales per acre (45-pound bales). In addition, he puts up round bales, weighing 750 to 850 pounds.
"I overseed a lot of it annually with Marshall ryegrass for winter grazing" using a rented no-till drill, Carroll says. "One year, we were running out of hay for winter feeding, and the ryegrass did so well we took one cutting of it for hay, and the cows would eat that ryegrass before they'd eat the bermudagrass. The only problem with Marshall ryegrass is: It makes a dense root mass – almost like turf grass – and it's harder to work up for row crops. We burn it down with Roundup now, and that seems to weaken the root mass a little to make it easier."
Carroll soil tests all fields every year. For hay fields he uses 25-16-17 fertilizer, about 235 to 350 pounds per acre per cutting. He also spreads about 1 ton of lime per acre. For machinery, he uses a New Holland 450 silage special round baler (no knives because of the wider pickup and continuous belts – no lacing), a Massey Ferguson 1840 square baler, a Kuhn tedder and a New Holland wheel rake.
Strategic to the success of the hay operation are strategically placed hay barns (four owned and two rented). The owned barns were built through Farm Credit Services programs initially. All of the baled hay is protected under barns. "When we penciled it, we figured the barns were a better investment than a bale wrapper," Carroll says, "and they took up less space."
Sixty to 70% of the small square bales are sold to the local feed store. The rest of the hay is sold off the farm to horse customers. Any hay not sold is fed to their own cows.
The cattle operation – Each brother has a separate commercial herd (Limousin crossed with Charolais and Red Angus), but Grady manages them all. "He makes sure the tags are straight, the records are up-to-date and reminds us 'y'all need to do this,' …" Carroll says. It's Grady's job to make sure the hay cradles and hay feeder trailers are moved around the winter pasture to keep the feeding area from getting muddy. It's Grady's job to manage the calving, weaning, banding, medications, marketing and whatever else needs to be done. All three brothers pitch in to do the work, but Grady runs the show.
The row-crop operation – Peanuts are a high-dollar crop in Georgia, requiring marketing contracts to make it work. It requires specialized equipment, a lot of spraying and a lot of labor. "We're spraying every 14 days for fungus and weed and grass control," says Glenn, who manages the row crops. "Peanuts are an intense crop."
Glenn uses an inverter to cut the tap root at harvest and "up-end" the plant so peanuts are sticking up in the air. They dry a bit and are then harvested with a peanut picker. "We pick peanuts with a neighbor's equipment, in exchange for labor to help him get his picked," Glenn says. "We do a lot of that – help someone else out with labor in exchange for use of a backhoe or peanut picker or whatever." Glenn uses corn as a rotation crop, normally. But every once in a while, "Grady will tell me he has a lot of weeds in a pasture, or maybe Carroll needs some weed control, so we'll trade some ground and break up their weed pressures with a rotation of peanuts," he says.
They put up a little peanut hay (not a forage perennial peanut forage but the crop residue). "It's hard to store these bales because the vines don't make a dense bale," Carroll says. "But we wrap it [in net wrap] and feed it first, and the cows would rather eat that than anything else we have. They love it."
One might wonder, however, if it isn't a little tricky with their operation melding as to who buys the next piece of equipment. "Whoever can afford to at the time, that's who buys it," Carroll says. "It'll help us all, so although the accounting on the farms is separate, we don't keep track of whose labor goes where or spend time worrying about whether things are equal or not."
Symbiosis
Although Carroll and Glenn have been farming all their lives, all three brothers (including Grady) have retirement incomes from off the farm; however, the farm still has to pull its own weight. Carroll and Glenn farmed with their father, who died in 2001. About the time the economy was tanking (about 2008), Grady was retiring from a career in education and wanted to come back to the farm. "So we hit the reset button," Glenn says. "Grady came back, and it worked so that we could each maintain our interests, as long as we help each other out." Then Grady smiles and says, "If we rest, we rust." They cover for each other when family ballgames, vacation, travel or whatever else comes up.
That's not to say there is never disagreement. "If we fight, the next day we just get over it," Glenn says. "We disagree strongly at times, but we take care of each other. Our parents instilled this in us – if one brother got in trouble, the others didn't dare laugh at him because several might be punished together." Two older brothers in the family (Thurman and Mack) were included in that scenario. Carroll says, "Our daddy thought if one was guilty, then the others should have been looking out for him, and so it's partly their responsibility too. I guess that carried over."
This harmonic threesome sits around a large table in what was once the farm shop, which has since been converted to a "family center" where the Zittrouer clan can gather for holidays and events. It houses kitchen facilities, bathrooms, a foosball table and lots of heated space. "We built another shop because we wanted a place where the family could gather," Carroll says. "We still use the family center for a shop for minor stuff – and Grady makes us clean it up – but it's a nice place to gather."
And gather they do – the three brothers gather most mornings to cook breakfast together before beginning their days.
"Some say you can't pick your family," Carroll says, "but I'd still pick them."
All good things come in threes: Carroll, Glenn and Grady.
PHOTO 1: Brothers Carroll, Grady and Glenn Zittrouer farm together but separately in their "semi-retirement" years, using each others' strengths to full effect.
PHOTO 2: Carroll is in charge of haying and produces bermudagrass hay for use with their own cattle and for sale as a commercial enterprise.
PHOTO 3: Four hay barns were built to maintain hay quality for farm and horse customers, as well as local feed stores.
PHOTO 4: Carroll turns cows out onto a bermudagrass field overseeded with Marshall ryegrass for winter grazing. Photos by Lynn Jaynes.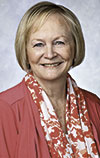 Lynn Jaynes

Editor
Progressive Dairy