Beginner's luck is usually reserved for bowling games and slot machines, and is often given the same credence as Bigfoot sightings, but every once in a while, it's impossible to miss.
Tom Leubke put his beginner's luck to the test when he entered in the 2016 World Forage Analysis Superbowl for the first time on a whim – and won the Grand Champion prize.
Leubke, owner and operator of Edgewater Meadow Guernsey Farm near Mayer, Minnesota, milks a 90-cow herd, tends 90 head of youngstock and produces his own corn silage and alfalfa on 200 acres.
In the 39 years he's been farming, he's attended the World Dairy Expo several times and enjoyed the World Forage Analysis Superbowl contest from the spectator's seat, never dreaming that he would one day compete, let alone win.
"We always go and view the finals results that are on display, and I'm always just amazed at the quality these farmers have been able to produce for the entries for that contest," Leubke says. "I've literally never produced anything of that kind of quality; I only grow feed for my own dairy animals."
Leubke's routine test of his fifth cutting of hay came back with unusually high numbers, so on impulse he decided to enter it in the World Forage Analysis Superbowl contest. "It came back with just astounding numbers like I'd never seen before," Leubke says. "That was my initial view of quality that I had with this particular feed bale."
Luebke almost missed the contest. "I was literally down to the last bale of this cutting before I talked to my seed salesman who said, 'If you're interested in entering, we'll take care of it for you,'" Leubke says. The seed salesman came out to the farm, took a 25-pound sample from the last bale and shipped it off to the contest.
No one was more surprised than Leubke himself when he won the Grand Champion Forage prize. "The whole process was humbling to me," says Leubke. "I had so much luck on my side that it's unbelievable."
The winning stand was originally an alfalfa/grass mix planted about five years ago. Leubke says the stand was thinning out, but he wanted to keep it in production for another year, so he interseeded an Italian rye grass with it in the spring of 2015.
Leubke says he had the perfect conditions to yield high-quality hay – although the weather itself didn't behave as he expected. Leubke says he cut his crop at the beginning of what was supposed to be a week of nice, sunny weather, but after he'd finished cutting, it was cloudy for five to seven days and the hay couldn't get dry enough for baling. "I was frustrated there because I figured I had a decent crop out there."
To make matters worse, the monitors on the baler were not working, making him unable to monitor bale moisture or density, so when his baler finally made it out to the field, the baler operator had to estimate everything. "He did a good job though," Leubke says. "It turned out just right."
Leubke says the long period of cloudy weather made all the difference when it came to winning the competition. "The biggest frustrating part about that is that I couldn't get it to dry, but jumping ahead to the contest, they [the samples] are judged 70 percent on the actual feed sample, and 30 percent is judged on the visual," Leubke says.
"I had a good sample, and the visual part of the sample put me over the top because the sun didn't shine so the hay stayed green, a beautiful green like you would not believe, so at one point the frustration of not getting it to dry with the sun made it so green I ended up winning."
Leubke credits everything about his win to beginner's luck. "There was luck involved," he laughs. "I know that some people are very good at it, and I know that the last gentleman who won in my category had won three of the last four years."
Leubke has no plans to enter the contest again. "To me, I think it's probably going to be a once-in-a-lifetime experience," he says. "But it was quite a thrill to be involved with it and it is very humbling how you can make a little bit of luck count so much."
PHOTO: Along with Grand Champion honors, Leubke also received a $2,500 check from Kemin Industries. Pictured in the photo (left to right): Eugene Rodberg with Kemin, Tom and Jody Luebke and Al Deming, board president of World Dairy Expo. Photo courtesy of World Dairy Expo.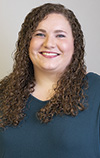 Carrie Veselka

Associate Editor
Progressive Forage