Last winter, a university ag economist told a group of producers in the Midwest he wouldn't advise his students to pursue studies that fulfill their personal dreams.
He pragmatically advised them of life's harsh realities: "I don't care what you love to do. I don't care if it's your passion. You need to find out what the market wants and prepare yourself for that."
Brothers Doug and Randy Eldred at Eldred Hay, Grain & Seed in Auburn, New York, have done just that – prepared for what the market demanded. As such, their market demand has spawned three businesses: hay brokerage, seed production and farming. Hay generates 60 to 70 percent of the total income.
Doug says, "We're optimistic about agriculture. Farming is the type of business that the opportunities are endless if you want to pursue it. It's one of the few businesses you can branch off here into this or branch off here into that; it's like us with what we've done – we've kind of created a niche market, be it the grains, with seed or hay."
Their father, Lloyd, brokered hay in the late '50s and early '60s, selling it to racetracks in New York and New Jersey. In 1966, he rented a little ground in western New York and moved his family into a camp trailer for the summer.
While Mom and Dad cut and baled hay, stacking it in a rented barn, young Randy and Doug viewed the adventure as a long summer campout. Lloyd then bought about 200 acres and moved his family permanently to New York and continued to raise hay and buy hay all over the Northeast.
Markets change
But markets change. The Eldreds, for instance, have moved away from selling hay to dairies; 99 percent of their hay is now sold to the horse markets for either racetracks or show horses, or to feed stores for the backyard horse owners. They put up 80,000 to 100,000 bales per year, 50 to 55 pounds per bale.
Their hay is shipped mainly to New York, New Jersey, Virginia, Maryland, North Carolina and South Carolina.
It's an alfalfa-grass mix of 70 percent timothy and 30 percent alfalfa – at least that's the target. Doug says, "Jerry Cherney (professor at Cornell University) talks about how it's hard to keep the grass-to-alfalfa ratio right, and he's certainly right. It depends on the year.
In a wet year, the grass does really well and the alfalfa suffers. In a dry year, it's the opposite – the alfalfa is deeper rooted and can stand the dryness. When we plant, we shoot for four times the timothy than that of alfalfa, and the first year we end up with about a 50-50 mix, maybe 60-40."
Markets develop
And their markets continued to develop. The horse market also requires straw, and the Eldreds' seed business has helped fill that need. Lloyd started the seed business in the late '70s. Today, the Eldreds grow and process 60,000 bushels per year of seed – about a third oats, then some wheat and barley, and the rest is triticale grown for King's AgriSeeds.
About 20 percent of the seed is sold on the retail market, and about 80 percent is sold wholesale. They dedicated a barn to cleaning, treating and bagging seed. Most of the seed is certified, where the crop is inspected prior to harvest. After it's processed, it goes to a USDA lab or New York state lab, where it's tested for purity and germination analysis.
For about two-and-a-half months each year, the Eldred crews work double-time. Doug says, "We're really running from about July 20 to the end of September processing seed. But we are able to keep the crews busy in winter processing seed and loading out hay trucks."
One advantage of the seed business is: It has provided employment for the crew year-round, which helps maintain a more stable workforce.
Randy is mainly in charge of equipment – everything from purchasing to maintaining. Under his direction, transmissions are fixed, rear differentials are rebuilt, motors are overhauled, and tires are repaired. Doug manages the farming, seed and hay businesses.
Doug and Randy both have sons working on the operation, and Doug's daughter is working in the record-keeping side of the business. Doug says, "Good or bad, my two boys have entertained the idea of taking college classes, but their attitude has been 'I can learn more working with Dad.'
They're hands-on and have always been. That's the way they like to learn. Not everybody's set up to be a manager – that's been hard for me to learn. I keep thinking they've got to be like me, and they're not. And I shouldn't expect they're going to be. It took a while, but I finally smartened up to at least accept that."
To manage day-to-day operations, Randy and Doug arrive at the farm early to review plans for the day and find out what each other has planned. Doug will let Randy know when the trucks are coming to load, which may take crew from other operations. They have individual projects but work together as a whole for an efficient operation.
Farm operations are difficult enough to coordinate, but a family farm adds a deeper, and sometimes stickier, element. Doug says, "We have our days, but we get over it." And Randy adds, "We make a decision and we do it; whether it be right or wrong, nobody's at fault. If someone decides to mow, if it's wrong, it's wrong; if it's right,
that's great."
Market evolution
And markets evolve. Doug says, "I hope the horse market has plateaued. It's been getting softer. When the economy is good and there's investment money to be invested into horses, then the horse market picks up. But I don't know if this culture, this generation that's coming on, is the type that wants
to spend the money on horses. I really don't know the answer. All I know is: It's softer than it used to be by far."
Change beyond the markets
Markets aren't the only things that change. Bringing another generation back to the farm is a change the Eldreds are grappling with now. Long-term, they'd like to get the boys more involved in the operation's management. Doug and Randy would both like to shoulder a little less of the work and enjoy themselves a little more.
Doug says, "We ought to be looking at a transition plan at least 10 years ahead of where we want to end up, and in 10 years we'll be in our 70s. It's time to start looking at a transition plan."
Doug says, "We've worked hard over the years and started with nothing and appreciate what we have accomplished, what we've been blessed with, but it still takes a lot of hard work to maintain it and keep it going. But hard work by itself doesn't always mean success. You have to be smart about it. You've got to be a businessman."
And businessmen find out what the markets want and prepare themselves and their farms to meet those demands.
PHOTO 1: Working the fields
PHOTO 2: Doug Eldred talks business with a hay customer, George Holmes, who is buying hay to take to New Jersey.
PHOTO 3: The Eldreds raise oats, wheat, barley and triticale seed for retail and wholesale customers. The seed business helps employ workers year round. Photos by Lynn Jaynes.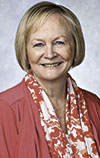 Lynn Jaynes

Editor
Progressive Dairyman