A Midwestern perspective
Daniel Funke, owner and operator of Funke Custom Baling and Hay Sales in Larchwood, Iowa, has been wrapping hay since 2010 – a year he had more ruined hay than good hay.
In that year, Funke says, "Our miserable, humid weather had been worse than usual, and we had almost no dairy quality feed. Our arsenal of equipment included nearly every hay drying or preserving tool in the industry, but the weather just wouldn't cooperate."
Funke had tried super conditioning rolls, fluffing, tedding and preservatives to try and put up quality dry hay for dairies, and says each method helped somewhat but the results varied with the weather conditions. His frustration peaked when he saw about 6 inches of regrowth in a field before he'd gotten the previous cut baled.
He first tried out an inline bale wrapper that his neighbor had used successfully on round bales. But he quickly found there were more issues when wrapping square bales. He says, "It's impossible to get enough oxygen out with somewhat irregular shaped square bales." He then moved to an individual bale wrapper. In its first year of use, he wrapped about 800 bales with the moisture content from 18 to 60 percent.
The wrapped hay sold very quickly, and customers were eager for more. But, he says, plastic was expensive, the process was slow and handling was cumbersome, so he only used wrapping as a last resort. Funke says, "I just about killed off my crew wrapping hay. We'd be up half the night trying to get it wrapped individually with this machine."
Funke then "stumbled across" a twin dispenser wrapper on an online auction, and bought it. It wrapped bales much more quickly. With the functional glitches ironed out, the 2011 season brought even more inclement weather, so Funke says what had been a "last resort" bale wrapping option became a conscious management decision. While the process added around $20 per dry ton to harvest costs (often lower), it dramatically reduced failure rate and provided customers with excellent feed "that produced more milk."
The cost per ton, Funke says, depends on how much dry matter he gets in a bale, which is inversely related to moisture. He says, "In really wet forage, like over 60 percent, it can get much higher because there is less dry matter in each bale. I run a high-density Krone baler because it puts 25 percent more material in every bale. This translates to lower wrapping costs and better feed. The baler also has knives that process the feed while baling, which also increases density. Higher density is of most value in increasing wrapping efficiency. I like to bale alfalfa between 20 and 25 percent best because at that moisture it's efficient to haul and leaf retention is easier to maintain, so it tends to test better. But at this moisture there is no fermentation, so the wrap job has to be perfect or there will be spoilage. We will, however, bale at whatever moisture we have to in order to beat a rain."
By 2016, Funke was wrapping 10,000 bales per year "with less effort than we had into a few thousand in the early days." What he found was that the cost of wrapping was more than offset by the increase in quality and quantity even when weather conditions were favorable. Funke says he's able to harvest at higher moisture content, which reduces leaf loss, and has greater expansion of the harvest window. He says his operation typically bales over 300 acres in a day with one baler, since they can start earlier and run later. Another factor he's learned to appreciate with bale wrapping is "that we're not driving on our regrowth because we can get bales off quicker."
Funke estimates about $8 of plastic cost on each 3-by-4 bale, and says the wrapped bales have higher density than baled dry hay, as the higher moisture allows the baler plunger to eliminate more oxygen from the bale and condense the physical properties of the stems. The hay baled at about 20 percent moisture is cheaper to haul and is popular among his customer base. He has baled and wrapped grass, alfalfa, cereal grains, cover crop blends, drought-ravaged field corn, soybeans and even corn residue.
In addition to selling wrapped hay, Funke maintains a cow herd and feeds them wrapped bales from his experiments and any hay of questionable quality. He says, "Feeding wrapped bales myself provides perspective that can't be had from customer feedback, and has helped us to refine our management practices even further."
Funke says, "It should also be mentioned that timely cutting is the single largest determinant of forage quality. With the ability to wrap, we can more often cut on time, even when the forecast isn't favorable for dry hay." He adds, "In 2016, what I would call our failure rate – which means the hay got rained on and didn't make dairy hay – was actually less than 1 percent. That's phenomenal."
A Western perspective
Producers in the West, where 3-by-4 and 4-by-4 bales of dry hay are king, don't generally think in terms of wrapped hay. That may be changing.
Brandon Fawaz, owner of Fawaz Farming in Etna, California, bales hay for himself and custom hays for others. Unpredictable early summer thunderstorms and late season fall rains, however, were making it more and more difficult to put up high-quality dry hay successfully. He says, "Typically when we want to make high-quality dairy hay, it will be with a cut the first or second week of May. If, however, the weather doesn't cooperate, then you end up with retail or stock market hay instead of the higher quality dairy hay."
In 2015, Fawaz "tried not to have all our eggs in the same basket" and bought a bale wrapper. And his assessment of the first year is as follows: "I thought it worked well. We were able to harvest some hay early, wrap it and have the water back on it." He saw a half-ton per acre yield increase on the areas where he was able to get water back on it right away.
Fawaz mentions other ways in which the bale wrapper was successful, citing that it "provided a break for our crew, in the sense that we didn't have to run as much of a marathon." He adds, "With California's new overtime rules for ag workers, in the future this could impact profitability."
Fawaz wrapped hay with about 40 to 45 percent moisture, but also wrapped some at 25 or 30 percent moisture.
Regarding the increased costs associated with bale wrapping, Fawaz says, "When we look at the costs of wrapping, are we always going to offset it with just one single factor? I think the answer to that is definitely 'no,' but I think we offset it in other ways – by getting water back on it and increasing yields that way, higher quality hay, reduced barn storage needs and more regular work hours will all contribute to make the wrapper return on its investment. We may have to explore this further, but I think there's quite a bit of merit there."
Fawaz and Funke both say that wrapping dryer hay is more difficult. Fawaz says, "I'll say it three, four or as many times as I have to say it – there's no such thing as cheap wrap. We bought some wrap early on, but it didn't work as well on the 3-by-4 bales. It's easier to wrap a round bale, but when you take a 3-by-3 or 3-by-4, you have to make sure you buy good wrap."
Brandon Fawaz and Daniel Funke presented at the 2016 Western Alfalfa and Forage Symposium.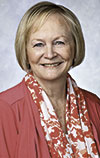 Lynn Jaynes

Managing Editor
Progressive Forage
PHOTO 1: The twin-roll bale wrapper transitioned Daniel Funke from a last resort option to a conscious management decision.
PHOTO 2: While the bale wrapping process added around $20 per dry ton to harvest costs, it dramatically reduced Daniel Funke's failure rate and provided his customers with excellent feed.
PHOTO 3: Daniel Funke built his own bale squeeze to handle transportation from the field. These have been so successful that building them has become a sideline business for him. Photos by Daniel Funke.