Wade Hill is a forage producer in Danville, Alabama. His main hay marketing focus is for the horse industry, although he also sells hay to cattle producers on a limited basis. In addition to off-farm sales, Hill produces forages for his own livestock – horses, cattle and swine.
Hill says, "Our target, of course, is to furnish 365 days of grazing, but that never happens. Nature plays such a big part of this equation even with the best management practices. One year I did not feed any hay until the last week of January, but we had an awesome November and December for the cool fescue in our area."
Striving for forage maximum quality and maximum yield is a goal that is at odds within itself. As forage matures and increases in yield, it loses quality and digestibility. Therefore, a forage producer is constantly trying to balance the need for quality and yield.
Hill says, "On our hay fields, we try to harvest at the maximum forage quality that we can get. Sometimes this is not possible because the hay will be a little more mature than wanted because of the weather not being feasible to harvest the hay at optimal quality. I like to keep the pastures at the highest quality also, but when you are giving the forage the needed rest to recuperate from the grazing cycle or you are trying to stockpile the forages, you will lose a little quality sometimes because of the maturity of the forages at the time of reintroduction of the grazing animals. Most times, when you are managing for one of these, you will be giving up a little on the other."
In northern Alabama, most pastures contain a high percentage of tall fescue grass, which provides a maximum number of grazing days throughout the year as compared to other forages. Hill tries to incorporate orchardgrass and clovers in the pastures when possible.
He says, "The orchardgrass is less tolerant of stressful conditions, and the clovers are not very tolerant of spraying for broadleaf weeds. I do feel as if a weed-free pasture is better than weeds plus clover mixed in, so our use of clovers is on a limited basis. I like to have a warm-season pasture – around 20 percent of total grazing acres – that I can use in the hotter months of summer when fescue is not growing, and I can also overseed that with a winter annual to help during the cold days of winter when fescue has also slowed down its growing process."
Hill is a member of the American Forage and Grassland Council. He is proud to be supporting National Forage Week as part of his involvement with that organization and as a producer who knows the importance of quality forages.
To find out more about National Forage Week, go to the American Forage and Grassland Council website and find out how you can participate.
Hear from Hill himself in the video below: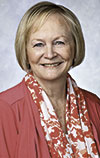 Lynn Jaynes

Editor
Progressive Forage Grower