If you've read our magazine for long, you'll already know John Russell's name. While he bales straw and hay in Ohio as his primary occupation, that occupation has forced him into his "other life" as an inventor, a tweaker, an idea guy, a producer who is constantly looking for ways to improve his product and process.
A few years ago, we introduced you to his self-propelled fluffer. Today we introduce you to his double two-tie baler.
Twenty years ago, Russell toured a Freeman factory with fellow hay producers, where it became clear that very little research and development was going into two-tie balers. Large square balers had hit the market by then and were considered the wave of the future for their capacity, hauling ease and efficiency. It was thought, at the time, that two-tie balers would become a thing of the past.
Since then, Russell kept producing his two-tie bales, which is what his horse customers wanted, but by his own admission, he says, "I'm one of the holdouts." His customers didn't graduate to three-tie bales; they didn't adapt to large square bales or convert to round bales. They demanded 50- to 65-pound two-tie bales for ease of handling – no heavy equipment needed, easy for a horse owner to pick up and throw. And these weren't just a few of his customers demanding this, but his most loyal ones. But for the quantity Russell needed, he was frustrated with the capacity of the two-tie baler process.
He joined forces with an independent equipment manufacturer and finished a self-propelled double-baler prototype in 2014. It featured a wide pickup from a big square baler and fed two separate chambers. The feed fork worked alternately between chambers. And while Russell did bale with it, he wasn't happy with the final product. The feed fork tended to "pull" hay back out of the chamber on the return and hay wadded up, making uneven-length bales. It wasn't the quality Russell expected, and he went back to the drawing board.
Of the ideas that worked and those that didn't, Russell decided to take the "tried-and-true" 1844 Hesston three-tie baler and modify it.
"In essence, we took a brand-new three-tie baler, tore it completely apart and cut it in two. Then we widened the chamber, shortened the chamber height, added a needle, knotter, second twine box and built a new plunger. We basically took what they were doing and just made it wider and made a four-string baler and then cut the bale," he says. This was accomplished largely by an independent manufacturing facility. "But we tweaked a few things – for instance, adding a double quarter-turn chute that single-files the bales and added a scale on the back."
Having used his two-tie double baler over the 2020 summer, Russell says 20 to 22 tons per hour (or 700 bales an hour) "is no problem." He was concerned, at first, that customers might balk at the visual appearance of a cut side on the string side of the bale. However, Russell says they haven't had any complaints and adds, "I'm convinced it's not as important as I had thought."
Russell posted a video of his double two-tie baler on YouTube recently, and since then he says, "There's a lot of horse people that do not like that 100- to 120-pound three-tie, even though a lot of hay producers have gone to that. But since posting the video I've gotten several calls, and several of these calls are from producers saying they envision switching from three-tie bales over to this because they can increase their capacity and give their customer the package they want." His modified double two-tie has 35% more capacity than the original three-tie had.
Great, right? He'd solved the capacity problem while delivering exactly what his customers wanted. But while the first question any engineer/inventor asks is "Will it work?" the second is "Is it affordable?" And his new double two-tie baler wasn't cheap. "Working on your own concepts is an expensive way to go," he says. "We've built four of these balers at this point, and just can't get the cost down to the point that we could make a profit and still be able to sell them very easily. We've built these one or two at a time, and there's just no economy of scale."
He adds, "I can justify it [for myself] because it's exactly what I was looking for, and I put up a lot of hay and straw in a year. It's eliminating a tractor and an operator and a baler, which is more than the difference in price, but a lot of people don't see it that way."
Still, he admits, he doesn't foresee many selling because of the high cost, which doesn't particularly bother him. "I'm a producer, not a manufacturer," he says. "But I believe a large equipment manufacturer could take that design and make a baler for less than 100,000 dollars. That's what I'd like to see happen. I'd like an equipment company to take this on, so I can buy them cheaper than I can build them myself."
He adds, "I'm not going into the manufacturing business. I did this to improve my baling capacity and reduce labor. I didn't do it to make money, but to solve a problem."
The good news, Russell says, is that "… two-tie balers becoming a thing of the past hasn't proven true. It's just not going away. There are a lot of horses in this country, and horse owners who want a bale they can handle without major equipment. Even the racetracks want the small bales, and there's big business for a hay producer in those markets."
But there's a silver lining. He says, "The encouraging thing is: There are some indications that a couple major companies may be working on double two-tie balers, and I wouldn't be surprised if we see something out within the next five years."
When it's all said and done, instead of being a "hold out," Russell will end up being ahead of the curve.
PHOTO 1: While not cost-friendly for many producers, the current model works for Russell in that it replaces a tractor, an operator and a baler, and makes his operation more efficient without sacrificing quality.
PHOTO 2: John Russell's double two-tie baler, in reality, has been a 20-year journey of trial and error, but the recent model has proven successful in forming the right-sized, right-weight small square bales. Photos provided by J.D. Russell Hay & Straw Inc.
To learn more about the double two-tie baler, go to J.D. Russell Hay.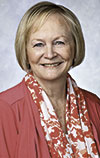 Lynn Jaynes

Editor
Progressive Dairy