There is a lot of interest and energy being focused on cover crops and cover crop usage across the country. In fact, as I am writing this article, there is a "cover crop meeting" going on in our conference room.
The meeting includes Agricultural Research Services (ARS), the University of Wisconsin and other stakeholders who have been charged to manage $750,000 in new funding for research and outreach to develop improved cover-cropping systems and management options for agriculture. It is an energetic and focused group, and they have many great ideas.
Unfortunately, the reality in the field is not as encouraging. In December, I drove halfway across Wisconsin and almost completely across Iowa from the northeast to the southwest. On this drive, I don't remember seeing a single farm field with a cover crop.
I did see several large tractors disking, and even one pulling a six-bottom plow, but few if any acres with cover crops. Maybe even more concerning, I saw very few farmed acres in alfalfa or other perennials, a few hundred acres at most.
So what's the deal? With all of the interest and energy associated with cover crops, perennials and ground cover, why are we seeing such poor adoption rates?
While there are many possible responses to that question, a few are obvious:
It's too expensive, and my banker won't approve.


Cover crops don't fit my management system or crop rotation.


I simply don't have the time or equipment needed.


I am renting this land and can't afford the added expense over the short term.
I am sure these responses ring true for many of you.
On the flip side, most of you have heard strong arguments for cover crops and perennial forages: Cover crops prevent erosion, improve soil health, maximize ground cover and photosynthesis, reduce emissions, reduce weed pressure, sequester carbon and more. All of which sounds great – until it comes time to pay for it.
What the naysayers are really saying is: "You haven't convinced me I can make money using cover crops or alfalfa in my crop rotation." I think it's really that simple. If we want to see more cover crops and perennial forages, we have to be able to demonstrate the real economic value of these options over the short term (five years) and long term to farmers, land managers and bankers.
In some scenarios on the farm, that works. For example, we can do the math if we plant winter wheat or fall oats and harvest or graze them. Or if we have a drought year, we can determine the economic value of a late-summer sorghum or turnip crop.
We can usually value alfalfa in a crop rotation, including the nitrogen value for subsequent corn crops. But what we don't know is the value of a specific ecosystem service provided by cover crops or perennial forages – for example, erosion control.
ARS scientists at the National Laboratory for Agriculture and the Environment (NLAE) have determined the net average rate of soil loss (erosion) across Iowa on a typical corn grain-producing acre is: "1 pound of soil lost for every pound of corn harvested."
Think about that. For a 100-acre farm producing 200 bushels of corn per acre, the total annual soil loss is 560 tons for that farm. That's a big number, and certainly not sustainable, but it is happening even in a state where the application of conservation tillage practices have grown dramatically, with clear benefit to both yields and production costs.
Soil loss estimates vary widely across soil type, slope and topography, tillage history, etc. But since the "1 pound" estimate is an average across Iowa, many acres actually lose even more topsoil – and as stunning as that number is, erosion rates are often higher for soybean and corn silage acres.
This phenomenon is not unique to Iowa and, around the world, governments are now looking at soil as a public resource. There are even some alarming reports we may only have a few decades of topsoil left in the world.
It goes without saying soil erosion and soil degradation are critical problems we need to address and, consequently, soil loss clearly has a significant economic value. However, determining the specific value of 1 pound of lost soil on a particular acre remains elusive, and ag lenders are not yet asking about soil loss and erosion rates when evaluating requests for operating credit.
However, cover crops provide other ecosystem services that clearly have economic value as well. For example, properly managed cover crop systems increase soil fertility and soil organic matter, improve infiltration because of the protection of the soil surface from raindrop energy, increase water-holding capacity (drought resistance) and sequester carbon – all of which have clear economic value.
As an example, ARS research has demonstrated the single-most important soil characteristic for predicting corn yield in non-irrigated systems is water-holding capacity, which is primarily a function of soil texture (rainfall infiltration rate) and soil organic matter.
Further, for corn-producing soils, increasing soil organic matter from 1 to 4 percent resulted in a tripling of the number of days of available moisture, critical to crop yields in periods of drought or water stress.
Clearly, these ecosystem services too have economic value. So what is the answer to realizing this value?
Previously, I introduced a "Grand Challenge" for the dairy industry (October 2017 issue of Progressive Forage). This project is striving to better understand and optimize the management of integrated dairy systems on a landscape. It is just getting underway, but we are bringing the full force of ARS research talent and physical resources to the table.
We want to understand how dairy forage systems should be designed to provide high-quality forage for dairy cows while improving economic and environmental sustainability, and providing ecosystem services on the ground. This is the first and highest priority for the project, but it will only succeed if we also determine the economic value of the ecosystem services, both provided and lost.
We also want to determine how the dairy cow interacts with the forages we produce in the system described above. We need to lessen competition for feed and acres with human food production needs. We need to determine the optimum metabolic size for future dairy cows and how the genetic makeup and genetic management of those cows is optimized for a specific production system.
Moreover, we need to identify how dairy genetics and integrated dairy production systems should be developed and managed to provide maximum value to human health and nutrition.
Obviously, this is a large, complex multidisciplinary project, and it will only be successful if we accurately determine economic values for ecosystem services provided by cover crops, by manure management, by perennial forages and by other best management practices on the farm.
Consequently, the dairy Grand Challenge project is partnering with the USDFRC, the NLAE, land-grant university "cover crop" research efforts and other like-minded research teams to find the answers.
These efforts are the necessary first steps toward developing a true understanding of the economic value of ecosystem services provided by perennials and cover crops, including reduced soil erosion. Hopefully, in the near future, we can begin to provide farmers, bankers and land managers with the true value and impact of cover crops, perennial forages and related management practices that influence soil health and ecology on the farm.
We are moving forward and are adding our first research agriculture economics member to the USDFRC team. As always, we are happy to hear your thoughts and ideas.
ILLUSTRATION: Illustration by Mike Dixon.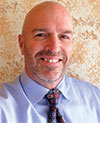 Mark Boggess

Director
U.S. Dairy Forage Research Center