We tend to minimize when writing for a broad audience that our continent is actually made up of climate zones, and within those are micro-climates, and within those are native plants that have adapted to the environment and continue to adapt to environmental change.
These plants are the backbone of our grazing programs. We'd be out of the livestock business without them.
But what about the cultivated crops we've interjected into the equation? How do topography, geography and a region's climate influence how a particular crop will respond to our ministrations? How comfortable are you with making planting decisions outside of your neck of the woods?
Here's my perspective from a recent trip I took to Willcox, Arizona.
May 8 – Departure: Elmira, New York, airport: low 33ºF and high 56ºF


May 9 – Willcox, Arizona: low 43ºF and high 57ºF
Hmm, seems rather similar conditions at first glance, but I should probably mention we'd just had another inch of rain in Tioga County, Pennsylvania, and our clay loam soils were well beyond their water-holding capacity with over 4 inches in the past 30 days.
By contrast, the cool and humid weather conditions in Cochise County, Arizona, were an anomaly for the high desert at 4,255 feet in elevation, where drought is the norm.
As a classically trained Penn State agronomy graduate and certified crop adviser of 20 years, my perception of drought is predicated on our region's average elevation of 1,099 feet, annual rainfall of 30 to 40 inches over 120 to 140 days, around 2,100 (base 50) growing degree days for hybrid field corn, and plenty of sun and rain for these offspring of multi-generational inbred parent lines.
Did you know these wind-pollinated youngsters full of hybrid vigor need to imbibe about 22 inches of rain to mature into that 6- to 8-inch cob surrounded by 12 to 18 rows of golden starch-filled kernels? Willcox, Arizona, only gets about 13 inches of rain annually.
Here in the East, we rarely evaluate subsoil moisture content on a daily basis or check evapotranspiration predictions, surface salinity or high pH as part of our pre-check planting ritual. In the tree-shaded greenbelt, we rarely worry about the effect ultraviolet radiation is having as we put corn in the ground.
Back home, it's an endless green sea of vegetation in the spring. Interspersed with large fresh-water bodies of blue stretched across a canvas of cloud-filled gray skies and rolling hills.
In May, the wet essence of high-organic-matter soil, rich with biotic life, steaming in the temperature inversion of an early mid-Atlantic morning is a scenario so ingrained in our daily lives, we mow our grass only after the dew is gone – a striking contrast to the pastel colors of the parched landscape of the West with its sun-bleached cheatgrass, mesquite, occasional cacti and towering mountain peaks.
The funny thing was: It did rain my first night and into the second day in Arizona. That day was kind of surreal. My growers back home were calling for recommendations on how to terminate rye that had gotten too tall – and here I was half a country away, and I was mowing down a rye cover crop that had also gotten too tall before it was terminated.
In fact, just about every farmer in the East from Vermont to North Carolina was more or less doing the exact same thing. Getting cover crops off this spring and terminated with a burn-down herbicide was next to impossible with the rain we'd been having.
Turns out, the weather makes terminating a cover crop in a desert environment just as difficult.
But unlike the East – three time zones away with an inch of rain in the gauge – the local weather station in Arizona was excitedly reporting they'd received 0.01 inch. Then the sun came out, the winds shifted – and I got to see what they mean by sun-baked earth.
We all know what a clay loam soil feels like, and we know how pottery is made, so you can visualize what I mean when I say the sun is so hot in Arizona it bakes the water right out of the ground to a depth of 20 inches, if not more. Forget the clay ball test for optimum furrow closure; this soil was powdered brick.
Meanwhile, the weather forecast was predicting normal precipitation for the high desert, which is why I'm glad a genius named Frank Zybach (a farmer in Colorado who hailed from Nebraska) came up with the idea of center-pivot irrigation in 1947.
I learned how to turn on a series of pumps that were putting out about 600 gallons a minute at the well head to a center-pivot arm I'd programmed with a nifty iPhone app called "FieldNET by Lindsay" to walk on an inch of water over a 14-hour period.
Now it's watered. But did I put on enough water? The ground looked and felt just like I wanted it to, but then came three days of 40-mph sandblasting winds.
Meanwhile, I'd been watching a neighboring corn field that had recently been planted around May 2 and irrigated on May 8 – and then came that extra 0.01 inch. It did not seem like much to me, but it was still enough to have the spikes poking out of the ground two days later – into hostile conditions.
I literally could see the corn struggling to emerge through crusted wind-blistered soil that had clodded into tiny clay balls. Would it survive?
That is when I was reminded that corn on average needs around 475 growing degree days to reach V6 leaf stage – or when the growing point is out of the ground. As long as the growing point is not out of the ground, a corn crop can take a beating from weather in all its manifestations.
Knowing this, I could now use the cumulative growing degree day graph at the nearby Bonita, Arizona, station to predict critical crop growth stages. Another 0.6 of irrigation water, and it was right as rain.
But now, two pivots are running at different speeds using the same wells but set at different outputs. "Oh yeah, ya got to equalize the pressure," said Alan Seitz from CPS in Willcox. "It's got to go somewhere."
The iPhone FieldNET app is great, but you still have to manually keep an eye on things, kind of like watching the latest weather news. It's a very useful tool, but it doesn't take the place of eyes on the sky directly over your head and a look at your field conditions. Remember, wasting precious water is a big no-no.
Bottom line: If you're going to grow corn out West, ya gotta know the "reference evapotranspiration and crop coefficient values to estimate well-watered crop evapotranspiration using the single crop coefficient approach corrected for rainfall and irrigation frequency" – quoted directly from "Irrigation Scheduling Of Alfalfa Using Evapotranspiration" by Richard L. Snyder and Khaled M. Bali.
The "just show me in lay terms" explanation is more straightforward:
Check current conditions
Check the forecasted conditions
Check soil moisture content
Adjust for the stage of growth
Adjust for crop water needs
Don't put on more than needed
Finally, some familiar lingo in an unfamiliar land.
Remember, the total amount of water full-season corn must extract from the soil is around 22 inches. To make up for the rain deficit out West, one has to take into account the ever-changing amount of moisture lost to the air as the crop breathes and also the moisture is baked out of the ground.
Of course, the economics and manpower of irrigating any cultivated crop have to be accounted for in this "watered down" interpretation. Weather is the driver and the driving force of all our crop management decisions. The where, when, why and how to pay for rain can change hourly, despite the forecast.
PHOTO: The total amount of water full-season corn must extract from the soil is around 22 inches – a challenge in Arizona and other areas of the West – but managing "paid-for rain" has become easier with phone apps. Photo by Mike Dixon.
References omitted but are available upon request. Click here to email an editor.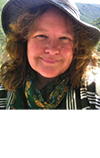 Melissa Bravo

Certified Crop Adviser - Herd Health Specialist
Meadow Lake Farm Consulting