It is amazing the difference in animal health on different pastures. In many cases, this can be attributed to plant health, which is a product of healthy soil. In the major commodities, there is lots of talk of cover crops for several reasons; one is soil health. With a healthy soil, there is less plant diseases and in some cases, even less insect pressure.
In addition, some species of forages have natural worming attributes that, along with healthy plants, make a positive difference in animal performance. The unfortunate thing is how hard it is to research the relationship between soil health, plant health and animal health.
This is being noticed in nonbackgrounded calves put on healthier pastures the first couple of weeks after going through the auction yards. Death loss is considerably reduced from 3 to less than 1 percent.
One of the major components of soil health is organic matter. Carbon is the food source for most soil life. Graziers should be considering how they can improve organic matter. This is one way to measure a start for soil health.
To build organic matter, consider grazing management as well as forage species. Multiple species obviously have different growing characteristics, some of which contribute to organic matter. Others have excellent rooting depth. Remember that roots are a major part of soil organic matter, and some of the new forages help in this regard.
Two relatively new forb forages in the U.S. are chicory and plantain. They are widely used in New Zealand and Australia and are just starting to become popular in the U.S. Currently, chicory is being used in wildlife mixes in the U.S. The global interest is growing as more people understand chicory's attributes as a forage.
Chicory benefits
Chicory is proven to be anthelmintic (natural wormer). Some of the compounds in chicory that may contribute to being anthelmintic are sesquiterpene, lactones, chicoriin and chicoric acid. Dr. John Andrae of Clemson University has conducted some studies grazing chicory with sheep and cattle (Figures 1 and 2). Likewise, there is research out of New Zealand as well as the United Kingdom available on the web regarding chicory in a production system.
Chicory is also a high producer of excellent forage but prefers rotational grazing. Its rapid regrowth may be surprising to some producers. There are several commercial varieties available, some produced in the U.S.
Chicory is adapted to a wide range of climates. For example, chicory can be found almost any place you look in Oregon, even in areas with less than 10 inches of rainfall. It will continue to grow in the warmer days of summer, and temperatures over 90ºF do not seem to slow it down.
It is a short-lived perennial, depending on how it is managed (three to five years). Most years, it will make some seed, so it is continually reseeding itself. If the animals are grazed later in the fall, they will graze the seed stems off.
Chicory research in Pennsylvania showed chicory can produce 75 pounds of dry matter per day from April through October (Kansas State Forage Facts) and was in the range of 18 to 22 percent for protein content.
Plantain's prospects
Plantain is another relatively new forage currently used in wildlife food plots. Plantain is being used more widely in New Zealand right now because it reduces the amount of nitrogen in an animal's urine by 50 percent. This is helpful where nitrate in water is an issue. But it also means the animal is making better use of the nitrogen, which is protein. Wild plantain has been found in the sagebrush country of central-eastern Oregon.
Plantain is tolerant of higher temperatures than grasses and survives under drought conditions. It can be severely overgrazed and still survive and come back when given a chance. Plantain makes excellent cow, sheep and horse pastures. There are some issues shipping plantain into some states, but that issue is being worked on as well.
At this point in time, there is only one commercial variety produced in the U.S. It is bred with material from 52 degrees latitude north. The other varieties are imported and are less winter hardy because they were bred in New Zealand (New Zealand Society of Animal Production).
Fodder beets
Fodder beets are another underutilized and little-known forage. Ten years ago, the bulk of fall and winter grazing in New Zealand for dairy cows was giant kale, rapes and some turnips when the cows were dried up. Today, the bulk of that acreage has switched to fodder beets.
They will outyield kale, rapes and turnips by 10 tons or more of dry matter per hectare. They are a full-season crop, planted in early spring and then grazed off by strip fencing in the fall. The one downfall to fodder beets is they are low in calcium so one needs to keep mineral supplement in front of the animals. There is very little fodder beet being used in commercial livestock operations in the U.S. today.
If all else fails, get a nice beet, slice it thin and soak it in water for half day or more, then deep-fry it to make edible chips.
Other options
Other species that should be included in grazing mixes where adapted are birdsfoot trefoil (also has natural worming properties for animals) and sanfoin (in dry warm climates); both are legumes and perennials. Persian clover and balansa clover are good for quick forage, along with several grazing brassicas for first-year feed.
Many of these species are excellent for soil health because of deep roots, and they increase species diversity.
When you go to pick your cover crop mix, remember: soil health = plant health = animal health.
PHOTO: The author's grandson, Cole, displays a fodder beet, a full-season crop. Photo provided by Don Wirth.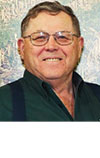 Don Wirth

Saddle Butte Ag Inc.