"More advertising in agriculture should be directed at women. They're making a lot of the financial decisions on farms."
I didn't pay much attention to that comment the first time I heard it – or even the second time. But the third time I heard it within just a few months, I started to take notice. The sources were these: ag lenders, equipment dealers and extension agronomists. It was news to me.
I had heard many women say they "keep the books" for the operation (as in chewing on owners and husbands to keep receipts, don't spend money "before you know what's in the account because I'm the one who has to call the bank and try to get the overdraft fee waived …" – that sort of thing) but I hadn't heard women were acting as chief financial officers, at least not often. Was there a trend afoot?
Janea Danuser, vice president of ag equipment manufacturer Danuser Machine Co. says, "While it's true the ag industry is still predominantly male, I've noticed significant changes over the last 18 years. Women have long been present in agriculture. Today, more than ever, women own and operate farms."
Danuser is one of two women currently serving on the board of directors for Farm Equipment Manufacturers Association, founded in 1950. She also noted, "We've seen significant changes in the way customers shop and in the way they buy. The obvious catalyst is the internet."
Mary Andringa has been involved in manufacturing for 35 years and currently serves as chair of the board at ag equipment manufacturer Vermeer Corporation.
She credits the increase of women in agriculture, at least in part, to the current focus in science, technology, engineering and mathematics (STEM) school curriculums. In 2006, the U.S. government and private enterprises set up grants to increase focus on these core subjects with the express goal of better preparing students for a workforce in a globalized, high-tech marketplace.
She says, "In the last five years, I have seen more focus on getting young girls involved in STEM, in agriculture and in manufacturing. I was pleased to serve as a co-chair with our lieutenant governor on the governor's STEM council in our state. In the last years, not only have we seen an increase in awareness and interest in STEM-related careers, we have also seen a significant increase in interest by girls in STEM careers.
In our state, agriculture is highly regarded and on the leading edge in using science, technology and math. I believe the driving trend is: Agriculture and manufacturing both need the talents and expertise of men and women. The recognition of the importance of diversity is helping to drive this trend."
Another advantage to choosing agriculture for women, Andringa says, is its flexibility. "I believe the traditional challenges women have faced in the agriculture industry are diminishing," she says. "There is opportunity to be had if they want to pursue it – both on the farm and in the ag business world.
However, for many women, in any industry, they face the challenge of being able to balance all the demands on their time – at work and at home. I think balance and flexibility are a couple things driving women to choose agriculture as a career choice.
The flexibility an entrepreneurial lifestyle can provide and allows women ag business owners is appealing. They may work just as many hours, if not longer ones, in owning and operating a farm business, but it provides more flexibility to raise a family while at the same time pursuing a fulfilling, prosperous career."
Danny Klinefelter, professor and extension economist specializing in ag finance and management development with Texas A&M, says as farms consolidate, "More and more of these big farms are going toward management teams instead of just one-man shows."
With more women in the colleges of agriculture than men, women joining farm management teams often gain experience in corporate America or have college degrees in marketing, management, human resources or finance.
"And we see more women coming back to farms to be controllers or CFOs, handling human resources and marketing," Klinefelter says. "And they have key decision powers within those roles – it's not just one guy calling all the shots."
One such example of this is Cori Wittman. She grew up on a ranch in Culdesac, Idaho, which today runs 400 cows on 20,000 acres. (Half is cropped, and the other half is used for timber and pasture.) In January 2017, as the youngest of five Wittman children, Cori became the general manager.
Cori is not an obvious choice as general ranch manager, at least to outsiders looking in. After all, she's not the oldest son – traditional heir apparent – and she spent five years in Thailand helping young women find an alternate path out of the sex trade – hardly the typical ag education.
However, her father, Dick Wittman, says she excels at planning processes and leading skilled discussions on difficult situations where "a lot of guys just freak out about doing that." But administrative functions are not her only interest; like many ranchers, she enjoys driving a combine, going out with the fencing crew and running cattle through the chute.
Dick Wittman says, first and foremost, a business has to embrace administrative functions as critical – human resources, marketing, strategic and financial planning – then they have to identify who is best equipped to do it well. He says, "If you look at it historically, most people get into farming not because they like to do bookwork or manage people.
They like to grow things, they like to run equipment, they like to work with livestock, but that's only one piece of the business equation." He adds, "If your main focus is to sit in the sunshine and get out there in the tractor or feed, you're only going to give these other functions a lick and promise, and you're going to find every excuse in the world to not do them.
And there's always something operationally that is there that you can go do to avoid dealing with partners, dealing with people, dealing with planning."
Wittman says if farm managers realize their best contributions to the business are behind a desk or on a phone negotiating, then so be it. But if they hate doing it, and they're feeling like they're obligated to do it, they need to re-evaluate. "It's a compliment to acknowledge what you do best and know what you don't want to do," he says.
Wittman says the industry is long overdue to be tapping those with the skill sets for those jobs farm managers often avoid. Very many times, women are filling these roles.
But let's not skirt the issue – the question remains: Does agricultural equipment advertising take into account the increasing number of women who are making purchasing decisions on the farm or ranch? Jason Andringa, president and CEO at Vermeer Corporation, says, "Advertising today is very segmented, and it's pretty easy to tailor a message to a very specific audience.
That doesn't just apply to women, that applies to any demographic – age, revenue, geography. Any segment within agriculture is becoming easier and easier to reach with a specific message tailored to them.
The challenge remains the same as it always has been – and that is to figure out which message resonates with which audience and through what channel, but just reaching a specific audience is pretty easy."
And the internet has changed advertising messages. Jason says, "The increasing use of digital and social media is a prime example of ways brands are reaching different pieces of their potential customers through different messaging.
Vermeer is proactive in reaching out to women in agriculture – most recently profiling six women across the country who use Vermeer machines in their operations." (You can read these stories at Makin' Hay)
PHOTO: Photo licensed from Thinkstock.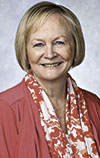 Lynn Jaynes

Editor
Progressive Forage