At the U.S. Meat Animal Research Center, we have had an interesting year. In late July, a severe thunderstorm moved through central Nebraska and pounded away at the center with heavy rain and hail and wind gusts that may have reached 100 mph.
As you can imagine, we had extensive damage to irrigation pivots, grain storage, barn roofs and crops. The wind even tipped large round bales up on end, and one rolled through the fence onto the road. Its chosen path was not downhill, so the wind was blowing. The good news is there were no injuries or livestock losses. The bad news is the bill is expected to reach $2,000,000.
This storm complements the extreme winter in Nebraska that most readers will remember as one of the worst on record, with catastrophic flooding and extensive livestock casualties. Here at the center, we fared comparatively well through the winter, although we took a lot of weight off the cow herd. Then our winter was followed by a late spring that delayed planting for much of the country. Here at the center, we were able to plant about 1,000 acres of corn on schedule, only to see much of it hailed out in late July.
Getting our hay put up has also been challenging. Ironically, we are estimating that we will have more hay and grass production than ever before on the center, but we have not been able to get much of it into high-quality bales for winter feed. So in a record forage production year we may actually end up short of winter feed, possibly for the first time ever. We do have a lot of grass growing, and another 3/4 inch of rain today will keep even the C3 grasses growing through August and into the fall, so we should be able to extend our grazing season much longer than in typical years, which will help.
Is all of this related to climate change? Possibly, but it does get you thinking about future needs for the management of your farm or ranch.
On the research side, we are facing similar challenges or "climate changes." When I was going through school, we animal and plant breeders focused on understanding the relationships between genetics and the environment (or G by E). Now, more and more research questions are focused on complex relationships that require larger, multidisciplinary research teams. For example, we are developing research programs focused on optimizing resource use in an integrated beef production system. This program seeks first to better understand the relationships between soil ecology and forage production.
Second, we are seeking to better understand the relationships between forages and the cow. Next, we want to better understand how the cow influences food products for human consumption. And lastly, we are seeking to better understand how the cow influences her environment including soil ecology, forage production and greenhouse gases.
There are numerous other factors involved and the list of scientific expertise and disciplines involved in work like this is daunting. For example, this project includes scientists representing plant, animal and microbial genetics; reproduction; nutrition; plant and animal physiology; food quality; food safety; animal health; forage production and management; soil science; manure management; human nutrition; engineering; bioinformatics and economics. Consequently, G by E no longer works to describe the challenge, so now we use GEMS, where G is genetics, E is environment, M is management, and S represents diverse socio-economic factors. It's an ever-complicated research world and certainly represents a change in the "research climate" for many of us.
Back to E = environment. At our ARS location in Ames, Iowa, we study climate change effects specific to crop production in the Upper Midwest. This research is conducted at the National Laboratory for Agriculture and the Environment (NLAE), located at Iowa State University. We have all heard "experts" tell us what they are expecting to see from climate change, but the folks at the NLAE are actually doing the work to understand the implications. Their findings are interesting and point directly at the need to consider adaptive changes to farming systems.
For example, they are finding significant changes in annual precipitation totals, with some parts of the country seeing more precipitation and others less. They are also documenting an increasing intensity of storms and more extreme weather events, more variable summer precipitation, increasing minimum temperatures, longer growing seasons, increasing carbon dioxide (CO2) levels and evolving life cycle processes for plants and pests.
In other words, rainfall patterns and totals are changing, which directly affect crop and forage production. Storm intensities are changing, which leads to increased erosion risk and increased susceptibility to wind and hail damage. Crop and forage pests are changing as their environments change, many to the detriment of production agriculture. And all of these effects are adding to the variability of traditional production systems.
It does not take long to find an article or news summary discussing greenhouse gases and climate change. If you are in the livestock business, you have heard the accusations against animal production because of their contribution to greenhouse gas production. One of the most widely discussed is CO2. While CO2 is a known greenhouse gas, it also contributes to increased biomass production.
Unfortunately, that is not as good as it sounds for forage producers. Cool-season C3 grasses show large biomass responses to increasing CO2 levels, while warm-season C4 grasses show more moderate responses. Unfortunately, recent research is indicating that the increased biomass production may be accompanied by significant reductions in forage quality including more lignin and reduced nutrient density. So there's lots to think about for forage producers.
Here at the center, we are also searching for answers. Previously, we have reported that we are focusing more on forage quality (and I am happy to report our new hay storage hoops survived the July storm). We are also continuing to focus on improved erosion control and soil health through use of cover crops and living mulches. These seem to be more relevant all the time, especially after the trying year we have experienced to date. But, like you, we have a long way to go and much to learn. Hopefully we can continue to contribute to solutions for forage and livestock producers. Stay tuned!
ILLUSTRATION: Illustration by Kristen Philips.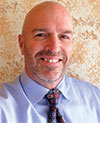 Mark Boggess

Director
U.S. Meat Animal Research Center – Clay, Nebraska