As a Wisconsin farm kid, one of my most loved and despised memories of growing up happened during haying season – the love of the smell of hay and the dislike of repeatedly losing the hay mow stacking competition to my much taller brothers.
But there is one thing I remember most often. It happened during the summer of 2001.
My two brothers and I were watching my father start to fix the hay baler to finish the last load before the sun went down and the rain came in and, in the rush, my father did not wait until the power takeoff (PTO) fully stopped before he leaned over to see what the problem was.
It all happened so fast; first, his shirt was pulled in and then his hand. It was a blessing he walked away with only 13 stitches and a few scars. Since then, we have traded the New Holland 570 for a New Holland 273, fixed the wagons with cages and put mirrors on our tractors. While we are all older, and the farm looks a little different now, there are a few things that have stayed the same: the annual hay mow stacking competition with my brothers and our attention to safety.
Farmers are well versed in safety, but it can be easily forgotten when the work is rushed. Usually baling hay can be done quickly, yet some years the weather constrains what can be done and when. This can lead farmers to rush to finish the crop before rain or the quickly approaching fall weather. Nevertheless, safety should always come first.
Injuries from PTOs are common on the farm and, in most instances, can be avoided if a farmer or farmworker is putting safety as a priority. The main rule is to not try to work on a machine when the PTO is running.
Additionally, when working with machines operated with a PTO, do not climb into a machine or use your limbs to remove a jam. Make sure to wear fitted clothes that do not drape when leaning over, like a sweatshirt with a hood or strings.
It is also important to use a tractor with a PTO shield, especially if it is necessary to step near the PTO to get on and off the machine. In those instances, make sure the machine is turned off and wait until the PTO has stopped moving before getting off the machine.
When moving large square or round bales, make sure the tractor or loader is sufficient to hold the weight of the bales. Driving over uneven ground with a load that cannot be supported, even when moving slowly, can result in a turned-over machine. In any case, it is always a good idea to have a rollover protection structure installed on tractors without cabs to provide some protection for the operator.
There are various programs through state organizations that provide rebates to assist with the purchase of a rollover protection structure. For instance, the National Farm Medicine Center Rollover Protection Rebate Program provides farmers with a 70 percent rebate.
Assistive technology options
In addition to safety, there are assistive technology options you can use to reduce the physical strain on your body when moving and baling hay. A simple modification to older tractors includes installing steps or adding additional steps to reduce the range of motion needed to climb on and off the tractor. The additional steps can relieve pressure put on the hip and knee joints when climbing.
Back pain is one of the most common ailments farmers face on a daily basis. Unfortunately, baling hay can aggravate the pain, since many hay crops are planted on ground unsuitable for row crops – making hours of driving over rough ground.
An option to reduce the pain is to use a tractor seat shock absorber or an ergonomic tractor seat that limits the jolts and bounces normally felt when driving a tractor with a baler. There are a variety of seats available, and a dealer will know the options that can be used to replace the original seats.
Reducing the need to turn around can also alleviate back and neck pain. This can be done by using a camera, such as the AgCam, placed near the operator to see what is happening with the baler, PTO or other potentially problematic areas.
Many cameras are able to connect to a phone or screen through a wireless connection, avoiding additional wires on a machine. Another option to reduce turning to watch the baler is by using mirrors. While this option does not allow you to see everything up close like a camera, it does give you a way to watch the baler with less turning.
After a long day of baling hay, all workers, even the youngest, tend to feel the strain in the back. It has been referred to as "back-breaking" work for a reason, but that doesn't mean you can't change this. To reduce the strain on your back, remember to use your legs when lifting and carrying.
Even though many farmers will continue to work through discomfort, it may be wise to take a break and relax the muscles. A short break can help immediately with discomfort and make the rest of the day a little easier.
While the work is essential, please remember: A farmer's life is more important. Always use safe practices when working with any machinery.
PHOTO 1: An example of a rollover protection structure (ROPS) bar installed on a John Deere model 2010 tractor.
Photo courtesy of National Farm Medicine Center.
PHOTO 2: An example of an ergonomic tractor seat produced by K&M to reduce the physical impact on a farmer's body when driving a tractor. Photo provided by Abigail Jensen.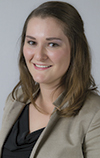 Abigail Jensen

Outreach Specialist
AgrAbility of Wisconsin