A crop with all the benefits of alfalfa should be in a good position to compete well with other crops. But alfalfa has been losing ground to row crops in the U.S., with U.S. acreage down about 20 percent during the past two decades.
What would be needed to restore alfalfa to its former production acreage across the U.S. ag landscape? What would it take to make alfalfa great again?
There are both ag policy and crop productivity reasons driving the acreage downtrend. The ag policy reasons have to do mainly with two things. First, federal crop subsidies over the years, including current federally subsidized crop insurance programs, disadvantaged alfalfa relative to other major U.S. crops.
Secondly, the Renewable Fuels Standard set in motion by the Energy Policy Act of 2005 gave corn a strong boost, indirectly displacing alfalfa production, especially in the upper Midwest.
This article will not be geared toward illuminating U.S. ag policies, so let's focus on key areas of research investment needed to maintain or grow alfalfa's productivity, providing all the benefits of a perennial legume in rotation with other crops.
An alfalfa milestone
January 1, 2017, marked the kickoff of the U.S. Alfalfa Farmer Research Initiative, aka the Alfalfa Checkoff Program. Funds for the initiative are collected through participating seed companies on a voluntary basis by brand, at the rate of $1 per bag of alfalfa seed. You can learn more about the initiative at National alfalfa & Forage Alliance. Alfalfa checkoff funds will be used to support public research into alfalfa and alfalfa forage systems.
Many brands including some big seed companies are MIA (missing in action) on this initiative, and I intend to gore their ox by the end of this article. The following are some needed focal points for research.
Agronomic management
This research area has been dialed down or eliminated at many of our land-grant universities. Applied agronomic research is the very area of research the Alfalfa Checkoff could benefit most quickly, and in turn provide the quickest payoff to benefit farmers who grow the crop. If you believe there is a research topic your land-grant university should be working on, make it known to your state's extension forage specialist – if your state has one.
Harvest system research and development
This is an area of continuous improvement throughout our lifetimes. Farm equipment has entered the digital age, yet the physical harvest, handling and storage of alfalfa forage still has plenty of improvement potential. Most of the improvements have been through equipment manufacturers, but some of the research to understand key areas of needed improvement has come from the public sector.
Develop new feed uses for alfalfa
We think of alfalfa as a forage for ruminants because of its fiber content, but what if all that efficient protein production could be more concentrated for monogastric feed formulation? Would the fiber fraction be more digestible after protein extraction? What new uses could be developed by separating leaves from stems? How much could you feed of each component? Would it change ration formulation and supplementation by animal species?
Could animal performance be enhanced or more efficient? These aren't new questions, but perhaps the answers are somewhere out in the future if there were public research in this area.
Improve digestible dry matter yield of alfalfa
The most impactful production issue affecting overall utilization and importance of alfalfa as a crop will increasingly become its digestible dry matter yield deficit versus corn silage. Corn silage continues on a trend toward higher inclusion rates in dairy rations while alfalfa has been trending down. In general, the rate of alfalfa digestion is faster than grasses of analogous maturity, but alfalfa's extent of ruminant digestion is less.
The genetically modified, lower lignin trait marks a milestone on the digestibility side of the equation, but the yield side of the equation must be addressed too. The long-term success of alfalfa as a crop in the U.S. will hinge on keeping up with the productivity of other crops, both in the field and in the feed trough.
Improve alfalfa-breeding methods
Long-term viability of alfalfa as a crop in the U.S. will require a step change from current breeding methods, to catch up and keep up with the rate of yield gains in corn. Alfalfa could benefit from the application of breeding methods used in other crops, but alfalfa has a complicated tetraploid genome with some roadblocks that need to be worked out. Basic research projects to unlock the alfalfa genome's productivity potential are needed to increase the rate of yield gain.
Who will invest to unlock the potential of the alfalfa genome?
Research collaborations will be needed to maintain alfalfa as a significant and vibrant part of U.S. agriculture. Both public and private projects should seek to improve overall yield of digestible dry matter, protein yield and quality, resistance to significant disease and pests and maintaining or increasing forage quality. Basic research is needed to obtain breakthroughs, as well as the steady gains of applied research if we intend to keep alfalfa competitive with other crops.
Right up front I stated that many alfalfa seed brands aren't participating in the U.S. Alfalfa Farmer Research Initiative. In fact, two of the largest national brands are notably absent. I won't name the brands here. They may think alfalfa is not significant, since alfalfa is a perennial crop with about 2.5 million acres seeded each year in the U.S., versus corn and soybeans with 170-plus million acres collectively.
You know how much they want your corn seed, soybean seed and ag chem business, so your opinion about alfalfa has more clout than you might think. Whether you purchase alfalfa seed of a national, regional or local brand, the Alfalfa Checkoff is ultimately funded by you as an alfalfa farmer, but only through seed brands that participate. Is alfalfa important to you? Do you believe alfalfa is important to the overall health of U.S. agriculture?
Is the brand you choose making a contribution? If the brand you choose failed to step up and participate, ask why and consider a brand that does. If you really want to prove your point, move some of your other business too. It's important to the future of alfalfa.
References omitted but are available upon request. Click here to email an editor.
PHOTO: Field of alfalfa. Photo by Mike Dixon.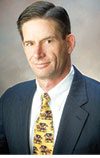 Robin Newell

Vice President of North America sales
S&W Seed Company
A few great attributes of alfalfa
Alfalfa produces more protein per acre than any other crop.
The rate of alfalfa digestion is high in ruminants, compared to grasses of similar maturity.
Alfalfa has no requirement for nitrogen fertilizer.
Deep roots scavenge nitrates, helping reduce nitrate in groundwater and drainage water.
Alfalfa provides ground cover over multiple years of perennial stand life.
Alfalfa reduces soil erosion, soil loss and soil nutrient loss.
It reduces runoff into drainageways and watersheds.
And a few troubling facts …
Alfalfa productivity gains are suffering from a relative lack of research investment.
Last year, USDA Ag Research Service funded approximately nine lead researchers devoted to basic alfalfa research versus hundreds across corn, wheat, soybeans and cotton.
Many land grant universities no longer perform applied alfalfa research.
U.S. farm bills and subsequent U.S. ag policies have largely overlooked alfalfa.
Many alfalfa brands, and therefore many alfalfa farmers, are not supporting the U.S. Alfalfa Farmer Research Initiative.