Recently, I have been focusing a lot of mental energy on the description of a sustainable beef system and hopefully a research program to better understand these systems.
This is not a new concept. Indeed, most readers can accurately say they have been hearing the term "sustainability" ad nauseam for quite some time. And, like me, most producers would also admit they are having a hard time providing an accurate definition of beef system sustainability – at least one that has real meaning and clear implications for their farming or ranch operations.
In my deliberations, I am focusing on the obvious, such as sustainable systems must be productive and profitable. From the livestock industry perspective, the improvement in sustainability has been focused on reducing the carbon footprint, and their story is very powerful. But these improvements are indirect and have been realized through improvements in genetics, health, nutrition, management, fertility, equipment and housing. These are the result of a relentless focus on being competitive and profitable, which are the primary drivers of sustainability, along with increasing regulation.
In my deliberations, I am also focusing on the "not so obvious," such as nutrient cycling, soil ecology, nutrient density and quality, ecosystem services and resource utilization. If you look down the road, as has been reported aggressively, the planet may be required to feed 10 billion souls in the next 30 years – without any additional land – while combating climate change and complex environmental issues, additional regulation and more. It's a daunting task, and we can't sacrifice the planet to feed the world, so getting a firm grasp on sustainability and sustainable systems will be critically important.
Using this focus, I have developed a couple of interesting concepts. They may not be new to the really smart people in the world, but they are original thoughts for me. For example, it is clear to me that a production system that does not ensure soil security, health and quality is not sustainable. Period. That argument clearly fits the row-crop discussion but fits also for livestock production. We simply must eliminate soil erosion, reduce carbon losses and improve soil function across all segments of agricultural production. Easy to say. Hard to describe. Almost impossible to do, especially in less developed countries, using current information and technologies.
The second concept, which goes hand in hand with soil health, is that we have limited resources, with the exception maybe of sunlight. Therefore, a production system that requires a net importation of resources (such as nitrogen) or exhausts resources (such as potable water) is also not sustainable over the long term. In other words, sustainable production systems must balance resource use at a minimum and better yet, provide resources for other uses.
Expanding this concept, we can deduce that future production system profitability will be determined by how well these systems utilize available resources, including sunlight. Profitability will be determined by the efficiency of production and not by maximum production. You will get paid based on how efficiently you can optimize the production of an agricultural product on a specific landscape, with available but finite resources.
The University of Nebraska-Lincoln (UNL) is a great partner with U.S. Meat Animal Research Center (USMARC), and their leaders have launched their own version of a systems-based production and management research and extension program for the beef industry. This effort is called the Nebraska Integrated Beef Systems Initiative (NIBSI) and is generating a lot of excitement across the Nebraska beef industry.
The NIBSI effort is focused more on traditional challenges associated with sustainable systems but is bringing remarkable resources and stakeholders to the table, including USMARC and our 8,000 mother cows. This partnership effort is very compelling and is focused on bringing extraordinary insights and technologies to bear for the beef industry, including genetics, animal health, nutrition, capital, expertise and project management. At the moment, our evolving efforts at USMARC are being developed parallel to the NIBSI program, but they support each other well and will merge eventually for the betterment of both. Suffice to say, it is an exciting time to be a part of the USMARC and UNL beef teams!
In the meantime, we are beginning to further implement these concepts, both for research and production. On the production side, we are modernizing our forage management systems and exploring novel ideas in the face of changing precipitation and weather patterns. For example, we are moving forage production to more ensiled products and modernizing our hay production and storage programs.
We are implementing more cover crop options, including alfalfa interseeding and kura clover living mulch systems for corn silage production. Unlike late-season cover crops, these are a sure thing and guarantee both soil cover and fall forage grazing or harvest options. And, to take more of the uncertainty out of cover crop programs, we are expanding our crop rotations to enable timelier establishment of cover crops for fall grazing programs. Next steps are to more closely monitor changes in soil ecology associated with these practices, such as organic matter, nitrogen use efficiency, carbon sequestration, water infiltration rate and overall soil fertility, with an eye on improving the overall sustainability of USMARC production systems.
Our grazing programs are also evolving. Here, we are focusing on improving both the cool- and warm- season species mix, improving our grazing management and adding additional annual forage options. These programs are focused on the cow as a tool to harvest forage, while improving production efficiencies, the forage resource and soil health.
On the research side, we are developing a research consortium model across Agricultural Research Service to focus expertise and resources on the development of a fully integrated and optimized beef production system. USMARC will serve as the host location for this effort, and our contribution will continue to focus on the science of beef production. Step one is to focus on the cow herd. Lately at beef industry stakeholder meetings, I have been presenting the following scenario and questions:
First, in your mind envision the best set of cows – the best cow herd you have ever seen. Got it? Then answer these questions:
How do you know it is the best set of cows you have ever seen? Are they perfectly adapted to the local environment? Are they optimizing the use of available resources for maximum efficiency and profitability? Are they exactly the ideal frame score and mature size? What metrics could you use to compare these cows to other herds in the area, in the region or around the world? How would these cows (genetics) perform elsewhere?
Our goal is to be able to answer these questions and to then develop tools and technologies to assist producers to also address these questions. That way we can better implement management systems that can sustainably feed the world, all while supporting our local communities and our future generations.
As always, stay tuned as we get started down this path. We have lots of work to do.
PHOTO: Cattle grazing. Photos by David Cooper.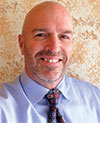 Mark Boggess

Director
U.S. Meat Animal Research Center