Most forage testing laboratories attempt to provide accurate and repeatable results to their clients. In the long term, their reputation and success depends on accurately predicting the feeding value of the forage.
Price and marketability of forage is often based on laboratory tests.
Standardization
In 1984, the American Forage and Grassland Council (AFGC), the National Hay Association (NHA) and forage testing laboratories combined to form the National Forage Testing Association (NFTA) to improve the accuracy of forage testing and build grower and consumer confidence. Since participation in the certification program is voluntary, not all hay testing laboratories are involved.
This certification provides the producer and consumer confidence that the laboratory is proficient at certain forage quality tests, has a quality control procedure, and they know their accuracy. We recommend only using a laboratory that is NFTA-certified (see www.foragetesting.org).
Laboratories are evaluated by NFTA and graded six times every year. Unknown samples, including four alfalfa samples (one of which contains approximately 20% grass) and one sample each of corn silage and grass, are sent to each laboratory, which analyzes the samples using standard, accepted techniques (reference methods). A next step that should be implemented is to provide "blind samples" to the labs in a way that they do not know laboratories are being evaluated.
As an additional method to improve testing, the NIRS Forage and Feed Testing Consortium (NIRSC) was formed in 1992 through the efforts of several universities and commercial entities because of their interest in promoting consistent and quality forage testing results using near-infrared spectroscopy (NIRS) technology. The NIRSC and many of its members participate in the NFTA certification (see www.nirsconsortium.org).
Chemistry or NIRS?
Currently accepted techniques of forage analysis include traditional chemistry methods and NIRS. NIRS is a technique that uses light reflectance and is quicker and less expensive than laboratory chemistry and gives equivalent results. Some laboratories will use only one technique, while others use both. Those laboratories providing test results within the specified limits are certified. (Certified laboratories located in selected states are listed on National forage testing association)
When two labs produce different results for the same hay lot
So what do you do when two labs produce different results for the same hay lot? Communicate with all parties. Do something positive to resolve the situation. Ask for the ground sample back to send a proper subsample to the other lab. If a lab refuses to do this, reject this lab and consider using another NFTA-certified lab. Understand that labs cannot keep samples indefinitely, but should for 30 days.
If the results still vary by more than a typical error, have a joint core sampling of the lot, pick one lab to grind the sample, divide the ground sample using a laboratory sample splitter and have each lab analyze the samples and compare results. Then it seems fair to average the test parameters in the interest of negotiating a price.
We have heard of hay buyers insisting on only using a lab they prefer and refusing to consider other certified lab results. Unfortunately, sometimes milk production does not reflect the forage test results. This may cause a hay buyer to become more conservative and discount the quality parameters or price because of the uncertainty. However, if the hay is only 7% of a total mixed ration (TMR), we question if 10 relative feed quality (RFQ) points is a significant difference.
There are philosophical differences in whether the data used in prediction formulas should be locally or globally based. A locally based formula may be more accurate for local environmental and management factors. However, a globally based formula will better represent forage quality across states and overseas, as our exports are increasing. Without some standardization, results could not be compared at all, thus the development of the National Forage Testing Association.
Summary
There is an inherent challenge to predict complex biological processes with a few chemical tests or estimates from light reflection. Additionally, the mass of forage in a lot of hay is large, making accurate sampling a daunting process. Although significant progress has been made, we are still a long way from accurately predicting forage quality, and thus value, with adequate confidence.
Hay analysis is meant to be an instrument, not a hammer to bludgeon prices. We can avoid abusing hay test results by:
Understanding the range of normal variation in hay test results


Using proper sampling methods


Choosing a lab from "NFTA Proficient" labs


Interpret lab values expressed at a uniform dry matter content


Understanding the limitations of hay tests, only using them in addition to subjective visual evaluation of hay quality
Information, communication, and negotiation are the keys to agreeing on a fair price for the producer and consumer. Hay testing has proven to be an invaluable tool in predicting feeding value.
PHOTO: A lab technician at Northwest Labs LLC (Jerome, ID) prepares hay samples for testing. Northwest Labs LLC is NFTA certified for forage analysis. Photo by Lynn Jaynes.
Dan Putnam is an extension forage specialist at the University of California – Davis. Email Dan Putnam.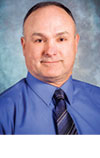 Glenn Shewmaker

Forage Specialist
University of Idaho
Choose a lab that chooses excellence
Both chemistry and NIRS labs can return excellent results. The steps for choosing a high-quality forage testing lab include asking these critical questions:
1. Do you participate in NFTA Split Sample Test each year and how did you fare? (Results are at National forage testing association) Only use certified labs.
2. Do you have a quality assurance program internally for your lab and routinely run quality control samples?
3. Do you grind the whole sample and mix it before subsampling? (Labs should do this.)
4. Do you use NFTA-approved methods for DM, ADF, NDF and CP? (Check NFTA website.)
5. Do you report your data standardized on a 100% DM basis? (All data should be compared this way.)
6. For NIRS labs: How do you update and support your NIR calibrations and monitor machine performance (e.g., NIRS consortium or other methods)?
7. For NIRS labs: How do you handle a sample outside your calibration (H outlier)?
Final step: Conduct your own split sample test of several labs using split ground samples. Documented samples are available from NFTA.