You've heard of "summer slump." The meaning varies depending on where you live and your forage base. Maybe to you it means the time of year when you get discouraged at the prospect of having to mow your yard, yet again, while wondering where your pastures have gone.
In the Southeast it is a problem of forage quality and availability. Fortunately there are some ways to beat the summer slump and nothing beats over 2,000 pounds per acre of high-quality forage early in the fall to get you over the slump.
Grazing is the goal
When making plans to extend the grazing season, consider the seasonal gaps in forage production and plan accordingly. John Jennings, from University of Arkansas Division of Agriculture, illustrates this in Figure 1.
In the Southeast, one way to do this is overseeding cool-season annuals into warm-season grasses. The process starts in August by suppressing the growth of warm-season grasses, either by herbicide suppression or by light disking to prevent competition from warm-season grasses while cool-season forages germinate.
The problem is the gap created during the waiting time from warm-season grass suppression to the time you can graze cool-season forages, typically after about 4 to 6 inches of forage growth. The addition of brassicas to a small-grains/ryegrass system provides grazing at least a month earlier than the traditional cool-season pasture scheme.
Forage brassicas fit nicely into this gap in forage production because they come on fast and produce from 2,000 to 5,000 pounds of dry matter per acre. In the Southeast, planting from late August to mid-September is the key to success with brassicas.
More about brassicas
Forage brassicas consist of five main types: forage rape (Brassica napus), kale (Brassica oleracea), turnips (Brassica rapa), swedes (Brassica napobrassica) and leafy turnips (Brassica campestris spp.).
Forage rape (Brassica napus) is tricky in terms of grazing management, and must reach maturity before grazing (indicated by change of leaf color around 10 to 14 weeks after planting) to avoid livestock health problems. There are some newer forage rapes that minimize this problem, so be sure to ask your seed company representative about those.
Leafy turnips (including forage brassica hybrids) are non-bulb forming, and able to regrow after planting. They are a good choice for early fall grazing; usually they are ready to turn livestock in around 6 to 10 weeks after planting.
Kale (Brassica oleracea) is slower maturing than hybrid brassicas, produces lots of leaf and stem and is best utilized by cattle.
Turnips (bulb, Brassica rapa) are best grazed at maturity (10 to 16 weeks), and regrazing is possible with grazing management to prevent damage to the growth point (at the bulb).
Swedes (Brassica napas) are less drought-tolerant and perform best in cool, moist environments. The digestibility is higher than kale and are better utilized by livestock.
Pastures planted to brassicas should be part of a plan that allows for growth before livestock are turned in and rest between grazing. Some producers have success using brassicas on pastures they intend to renovate the following summer with warm-season grasses. Soil testing and appropriate fertilization are essential.
Sowing seeds at the right depth and ensuring good seed-to-soil contact will help achieve a good stand. This can either be a conventionally tilled location, or overseeded in grass pastures.
The seeding rate for a pure stand of brassicas is 5 pounds per acre. When mixing with ryegrass or other small grains, the recommendation is 2 to 3 pounds of brassica seed per acre; or 100 to 120 pounds of small grains with 20 pounds of annual ryegrass per acre.
Managing livestock on brassicas
Livestock should be slowly acclimated to brassica forages to allow the rumen to adjust to the high forage quality that contains high levels of soluble carbohydrates and soluble proteins. Expect livestock to initially exhibit a slump in performance for up to two weeks, while the ruminal microbes adjust to the new high-quality forage.
They should acclimate within a couple of weeks. During this time, limit grazing is a good practice.
Because of the high quality and digestibility of brassicas, they should be limited to less than 70 percent of the overall diet. Dairy cattle diets should only include 30 percent brassicas. Mixing brassicas with small grains, limit grazing with access to other pastures and providing hay can provide the fiber needed for optimum ruminal digestion and reduce the risk of acidosis.
Another thing to consider is familiarity of the forage. It often takes livestock a period of time to get used to the new forage and even recognize it as desirable forage. Grazing management practices such as strip grazing ensure maximum utilization of the forage.
Information provided by Pablo Gregorini, senior scientist at Dairy New Zealand, recommends turning cows on brassicas for a maximum of one to two hours a day initially, then building up the allowance by 2 pounds per cow per day over the next 10 days while supplementing with complementary forages high in fiber, such as hay or high-fiber pasture.
Although not widely adopted by dairies in the U.S., Gregorini says forage brassicas are utilized by dairies quite commonly in other countries, like New Zealand.
Dairy animals should be removed from brassica pastures four hours before milking to prevent milk taint caused by the phenylthiocarbamide (PTC) present in brassicas.
Incorporating brassicas into cow-calf systems
Dustin Cross, a beef producer in McNeil, Arkansas, has included brassicas in his cool-season grazing program for four years and has success with the Appin forage turnip variety. Cross limit-grazes his 250 fall-calving beef cows on three 10-acre paddocks of warm-season grasses overseeded with a mixture of brassicas, cool-season annuals and ryegrass.
Cross says, "It gives me at least a month head start on grazing over small grains only. I want to graze all the way up to the first killing frost; I try to graze it out before it gets too wet late in the winter." Cross says the cost for his cool-season grazing system, including seed and fertilizer, is about $75 per acre.
Cautions
A word of caution about nutritional diseases associated with forage brassicas: Polioencephalomaladia (PEM), a brain disorder caused by high levels of sulfur, causes blindness, lack of coordination and other symptoms, so it is wise to avoid supplementing cattle grazing brassicas with high-sulfur feedstuffs such as corn gluten feed or distillers grains.
In addition, brassicas can accumulate nitrates. Additionally, grass tetany is possible due to high levels of calcium and potassium, which limit the availability of magnesium; therefore, a high-magnesium mineral supplement should be offered to lactating cows.
Brassicas also contain glucosinolates, which prevent the uptake of iodine and can result in hypothyroidism, but iodized salt can mitigate this.
Forage brassicas are an attractive addition to a cool-season grazing program. Including brassicas can provide grazing a month earlier than small grains alone, with an additional 2,000 to 5,000 pounds of high-quality forage for livestock.
PHOTO: Strip grazing supplemented with high-fiber forages allows the rumen to adjust to the high forage quality of brassicas that contain high levels of soluble carbohydrates and soluble proteins. Photo by Kenny Simon, University of Arkansas.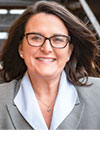 Melissa Beck

Freelance Writer
Based in Arkansas