2019 has been quite a year for forage production!
Widespread winterkill in the Upper Midwest, massive flooding along the Missouri and Mississippi rivers, and spring rains that lasted from planting through first cutting have made this one of the most challenging forage years in recent memory. While this was going on, some others have experienced droughts. You name it, someone has experienced it this year. If we couple the tough growing conditions with a pretty tough winter in the North, you can see there are some challenges to the forage supply.
If you find yourself short of forage going into winter, what are your options? That is a hard issue to address in a national publication because fall planting options vary greatly by location. I'll organize this section of the article by how many days you have until a killing frost later this fall.
45 days till killing frost
Let's be honest up front – this isn't much time to grow a crop. Aiming for a harvestable crop in 45 days carries some risk to be sure. Fall days are shorter and cooler, so warm-season crops are out the window at this time of year. Also consider your harvest method. It can be difficult to dry down harvested forage at this time of year. Grazing offers much more flexibility to harvest these late-planted crops.
Choices for fall planting in 45 days include oats and some quick-growing brassicas like fodder radishes. Oats are one of the fastest-growing forages we can plant in the fall and are the best choice in this scenario. Mixing in a few pounds of fodder radish per acre can add some diversity. In my opinion, it is not reasonable to expect any of the annual legumes to contribute much forage with only six weeks of growth. For those who can't bring themselves to plant a stand without legumes, spring peas are probably the fastest growing of the legumes at this time of year, but I don't think I have seen a case where it has been economical to plant them for fall forage. You will get some nitrogen credits, which certainly have an economic value and benefits the next crop.
By the time this article goes to press, some of you in the North will be out of time to plant and harvest a crop still this year. However, nearly everyone reading this article can still plant something this fall for harvest in the spring. Alfalfa, clovers and cool-season grasses can establish in this amount of time, with grasses having a slight advantage if a freeze occurs later than expected. Small grains do best if planted about two weeks before the preferred dates for winter wheat planting, but you can have success with later plantings.
Just realize that potential forage yield of small grains goes down every day planting is delayed. Planting deep enough (1.25 inches for most small grains) helps with winter survival, and, of course, cereal rye is the absolute best for planting with only 45 days to establish before frost.
For folks grazing livestock, there is a proven scenario to grow at least 1 to 1.5 tons per acre of forage in 45 days before a killing frost … and it doesn't involve planting anything. Get the animals off the pasture, and let it grow for 45 days. Pasture growth rates in the fall are often 50 pounds per acre per day or more provided soil moisture is adequate. This only works if you have hay to feed or alternative forages to go to during this time, but there is nothing you can plant at this time of year that will give as much forage as an already established stand.
60 days till killing frost
The options that can work in 45 days can work even better with 60 days to grow. For those of you on a latitude south of Lexington, Kentucky, an interesting choice that we don't talk about enough is black oats. These are a fall-planted oat that will give some harvestable forage in the fall and then will overwinter reliably in the Southern transition zone to give a spring harvest as well. Forage quality and tonnage are remarkable. Unfortunately, this species doesn't travel north very well. In plots west of Indianapolis observed over several years, they winterkill at least half the time.
Planting a blend of spring oats and winter triticale offers a unique opportunity. The idea here is to plant once and harvest twice. This has been done for years in the West and is now a pretty common practice across the country. Oats and winter triticale are planted together if care is taken to reduce the seeding rate of the oats by about 25%. The oats can be harvested in the fall, and they will then winterkill. The triticale overwinters and is harvested the following spring. A critical management component of making this work is to leave 4 inches of stubble when harvesting the oats. This residual level ensures the small triticale plants don't get cut off and have enough energy reserves to survive the winter.
Annual ryegrass can give harvestable forage in 60 days, and it can be harvested twice in the spring. Many growers terminate after the first spring cutting to plant the subsequent crop like corn. Experience in the Midwest shows that annual ryegrass having more than 12 inches of growth going into winter is much more likely to smother and winterkill. If you plant ryegrass, be prepared to deal with the possibility of too much fall growth, keeping in mind the challenge for this time of year is getting forage dry enough for mechanical harvest. Fall grazing can work very well on annual ryegrass. Target 3 to 4 inches of residual after grazing for best winter survival.
Most of the typical legumes can do quite well with 60 days to establish in the fall. There won't be much harvestable forage in 60 days, but having this much time to establish ensures a good stand in the spring. Some of the more recent annual clover introductions like winter-hardy berseem are very well suited to mixing with fall grains for a spring harvest. I can't stress enough that variety makes a huge difference on these clovers. All but a small handful of berseem clover varieties will winterkill, so be sure you know what you are buying.
Sixty days is more than enough time for nearly all perennial grasses and legumes to establish before winter. In fact, this is the preferred time to plant these perennials. They won't give you any forage this fall, but they will be fully established by the spring, and 2020 harvests will be at full production. Conversely, cool-season perennial stands planted in the spring of 2020 will not be in full production until 2021, so consider your whole forage production calendar to determine if it is better to give up some yield this fall or next year.
Seed supply
What about seed supply? Plans and various options are wonderful, but seed supply will define what can be planted in several cases. The 2019 year has been challenging on seed inventories. Most spring- and summer-planted annuals from oats to sudangrass saw huge spikes in consumption this year. Winter grains like triticale and rye are projected to see huge increases in planting, and the incoming seed crops are projected to be below average. Annual clovers are getting tight in part due to all the prevent-plant acres that went in this summer. By the time you read this, many thousands of acres of fall oats will have been planted. This will impact the availability of oats for our typical spring planting window of 2020. If you are planning on oats for spring, be sure you have seed lined up as soon as possible.
This fall is a critical time for forage producers, but with a little time and careful planning, there is still time to grow a bit of forage in some areas. Even if we can't grow a crop to harvest before winter, nearly all of us can take steps now to drastically improve the forage supply for next spring.
PHOTO: The number of days before a killing frost defines which crops can be planted successfully and may determine how they are harvested; seed availability will also impact decisions for fall plantings. Photos courtesy of Green Cover Seed.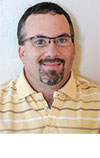 Chad Hale

Research and Acquisitions Manager
Western Forage Resource